Email marketing is a simple and effective way to build relationships with customers and prospects. Delivering targeted messages to your subscribers that show you understand their pain points can help you attract and retain customers.
With an ROI of $36 for every $1 spent, small business email marketing is one of the most cost-effective ways to market your business. Yet, many business owners aren't sure how to create an email marketing campaign (a series of emails sent to subscribers).
Here are five tips to get your small business email marketing machine up and running quickly and effectively.
1. Build your email list
You can't have an email marketing campaign without email addresses. The good news is that collecting this information is simple. If you have a brick-and-mortar location, you can ask customers to provide their email addresses at checkout.
No storefront? No problem. Create a sign-up form on your website and social media channels. (Hint: You should do this even if you have a storefront.)
In exchange for signing up and providing their email address, you need to give subscribers something in return. It could be an email newsletter, a special discount, a content download (e.g., special report, e-book, etc.) or something else that your subscribers find valuable.
Just be sure to choose something enticing enough to make visitors willing to hand over their email addresses to get it.
2. Choose an email marketing service
There are many email marketing services to choose from tailored to small businesses. Different providers have different features. Consider the following when selecting a service for your business:
Cost. Pricing is usually based on the number of subscribers you have. If you're just getting started, some services offer free plans if you have less than a certain number of email addresses.

Customer service. If you run into trouble during your biggest campaign of the year, you'll want a service that can help you get back on track as quickly as possible. Find out how you can reach a customer service representative when you need to (e.g., phone, email, chat, etc.), what their typical response time is and the hours they're available.

Email templates. You don't have to be a graphic designer to send professional-looking emails. Many services have a library of email templates you can use for your campaigns.

Deliverability rates. It doesn't matter how slick your design or how persuasive your copy is if your customers don't receive your emails. Deliverability between tools can vary; check out the rates of the services you're interested in.

A/B Testing. Sometimes a few minor tweaks can make a big difference in how people interact with your emails (measured through open, click-through and response rates). If you want to compare how slightly different versions of an email perform (e.g., different subject lines or email length), choose a service that offers A/B testing.

Segmentation. As your email list grows, you may want to send different messages to different groups of people on your list. Some services make this easier than others.

Reporting. You can't measure what you don't track. Check out the reporting features each service has to offer so you can accurately measure the performance of your campaigns.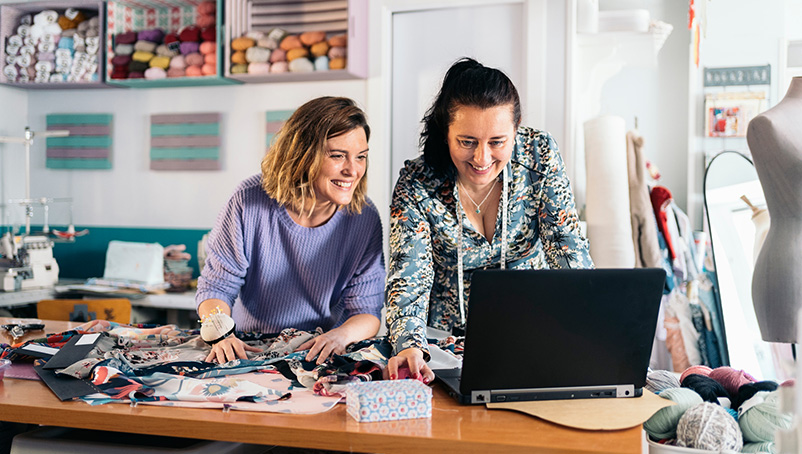 3. Create an email strategy
Haphazardly sending out emails when inspiration strikes isn't the best way to communicate with your subscribers. Before you start, decide what types of messages to send and how often. Here are a few ideas.
Welcome email. When someone signs up for your list, send them a welcome message with the offer you promised (i.e., discount, content download, email newsletter, etc.).

Email newsletter. It can be tempting to start bombarding your email list with information about how wonderful you are. But that's likely to scare some subscribers away. Instead, share useful, educational content with your audience that provides valuable information and helps solve their problems. Decide on the frequency (e.g., once a week, twice a month, once a month) and stick with it.

Product information and promotional email. That doesn't mean you should never talk about yourself. The trick is striking the right balance between educational and promotional emails. If you have a product or service that can help solve your customers' needs or a special offer they'd be interested in, share it.
And remember, you don't have to send the same message to everyone on your list. You can send different messages to different groups based on their needs. The more targeted your messages, the more likely they are to be opened.
4. Create email designs
Many email marketing services have templates you can use to create emails — handy for business owners. Some are customizable and others aren't. You can also use a DIY service like Canva to create email designs.
But that's only half the battle. You also need to craft your message. Here are some tips:
Subject line. The subject line of your email can make or break whether someone opens your email. Choose something that will grab your audience's attention.

Mobile-friendly. According to Litmus, approximately 40% of all emails are opened on mobile devices. If your emails aren't optimized for mobile, you could be missing out on conversions.

Multimedia. You don't have to stick with text-only messages. Consider mixing it up with images and videos.

Call-to-action. There should be no question about what you want readers to do after they open your email. Each email should have only one call-to-action, and it should be clear. For example: get an instant quote today, schedule your free consultation or buy now to get 25% off.

Proofread. Don't forget to proofread or have someone else proofread your message before you send it out to avoid errors.
5. Measure and optimize business email campaigns
To ensure your business' email marketing campaigns are as effective as possible, it's important to measure your results and make changes accordingly. Some key metrics to keep track of include:
Open rate. The number of recipients who open your email. If this number is low, you may want to focus on strengthening your subject lines to entice people to open.

Click-through rate. The number of people who click on a hyperlink within the email — to your website, for example. To help improve this rate, you may need to come up with more targeted messaging or persuasive copy.

Conversion rate. This is the rate of people who do what you want them to do. (e.g., sign-up for early bird notification, purchase a product, leave a review, etc.).

Bounce rate. The emails that couldn't be delivered. Check with your email marketing service for tips on how you can minimize this rate.

Unsubscribe rate. The people who unsubscribe from your emails.
By learning what resonates — and what doesn't — with your customers, you can optimize future email campaigns for better results.
Hello, we're NEXT Insurance
Building an effective email strategy can be tough, but rewarding as you build a customer base and see your business grow. Consistency and reliability are key for an email program's success, so keep tracking progress to ensure your efforts are paying off.
Aside from DIY email marketing efforts, business owners have operations, accounting, customer service and more to keep their schedules full. Managing insurance shouldn't be added to that list. NEXT makes it easy for you to create customized small business insurance packages that offer peace of mind while allowing you to focus on other business aspects.
Having adequate business insurance can help protect you from financial losses. Choose from general liability, workers' compensation, professional liability, tools & equipment, commercial auto and commercial property to get the coverage you need at a price you can afford.
With our online application, you can see policy options, rates and purchase coverage — all in less than 10 minutes. As soon as your purchase is complete, you can access your certificate of insurance.
Get started with an instant quote today.