Simple
Buy your policy 100% online in minutes, whenever and wherever you choose
Affordable
Pay monthly, with amazing prices and absolutely no extra fees
Tailored
Your business insurance coverage is designed to meet your needs
Whether you specialize in marketing, HR, programming or finance, all consultants share some traits. The most important of those is that your customers count on you for your professional knowledge and experience. Whether you're advising on business strategy or building a website, they know that you will give them solid results in a field where they don't necessarily have much expertise. You're a reliable professional, and they trust that you have their back.
Solid consultant insurance can make sure that someone has your back while you're serving your clients. Consulting insurance allows you to outsource some of your business risk. You move that risk to a company that's uniquely equipped to deal with it. If accidents or mistakes happen, your insurance is on call. As a result, you can focus on giving the best possible advice to your clients. You can take on new challenges and encourage your clients to try new ideas.
In the meantime, your consulting insurance can come into play for day-to-day accidents that can happen to anyone: someone slips in your office, or you spill coffee on a client's expensive equipment. For consultants, these types of claims are usually relatively small, but if one gets dragged out it can hurt both your finances and reputation. Your consultant insurance coverage can protect you from certain types of costs so your business can thrive.
Who Trust Us? Consultants Like You
Rated 4.7 out of 5 stars, based on 3376 reviews.
Quickest, painless insurance quote
This was by far the quickest, painless insurance quote I've ever received. Excellent customer service, and the online portal for proof of Insurance is great.
Michael M.
10 minutes to get insurance!
It took me 10 minutes to get insurance! Very easy process and reasonable pricing.
Vladimir S.
So quick and easy.
You'll love this company. Finally a fast and easy way to get insurance for your company.
Andrew C.
Why Do Professionals Need Consulting Insurance?
Is Consultants Insurance Required by Law?
Legal requirements vary, depending on both what you do and where you work. For most consultants, liability insurance isn't required by law but it may be required for membership in some professional organizations. You should check both state and local regulations for your profession. In addition, take a look at what is commonly required by professional organizations, prospective clients, or potential partners.
Why Do I Need Consulting Insurance?
Consultant liability insurance can protect your business and get you safely through periods when your business operations aren't going according to plan. Insurance lets you focus on growing your business so you don't have to get bogged down in avoiding risk. What this looks like in practice varies widely between fields: an IT consultant may have to protect a lot of client equipment, while an HR consultant who has people in and out of the office often has to make sure visitors are covered.
What's the Impact on Your Business?
With any type of consulting, success is built on trust. Being able to present proof of consultant liability insurance shows your clients that you know how to take precautions to protect them, and yourself. Consultant insurance lets anyone you work with know that you're a reliable professional who takes your job seriously enough to set up a safety net for you and your clients. It also assures clients and partners that if something happens, you will have insurance that can help.
The Next Insurance Advantage
Simple
Buy online in minutes
Available 24/7
Instant proof of general liability insurance
No passwords to remember—just your email and zip code
Send certificate of insurance instantly to anyone
Affordable
Insurance premiums you can afford
Pay monthly at no extra cost
Low deductibles
No extra fees for certificate of insurance or additional insured
Instant cancellation anytime with no further charges
Tailored
Policies based on your activities
No coverage you don't need
Policies tailored around your needs
Get the exact coverage you need
Recommended Consultant Insurance:
In order to take on a consulting job, you need the confidence of solid protection. The first step to feeling secure about your coverage is understanding exactly what's included in your consulting insurance policy. Here's the information you'll need when figuring out what kind of insurance you need, and what to expect for your consultant liability insurance cost.
General liability is the most basic type of consultant's insurance and the foundation of a strong policy. It can cover a wide variety of claims and is the coverage you'll need in most cases where an accident happens and someone blames your business.
Most general liability claims fall into one of three categories: bodily injury, property damage, or personal injury.
"Bodily injury" refers to a physical injury to someone who isn't a part of your business, such as a client or member of the public. It won't cover injuries to you or your employees. So if a client visits your office and trips, or you're setting up a new computer network for a client and you drop a heavy server on someone's foot, your general liability policy is what could cover you if someone decides to sue.
"Personal injury" is harder to define but can be very important for consultants. Rather than physical injuries, it covers you in cases where you're accused of non-physical damage. This could include cases such as if you accidentally share a photo that you didn't have the right to use, or if you're accused of saying or writing things that hurt someone else's reputation or business.
The last element that general liability coverage usually includes is property damage. This can include damage to most types of property that don't belong to you or your business. This coverage can be particularly useful if you meet with clients in their workplaces or homes, or if you sometimes use their equipment. Something as simple as spilling coffee on your client's computer could be covered by your consultant's general liability insurance.
Professional liability coverage for consultants is especially important. Rather than covering you in cases of accidents, it covers you when someone claims that you did your job incorrectly. Usually, those claims result in a demand that the work you undertook be redone.
Sometimes, your advice doesn't work out, or the strategy you've crafted for a client doesn't have the intended results. Your client may lose money or need to start a project over from the beginning. That's where professional liability coverage can come into play. For example, if a client claims that your work wasn't good enough and now it needs to be redone, professional liability coverage could cover the costs of bringing in a new professional to redo your work.
As you do your research to determine what insurance is right for your business, keep in mind that professional liability insurance is also often referred to as E&O (errors and omissions insurance).
Our Approach: One Consultant's Insurance Policy
We believe that business insurance should make your life easier. As a business owner, you have a lot on your plate. You shouldn't have to spend your time wading through the technical details of different types of insurance. That's why we combined both general and professional liability coverage into one consultants insurance policy that offers the coverage you need. And what if you decide you don't want professional liability coverage? Our "basic" plan offers just general liability coverage.
We conducted extensive research into the type of coverage consultants like you need. Then we crafted a policy that offers comprehensive insurance without unnecessary frills. As a result, we're able to offer the policy you need while keeping your costs reasonable.
You need reliable coverage but you don't have unlimited time and money to spend on your consulting insurance costs. That's why we've created a policy that is straightforward and customized to your business' budget and needs.
What if I Do Multiple Things? Copywriter and Marketing Strategist? Software Developer and Data Processing?
When you request your consulting insurance quote, you'll answer some questions about your business activities. We'll ask you what you do and what percentage of your time is spent on each service. We'll then base your consultant insurance policy on that information.
We know that every business is a unique combination of services and we'll price your consultants insurance accordingly.
How Much Does Consultants Insurance Cost?
The price of your consultants insurance depends on the details of your business. These include your profession, the size of your business, and where you work. Different states, cities, and even counties have different insurance regulations. The best way to find out what you'll pay for your specific policy is to get an instant, online, consultants insurance quote.
On average, it takes our business owners just eight minutes to get a quote through our website. The entire process can be done online, including buying your policy.
How Do I Know I Can Trust You?
Buying insurance for your consulting business can be an intimidating process. It's important that you trust your insurance provider. One great way to get the information you need is to speak to other professionals. You can start by checking out our reviews from other business owners like you to find out about their experience working with us.
Frequently Asked Questions
If we haven't answered your questions here, visit our help center to get answers to the questions we hear most often.
Get Coverage Tailored to Your Business Now!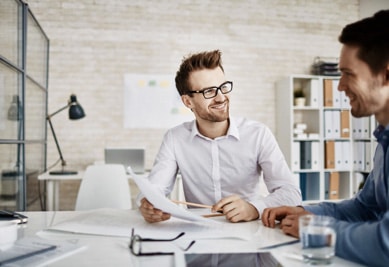 x
Thank you for choosing Next Insurance! It seems like we don't offer insurance for your professional work at the moment.
We're always growing and looking to expand our options Please enter your email and we'll keep you notified.
x
Thank you for choosing Next Insurance.
We wish you and your business lots of success!
x
Oops!
Thank you for choosing Next Insurance! Unfortunately, we can't give you a quote if we don't know what you do.Tell us what your profession is, so we can see if we have a product that's right for you.
x
Thank you for choosing Next Insurance.
We hope we can work together in the future!