top
General Liability Insurance
Make uh-oh moments okay
Check Prices

Worst case scenario? Bring it on. Find general liability coverage for a wide range of incidents with easy online insurance from Next.
Bodily injury
Someone trips over your tools and breaks their leg
Property damage
Yikes! You drop equipment and damage a client's hardwood floor
Advertising harm
You're sued for improper image use in your advertising
Court and legal fees
You need an attorney for a lawsuit, even though you did nothing wrong
Medical payments
Someone gets injured on site and asks you to pay for medical expenses
Libel, slander & defamation
An employee bad-mouths a client online and the client sues you
There's a lot to love about Next:
Get insurance in less than 10 minutes and save up to 30%
Unique, flexible coverage with easy monthly payments
Do it all 100% online or talk to a licensed U.S.-based advisor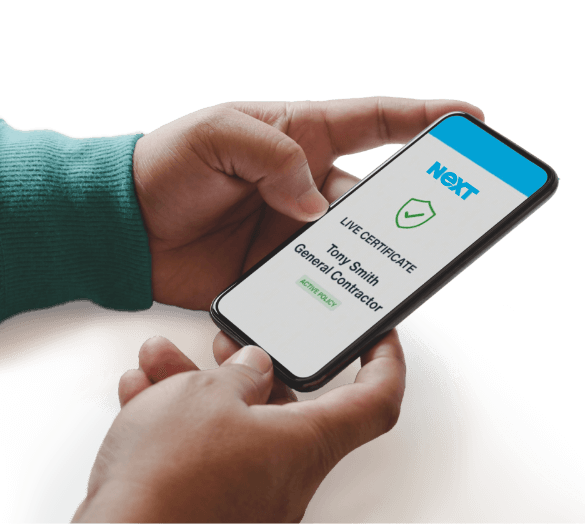 Get instant, unlimited certificates of insurance
You nailed it on getting a new job. Let Next handle the paperwork in minutes. We'll have your back with coverage that gives you and your clients confidence from day one.
Check Prices
Find the coverage you need, all in one place
No matter what kind of business you run, we have tailored coverage to fit your needs. Plus, you'll save 10% when you sign up for more than one policy. How's that for a win-win?