Simple
Buy your policy 100% online in minutes, whenever and wherever you choose
Affordable
Pay monthly, with amazing prices and absolutely no extra fees
Tailored
Your business insurance coverage is designed to meet your needs
Beauty professionals like you make a career out of helping others look and feel their finest. Your clients trust you to ensure that they present the best parts of themselves when they go out, whether for an interview, an event, or just a regular day. For many of your clients, the treatments you provide are a crucial part of maintaining and enhancing their physical and mental health.
When clients come to you to prepare for a special occasion, you take on a particularly important role, not only in helping them celebrate and enjoy themselves at the event, but also enabling them to look back fondly at photos of themselves and cherish those memories.
Having good insurance is an integral part of that trusting relationship you have with your clients. Knowing that you are insured helps your clients to have confidence in your level of professionalism. It can also give both you and your clients peace of mind. You can focus on building your business and helping people look and feel beautiful, and your clients know that they are in good hands and that they will be taken care of the way they deserve.
Who Trusts Us? Beauty Pros Like You
Rated 4 out of 5 stars, based on 4 reviews.
Policies for any budget
Next insurance has policies for any budget. They are fast and get you anything you need quickly! This company is one that I highly recommend!
Travis T.
Great monthly low payment
Good Coverages at a great monthly low payment, didnt have to worry about coming up with a large lump sum down payment to start
Anita J.
Could not believe how fast the process was
I could not believe how fast the process was and how quickly I got a quote! Once click and within minutes I was insured...AND I didn't even buy their cheapest package!
Brittany C.
Why Do Beauty Professionals Need Insurance?
Is beauty insurance required by law?
Local laws around beauty insurance requirements vary widely. Which laws apply to you depends factors such as your business' location and the specific regulations of your region. Certain types of insurance are generally required where they are relevant. These can include commercial auto insurance if you have vehicles for business, and worker's compensation insurance when you have employees. Regulations around beauty general liability insurance differ more significantly. You should check out the specific regulations in your area. Whether you're legally required to have beauty insurance or not, we strongly recommend it for all business owners.
Why do you need insurance for your beauty business?
Starting your own business requires a major leap of faith. There's so much you can't predict, and it can be both scary and exciting to know that your success rides on your work. General liability beauty insurance can serve an anchor of certainty and stability within all those unknowns. It protects your business and allows you to focus on what's really important about your business—helping people look and feel beautiful while supporting yourself financially. Instead of worrying about the "what ifs" all the time, you can put all your effort into your business.
How does beauty liability insurance impact your business?
Your clients need to know they can trust you. Trust can come through word of mouth, or years of good service. But presenting them with a certificate of insurance, or even displaying it in your business, is a powerful message that you care about them and are doing what you can to ensure a satisfying experience. It also tells your clients that you are a professional who takes your business seriously. At Next Insurance, we give our clients an edge over their competition with our Live Certificate—a free, digital certificate you can share with the click of a button, anytime, and anywhere.
The Next Insurance Advantage
Simple
Buy online in minutes
Available 24/7
Instant proof of general liability insurance
No passwords to remember—just your email and zip code
Send certificate of insurance instantly to anyone
Affordable
Insurance premiums you can afford
Pay monthly at no extra cost
Low deductibles
No extra fees for certificate of insurance or additional insured
Instant cancellation anytime with no further charges
Tailored
Policies based on your activities
No coverage you don't need
Policies tailored around your needs
Get the exact coverage you need
Recommended Insurance:
There are many types of beauty insurance. Your needs will depend on the specifics of your business. However, we believe that most beauty businesses should invest in general and professional liability coverage, no matter the size of their business.
General liability coverage is the most basic kind of beauty insurance. It can protect your business from financial costs resulting from various types of accidents. The types of damage that are most often covered by general liability coverage are bodily injury, property damage, and personal injury.
For example, if an employee accidentally knocks over a bottle of chemicals and the spill permanently stains the floor of the space you're renting for your beauty salon, that would be considered property damage. General liability insurance could cover the costs of repairing the damage.
If a client trips on a wet floor, spraining her ankle and requiring a trip to the emergency room, general liability insurance could cover her medical expenses, or the costs associated if she sues you. And if you accidentally use a copyrighted image in your advertising and are sued by the image's owner, your beauty insurance could cover associated legal costs.
Knowing that you have general liability coverage for situations like these enables you to focus on making your customers happy and establishing a thriving business. General liability insurance is also sometimes called business liability insurance or commercial general liability insurance.
This type of insurance is sometimes called errors and omissions insurance. In the medical or legal fields, it's generally referred to as malpractice insurance. While general liability insurance protects your business when there's an accident, professional liability insurance protects your business when you make a professional mistake. Nobody's perfect and even the most skilled and highly-trained beauty professional might lose her concentration and slip up. Maybe you forgot that a certain product was contraindicated for your client because of another product she's using, and the interaction between the chemicals caused damage to her skin or hair. Or maybe you got distracted and over-cured your client's acrylic nails, and removing them caused damage to the nail bed. Or maybe you do everything perfectly, but a client is convinced that something you did caused harm. Having professional liability insurance means you can put your energy towards being the best in your field, knowing that in the unlikely event of a professional liability claim, you'll have the beauty insurance you need.
Still not sure what the difference is between general liability and professional liability insurance? You're not alone! The difference can sometimes be very technical—and who has time and energy to figure out exactly what type you need for your business? That's why at Next Insurance, we offer one combined beauty insurance policy that is tailored to the specific needs of business owners like you.
We've done extensive research on the types of claims that are made in your field and will develop a policy for you based on that research. That means our combined policy provides just the right coverage while still being incredibly affordable, because you aren't paying extra for coverage you'll never use.
What If I Offer Different Types of Services?
It's very common for businesses in the beauty industry to offer multiple types of treatments, and even to add more specialties as they grow. Sometimes the differences between the various types of disciplines aren't very clearly defined, either. Are you a barber, a hairstylist, or a cosmetologist? Maybe all three? Doesn't matter! Our combined insurance policy will cover you in any case. Just remember to note on your application each type of service you offer and estimate what percent of your work is dedicated to each of those kinds of work.
How Much Does Beauty Insurance Cost?
Our policies are, by definition, not one-size-fits-all. As a result, the cost of your beauty insurance will vary depending on a number of factors, such as how big your business is, what kinds of services you offer and how many, and your location. Generally, our policies cost around $1 per day.
The best way to figure out what you'll pay for your beauty insurance is to get your personalized beauty insurance quote on our site. You just answer a few questions and in less than 10 minutes, you'll have a beauty insurance quote that's specific to your business.
How Do I Know I Can Trust You?
We know that buying insurance can be overwhelming. We want to make sure you feel confident that you've made a smart decision when you buy a beauty insurance policy from us. And we know one of the best ways to check out a company you're considering is to take a look at their customer reviews. We invite you to check out the reviews our customers have written on our site, Google, and more. See for yourself how professionals just like you have experienced working with us.
Any More Questions?
We have a whole section dedicated to questions beauty professionals frequently ask about beauty liability insurance. Feel free to check it out!
Get Coverage
Tailored to Your
Business Now!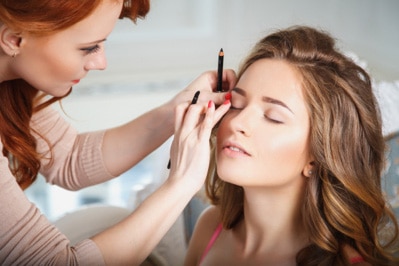 x
Thank you for choosing Next Insurance! It seems like we don't offer insurance for your professional work at the moment.
We're always growing and looking to expand our options Please enter your email and we'll keep you notified.
x
Thank you for choosing Next Insurance.
We wish you and your business lots of success!
x
Oops!
Thank you for choosing Next Insurance! Unfortunately, we can't give you a quote if we don't know what you do.Tell us what your profession is, so we can see if we have a product that's right for you.
x
Thank you for choosing Next Insurance.
We hope we can work together in the future!