Simple
Buy your policy 100% online in minutes, whenever and wherever you choose
Affordable
Pay monthly, with amazing prices and absolutely no extra fees
Tailored
Your business insurance coverage is designed to meet your needs
Educating children is critical. Caring for them doesn't come easy to just anyone. As an educator, you offer personal guidance in areas your students may not have access to otherwise. Maybe you teach them a new skill, or help them overcome obstacles they've been struggling with in their normal educational environment. If you run a daycare, you provide a nurturing and safe environment where the smallest children can thrive during a crucial period of their development. It's not easy for parents to hand over these responsibilities to someone else. They need to know that the person caring for their child is kind, professional, and trustworthy.
Having educator insurance is a powerful demonstration of your level of commitment to the well-being of the people you work with and care for. It helps parents breathe easier to know that they're working with an official, insured childcare provider or educator. It helps you breathe easier too, because it allows you to let go of the worry about the impact of a mishap on your business. You'll be able to focus on growing your business, attracting more clients and of course, the invaluable work that you're doing: contributing to a future generation of happy, well-educated and well-adjusted adults.
Who Trusts Us? Educators Like You
Rated 4.7 out of 5 stars, based on 7 reviews.
Simple process! Fair price!
What a simple process! Got everything I needed at a fair price!
Jessa R.
I could not be happier!
Started my own business, and Next has been a life saver! They are so simple to sign up with, their rates are incredible, and their coverage is amazing! I could not be happier!
Christyn F.
Highly recommended for any business owner
I was worried getting insurance would be unaffordable. With Next, I was pleasantly surprised on the rates! Highly recommended for any business owner in need!
Mic L.
Why Do Educators Need Insurance?
Is education insurance required by law?
Whether the law requires you to have insurance for your business depends on the details of your work. These can include the precise nature of what you do, where you work, how many clients you have, whether you have employees, and more. Some states require liability insurance for licensed day care centers, and others don't, so you'll have to check your local and state regulations. In any case, whether or not it's required by law, insurance is always a good idea—especially since the matter involves the safety and well-being of minors.
Why do I need education insurance?
Insurance is like a safety net that allows you to enjoy working with kids with confidence. Having education liability insurance means that in the unlikely event of an accident or mistake that causes a problem, you may be covered from certain types of expenses. Covered expenses could range from legal fees to medical costs and more. Let's face it: working with children, there are sometimes outcomes you don't anticipate. Education insurance can serve to protect you from some of the uncertainties of live as a business owner.
How will having insurance affect my business?
Having insurance takes your professionalism up a level. It shows potential clients that you can stand shoulder-to-shoulder with major daycare and tutoring centers in terms of professionalism—with the bonus of a more personal touch. While insurance does add to your expense, the advantages can more than compensate for it in your bottom line. Our customers have access to an additional benefit: they can send their clients (or potential clients!) proof of insurance with the click of a button thanks to our innovative Live Certificate. This saves you lots of time and paperwork!
The Next Insurance Advantage
Simple
Buy online in minutes
Available 24/7
Instant proof of general liability insurance
No passwords to remember—just your email and zip code
Send certificate of insurance instantly to anyone
Affordable
Insurance premiums you can afford
Pay monthly at no extra cost
Low deductibles
No extra fees for certificate of insurance or additional insured
Instant cancellation anytime with no further charges
Tailored
Policies based on your activities
No coverage you don't need
Policies tailored around your needs
Get the exact coverage you need
What Kind of Education Insurance Should I Have?
There are many types of insurance that can cover a range of scenarios, but many of them aren't relevant for educators. The two most basic insurance policies that we recommend for educators are general liability insurance and professional liability insurance.
General liability insurance is the standard, most basic level of insurance. It generally relates to accidents that were unpredictable and hard to anticipate. It can protect you from certain types of costs in situations that involve someone getting hurt physically, someone being hurt in a non-physical way, or property damage. If a student is climbing the steps of your house to attend a lesson, and he trips and gets a cut that requires stitches, general liability insurance could cover his medical expenses. Or if you forget to ask the parents of an adorable baby in your care about using her picture in your advertisements and the parents sue for violating their privacy, general liability can cover your legal expenses and help you reach a solution. If you accidentally drop your student's violin and it breaks, general liability insurance can help pay for a replacement.
Professional liability insurance adds an additional layer of protection for cases where you make a professional mistake or somehow didn't live up to your professional commitments. That's different than general liability which relates mainly to accidents that could happen to anyone. Maybe you're a tutor preparing a student for an entrance exam to a prestigious school. When the child fails the exam, the parents claim that it was your fault for not preparing her properly and demand a refund. Or maybe the parents of a child who didn't meet the requirements for entering kindergarten believe you didn't teach him the concepts he should have known. Now they want compensation for an additional year in pre-K. Professional liability insurance can help cover your losses in cases like these.
Our Solution: One Policy for Educators
The difference between general liability insurance and professional liability insurance can be fairly technical; if you break a violin, is it a mistake you made as a professional, or property damage? We know that working with kids is demanding. You probably don't have time and energy to figure out what kind of insurance you need for every instance of where things don't go as planned. That's why at Next Insurance, we offer one combined education insurance policy that includes coverage tailored to your specific profession.
We've done careful research about the types of cases that tend to come up for each type of educator, and our policies have been crafted based on that information. Policies include coverage only for things you actually need, with no extras that only add to your costs. That enables us to keep the whole process simple—while still providing great coverage for your business.
How Much Does Educator Insurance Cost?
We'd love to give you a solid, accurate education insurance quote—but we can't do that without knowing the details of your business first! The cost of insurance varies according to a few different factors, like the size and type of your business and your location. What we can tell you now, though, is that our prices are usually somewhere around $30 per month. If you want a precise price quote tailored to your specific business, just go online and fill out our application. You'll have your personalized education insurance quote in just a few minutes.
How Do I Know I Can Trust You?
We know that choosing insurance can be an overwhelming task, and it's important to us for you to feel confident with your choice. One of the best ways to help make a decision is to ask other people who use the same kind of service. On our testimonial page, our Google review page, and even our Facebook page, you'll find recommendations from other educators and business owners just like you who've had experience with Next Insurance.
Still Have Questions?
Still not sure about something? Want more details? You can find a comprehensive list of questions educators often ask us about insurance on our FAQ page, and we hope you'll find the answers you're looking for there. If not, you can always contact us and ask.
Get Coverage
Tailored to Your Business
Now!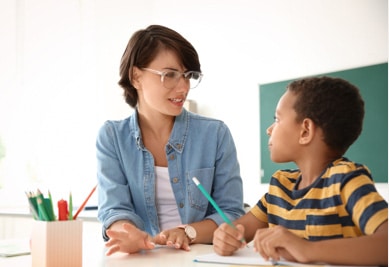 x
Thank you for choosing Next Insurance! It seems like we don't offer insurance for your professional work at the moment.
We're always growing and looking to expand our options Please enter your email and we'll keep you notified.
x
Thank you for choosing Next Insurance.
We wish you and your business lots of success!
x
Oops!
Thank you for choosing Next Insurance! Unfortunately, we can't give you a quote if we don't know what you do.Tell us what your profession is, so we can see if we have a product that's right for you.
x
Thank you for choosing Next Insurance.
We hope we can work together in the future!