Simple
Buy your policy 100% online in minutes, whenever and wherever you choose
Affordable
Pay monthly, with amazing prices and absolutely no extra fees
Tailored
Your business insurance coverage is designed to meet your needs
Working in construction means building the place where your clients' lives will unfold—whether it's a home, an office, or any other structure. As the owner of a construction business, you have clients who count on you. They rely on you to create spaces that are safe, functional and beautiful, that will serve them well for many years to come.
Having solid construction insurance gives you the confidence and security to continue growing your business. Insurance for your construction business means that you can devote your energy to doing stellar work, without fear of potential bad outcomes. Attention to detail is an essential skill in a construction manager. Having construction liability insurance sends a clear message to your clients that you're serious about what you do, and prioritize having all your bases covered. This helps them trust you and your ability to carry out their project.
Who Trusts Us? Construction Professionals Like You
Rated 4.8 out of 5 stars, based on 822 reviews.
One of the simplest and best experiences
This was utterly one of the simplest and best experiences I have had buying general liability insurance for my construction company in nearly 37 years of doing business. Thank you very much for your service.
Keith C.
Saved me about $850 a year
Saved me about $850 a year and being able to email proof of insurance straight from website to customers is awesome!!! Plus it was really easy to sign up without all the back and forth of traditional companies.
Dustin W.
Been looking for insurance for a while now but couldn't afford it
I've been looking for insurance for a while now but couldn't afford it. I had an opportunity to work for a couple of large companies but i needed to provide documents and now I have them
Lee W.
Why Do Construction Businesses Need Insurance?
Is Construction Company Insurance Required by Law?
Construction company insurance requirements vary by state and city. In most places, however, construction businesses are required to have some minimum insurance coverage. That's because construction projects have serious safety concerns, and require significant investment. You'll need to check with your local authorities to find out what the exact regulations are for your area, and for your specific line of work.
Why Do I Need Construction Business Insurance?
Construction company general liability insurance makes it possible for you to focus on your work, knowing that your business is protected in the unlikely event that something goes wrong. Running a business can be unpredictable. Having the right insurance for your construction company gives you one less item to worry about and take care of. Plus, our monthly payment option helps make sure your construction insurance costs don't interfere with your work.
How Will Having Construction Liability Insurance Impact My Business?
People hire you for jobs that are important to them. They will only hire you if they trust you and are confident in your expertise. Having construction liability insurance proves to your customers that you take your business—and their project—seriously enough to invest in protecting it. The monthly expense of affordable, high-quality insurance can hardly be compared to the level of security and professionalism it gives you. In addition, as our policyholder, you can share your Live Certificate of insurance with your customers, with the click of a button. That gives you an edge on the competition who might still be dealing with slow paperwork to prove to their customers that they're insured.
The Next Insurance Advantage
Simple
Buy online in minutes
Available 24/7
Instant proof of general liability insurance
No passwords to remember—just your email and zip code
Send certificate of insurance instantly to anyone
Affordable
Insurance premiums you can afford
Pay monthly at no extra cost
Low deductibles
No extra fees for certificate of insurance or additional insured
Instant cancellation anytime with no further charges
Tailored
Policies based on your activities
No coverage you don't need
Policies tailored around your needs
Get the exact coverage you need
What Types of Construction Insurance Do You Recommend?
You need to have the right kind of insurance to be sure your business is protected. There are several different types of liability insurance for construction that you may want to consider as a business owner. The two most basic types of commercial or residential construction contractor insurance are general liability insurance and professional liability insurance.
General liability insurance for construction companies is the most basic level of insurance—the kind that's often required by law. General liability construction insurance can cover different types of situations, but the main idea is that can offer protection when there's an accident and someone blames your business.
There are three main categories of incident general liability can cover: bodily injury, personal injury and property damage. All of these apply to an accident to a third party, meaning not to you or your employees.
For example, if one of your employees places a pile of cement blocks on the sidewalk and someone trips over it and gets a bad cut that requires stitches, general construction liability insurance could cover that person's medical expenses. Or if you make a negative remark about a competitor and it gets back to them, the competitor could sue you. If they sue, claiming defamation of character, general liability insurance could cover your legal expenses. Finally, if you're moving a piece of expensive glass artwork and accidentally drop it, construction general liability insurance could compensate the owner for the loss.
Professional liability insurance is another type of construction insurance that can cover your business. It's relevant in cases where you are accused of making a mistake or not doing your job right, even if the accusation is not true. This kind of liability insurance for a construction business is also called "errors and omissions" (E&O) insurance. That's because it covers cases where a professional caused damage by making an error or forgetting to do something they should have done.
This type of small business construction insurance could be relevant, for example, if you painted a house and used the wrong color. You made a mistake, and your professional liability insurance for construction could cover the cost of fixing it.
In our experience, professional liability insurance claims tend to be smaller than general liability claims. That's why our combined construction insurance policies, as described below, include lower limits for this type of insurance. There's just no reason to pay for millions of dollars of coverage when nearly every case we've seen would be covered by a lower cost, lower limit, construction insurance policy.
Our Approach: One Construction Insurance Policy
The exact differences between general liability and professional liability insurance are complicated. We've found business owners have enough to think about without worrying about the technicalities of your insurance. That's why when you buy your construction liability insurance from us, you gain a unique advantage. We offer one combined general construction insurance policy that includes exactly what you need from each type of insurance. Whether you need residential construction insurance or commercial construction insurance, you get precisely the right coverage..
We've done careful research about the kinds of claims that are made against construction businesses. Our combined policy is designed to cover only the types of situations you need it for. Excluding the extras and unnecessarily high limits for coverage you won't use is what makes it possible for us to offer you a policy with great coverage at an affordable price. It's how you know you've picked one from all the construction insurance companies that are out there. We'd rather you spend that extra money and time on building your business!
What If I'm a Carpenter Who Paints? Or a Handyman who Landscapes?
Construction involves huge variety of different tasks. We know there are lots of professionals who specialize in more than one type of work. If you do different types of tasks, fill out an application for general contractor insurance. There's a space in the application where you can indicate the exact percentage of time you dedicate to each kind of work. That way, we'll offer you construction insurance coverage specifically designed to meet your needs.
How Much is Construction Insurance?
No two businesses are alike, especially when it comes to construction. As a result, construction liability insurance costs will vary. Your specific construction insurance cost depends on how big your business is, what it does, and where it operates.
Our policies generally start from $1-2 per day, but the best way to determine your personal construction insurance cost is to go online, and get your specific construction business insurance quote. Evaluating construction insurance companies' costs, coverage, online service and more will help you determine what the best construction liability insurance is to help your business thrive.
There Are so Many Construction Insurance Companies. Can I Trust You?
Just like starting a business, buying insurance is a leap of faith. We know you want to be sure that you're entering a relationship with a company you can trust. A good way to find out which construction insurance company is the right one for you is to read reviews from other people with businesses like yours who've had experience with that company. We invite you to check out the reviews our customers have written about us to see for yourself how happy they are with our service. When you see what our customers have to say, and combine that with the value you'll see in your personalized construction business insurance quote, you just might decide that we're worth trusting.
Still Have Questions?
Anything else you'd like to know about our construction insurance costs and coverage? We have an FAQ section that answers some of the common questions and concerns business owners like you have had. Feel free to take a look!
Get Coverage
Tailored to Your
Business Now!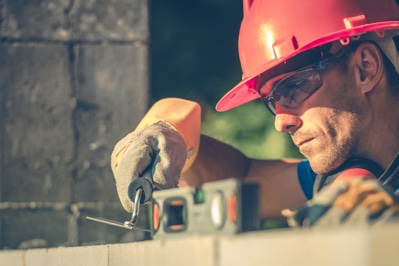 x
Thank you for choosing Next Insurance! It seems like we don't offer insurance for your professional work at the moment.
We're always growing and looking to expand our options Please enter your email and we'll keep you notified.
x
Thank you for choosing Next Insurance.
We wish you and your business lots of success!
x
Oops!
Thank you for choosing Next Insurance! Unfortunately, we can't give you a quote if we don't know what you do.Tell us what your profession is, so we can see if we have a product that's right for you.
x
Thank you for choosing Next Insurance.
We hope we can work together in the future!