Distinguishing yourself in the marketplace is a daunting small business challenge for up-and-coming organizations.
Since it's safe to assume you won't have a monopoly, finding ways to get noticed and secure customers will be critical to your success. And coming up with clever marketing ideas won't be the only hurdle you'll have to clear before sales ring up and profits abound. You'll need to ask yourself what is competition in business and where can you gain an advantage?
Many small businesses don't make it past the first year. Failure to effectively market and advertise is a contributing factor. But, it ranks well below a lack of capital, poor planning and a general lack of experience. So, if you feel you're in a good place executing those three strategies, let's see how to beat the competition in business and foster small business growth. What follows is a peek at how you can analyze types of competition in business and then set your small business apart from the many others you'll run up against.
Small Business Competitive Research
Before you hang your open for business sign, you'll want to find out more about startup competition in the market.
With a small business, it can be admittedly difficult to access a competitor's sales figures and market share, but starting with the basics will give you a leg up. If you're an HVAC professional, draw a circle around your expected area of operations. Often, online maps are useful to display similar businesses within a geographic area but realize that methods like these won't completely reveal who are your competitors in the market. You may have to take to the streets or a local small business organization to fill in most of the gaps.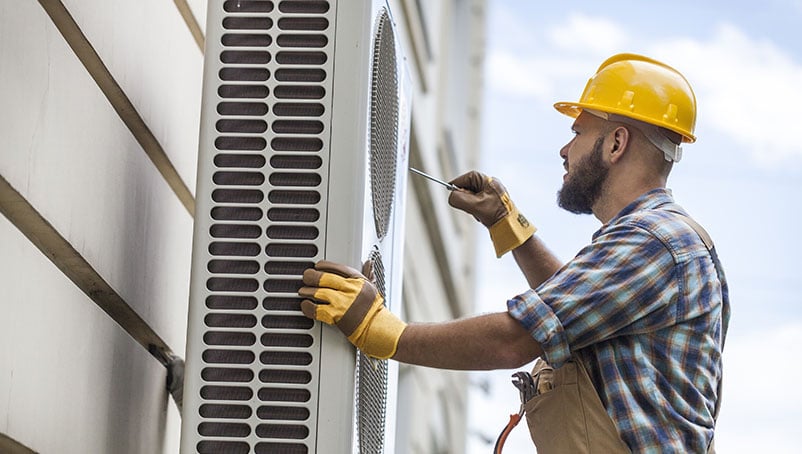 Comparison Shopping
To get a better feel for who are your competitors in the market, available marketing material or advertisements will only tell part of the story.
Secret shopping is a far more effective research methodology because few business owners or their employees will shy away from a potential sale. With that in mind, you can start the process yourself or enlist the help of a friend or family member to evaluate customer service or compare pricing.
In the digital age, you're more apt to encounter negative feedback from disgruntled customers and while you must take all unverified reviewers with a grain of salt, you may discover a pattern of competitor behavior that you can capitalize on.
Competitive Advantage
After you complete your study of the market and figure out how to beat competition in business, you'll begin to realize what you can offer customers— superior products, better pricing, sparkling service— that your industry peers do not or cannot.
It's at this stage where you begin to formulate a unique selling point if you haven't already. If you're that HVAC specialist, perhaps the advantage springs from an extended warranty period on services or a discount for customers who agree to hand over a few referrals. Often, your advantage doesn't have to be radically different from what other HVAC companies are doing.
The characteristic that sets you part could be timeliness: a commitment to showing up when promised and finishing a project by a prescribed deadline.
Marketing
You must spread the word that you've arrived on the scene, and you mean business— figuratively and literally.
You can do no better than to mount a three-tiered marketing campaign that will drive customers to your door and won't break the bank. It's been said that the best kind of advertising is the kind spread through the praise of a satisfied customer. Prospective clients heed the advice of friends and family members, so if you stay on point with quality goods and service delivery, your phone will ring off its charger. Fellow professionals are also a good source of referrals. Join a local small business group, send your associates some business and the quid pro quo will flow.
Social media can help you gauge online business competition and can't be ignored in 2020. Even if it's simply an online presence, you're bound to benefit from it. The best thing about all three outlets? They're free.
Small Business Market Checks
Don't get fooled into thinking that if you build it, they will come. That's not necessarily so.
It would be nice to think you could set it and forget it with regard to your business model. But, the market is dynamic. Your savvy competitors will always endeavor to streamline their operations and strengthen their brands. You might run fast out of the gate but continued success is about sustaining, reacting and adapting. Thus, market research and looking in on the competition must be a continual process. You can focus on what your peers are doing to grow their market share. But, it's also worth a bundle to look within your organization and transform missteps into lessons learned.
Keep one eye on the market and make a vow not to repeat mistakes of the past. That's a powerful one-two punch.
Hiring for a Small Business
Effective small business marketing shouldn't just emanate from your own efforts when considering how to win business from competitors.
If you hire employees, be sure they buy into your business philosophy and become messengers of your mission. As with word-of-mouth referrals, you'll want employees to trumpet all the reasons why customers should do business with your company. The advantage of branching out through employees is it's likely that they travel in different circles than you do and that creates a whole new set of prospects. Naturally, you'll want to establish an environment where folks want to work for you.
Whether that involves incentives or attractive wages and benefits, you should reap the benefits of employee enthusiasm and ambassadorship.
Always Be Innovating
There's no marketing strategy that's etched in stone.
While you want to leverage many of the mainstream methods to reach prospects and customers, you should always be thinking about innovative ways to put your organization out in front of the pack. If your strength is operations and finance, don't be shy about looking outside the company for marketing consultants who can give you some unique ideas.
At Next Insurance, we're committed to helping you boost the bottom line and protect your assets with business insurance and some valuable concepts of our own.