Becoming an independent contractor is an attractive opportunity for many people today. After all, independent contractors play a vital role in the economy, and in our lives. Many people prefer to hire an independent contractor because of their flexibility, convenience and affordability, in addition to their skill. Despite all of those advantages, though, the challenges in the field are significant, and the competition can be daunting. Some of the more serious threats faced by independent contractors starting out include highly complicated legal requirements, high attrition rate among workers, and a lack of funds. Many of those challenges can be moderated with proper planning and patience.
So, how can you turn your work as an independent contractor into a success story?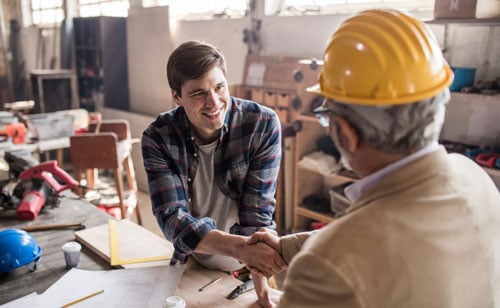 Top 6 Tips for Success as an Independent Contractor:
1) Determine Your Business' Legal Structure
When it comes to setting up a business or legal structure for your contracting business, you need to be confident in your decision. You can be a sole proprietor or a Limited Liability Corporation, (LLC) for instance. The type of legal structure you choose for your general contracting business can have a significant impact in determining your taxes, liabilities, and other facets of accounting, and your finances in general.
Once you have successfully set up your legal structure for your business, you can take the next step, and focus on building a client base and running your business. It is important to note that getting a contractor license in states that require it is important for your credibility. Each state has a different body that controls those licenses; in California, it's the Contractors State License Board, while in Louisiana it's the Louisiana State Licensing Board for Contractors. A quick internet search should turn up the relevant body for your state.
2) Create a Plan for How to Run Your Business
The systems you select for running your contracting business should make processes like bookkeeping, invoicing, scheduling, filing taxes and task management as smooth as possible. You should aim for a balance between services that may be free and those which may cost money but better meet your needs. In addition, the systems and regulations you put into place should be helpful for any current or future employees of your contracting company by offering them crystal clear instructions on your work procedures and policies.
3) Assess the Internal Elements of Your Contracting Company
This is a critical stage in the creation and maintenance of your independent contractor business. Questions to consider include:
Is your company financially stable?
What types of insurance does your contracting company need, and do you have them?
What is the best insurance policy for your company?
What ratings are your customers giving your services?
Is your marketing getting you the results you want?
4) Build a Smart Marketing Strategy
A marketing strategy for an independent contractor is not just about finding new customers, but also about winning bids for more profitable projects. In short, you need to focus on doing quality work and building your reputation so that you get both new clients and good projects. Having a mix of big and small projects of varying types can help with that, and can expose you to more customers than you might otherwise meet.
In addition, while you are targeting a local base of potential customers, online marketing can be a fruitful source of leads. You also need to keep in touch with your established/past customers, even through touches as simple as an email at the holidays. It can help you by bringing down the sales costs and keeping you in your customer's mind, long after you've finished their project.
5) Get the Insurance You Need
Insurance is important; there are many risks involved in a contracting business. Accidents can happen anytime, from hammering a finger to dropping a piece of equipment! Therefore, liability insurance is particularly important for contractors. A well-chosen independent contractor insurance policy can provide your contracting company the much needed financial protection for unwanted incidents.
6) Join the Industry Association
If you want to grow your business, networking is extremely important. It can help you by nurturing your business skills, as you discuss with people in similar businesses how you carry out your work, or meet others whose work you could utilize on your projects. Plus, you will also be able to keep yourself updated with the latest industry standards and practices. For this, become a member of the industry association like the Associated General Contractors.
Those are some of our best tips for how to make your career as an independent contractor a successful one. We wish you all the best of luck!