If you know the ins and outs of the construction business in your state, you may wonder whether becoming a general contractor is right for you. A general contracting business can be a great way to earn a living, especially if you're good at both hands-on construction work and people management. According to Indeed, the average salary for a general contractor in the United States is more than $80,000. Of course, if you own a large firm, you could make a great deal more than that.
Yet starting a general contracting business isn't for everyone. To run your own company, you need to become fluent in the business side as well as the construction side, including writing a business plan, choosing a tax structure, hiring subcontractors, deciding what to charge, selecting business insurance, and marketing your company. If you think you have what it takes, here's how to start a general contracting business.
License and Certification
A general contractor is responsible for all phases of a construction project, whether it's a home addition or a brand-new commercial tower. You must understand design, building techniques, budgeting, and building codes. Therefore, you can't just hang up a shingle and call yourself a general contractor. All 50 states require general contractors to be licensed, though the specific requirements to become a general contractor vary.
In general, you will need several years of experience at the journeyman level or a related college degree such as construction management or civil engineering. You may also need to pass a state exam and post a contractor bond. Regulations do change, so check with your state to make sure you understand the latest requirements.
Tax forms and business structure setup
Once you have your general contractor's license, you can set up your company. One of the biggest decisions you need to make when starting a general contracting company is what sort of business structure you will select. Each structure has its own pros and cons, and the structure you choose can have major tax implications and effects on your business. Consider meeting with a tax professional or startup attorney before making your final selection. There are three basic business structures for small businesses:
Sole Proprietorship: If you will be the only owner, you might prefer the simplicity of a sole proprietorship. You can run your business under your own name or, if you prefer, file a DBA (doing business as) form that allows you to use a different company name. You don't need an EIN (employer ID number) from the IRS, and you can simply calculate and file your business taxes as part of your personal tax return. However, if your company is sued, you could be personally liable for damages.
LLC: Companies with more than one owner can't be sole proprietorships. Many small businesses with two or more owners become limited liability companies (LLCs) instead. Your business profits or losses "pass through" to your personal income tax returns, so additional paperwork is limited. An LLC can also protect your personal assets if your company is sued, as it is considered a separate entity in the eyes of the law.
S Corporation: When organizing an LLC, your business can elect to become an S corporation. This is the simplest version of incorporation, and it offers some tax advantages over a traditional LLC. However, it also requires additional paperwork.
All business structures have specific documentation requirements. You may also need to get a business license or occupational license and fill out additional forms with your state. To make sure you file everything properly, work with a local startup attorney or follow the IRS Checklist for Starting a Business as well as the guidelines on your state's website.
Business Insurance Options
It's completely understandable that business insurance may not be at the top of your to do list when starting a general contracting company. There are so many things to consider, from ensuring that your license and bonding are up to date to filing your startup paperwork. But ignoring insurance is a mistake you can't afford to make. General contractors are responsible for all aspects of each construction project, so there's a lot that can go wrong.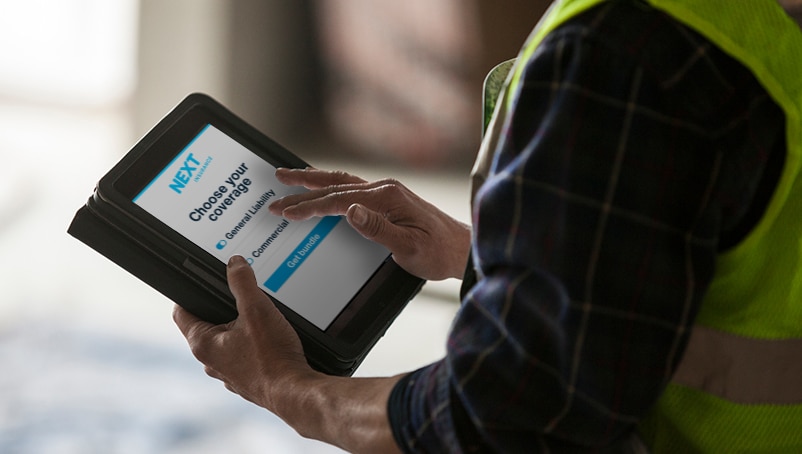 At Next Insurance, we take pride in offering customized insurance for general contractors. Starting at only $62.50 per month, our insurance can grow with your company. All plans provide general liability coverage, and some include professional liability as well.
Whether you accidentally scrape a customer's hardwood floor, your client trips on a toolbox, or one of your subcontractors makes a costly mistake, you can have the peace of mind that comes with knowing you're protected. We can even add commercial auto insurance to your policy, since you'll need to use some kind of vehicle to move people, supplies, and equipment around.
Contracts for Working with Subcontractors
Unless your company is huge, with lots of different departments, you will need to work with subcontractors. These professionals perform one aspect of the build or remodel, such as painting or carpentry. Using subcontractors saves your clients the trouble of hiring people from different specialties, and it allows you to use workers you trust. However, a solid contract that spells out each party's obligations is essential to maintaining a good working relationship.
Unless you happen to be an expert in contract law, consider having your contracts professionally drafted by an attorney. Specific legal language may need to be included for the contract to be valid in your state, and an experienced lawyer can help make sure you aren't missing anything that should be included.
Business Plan & Marketing
Although many people fear business and marketing plans, they don't need to be complicated or scary. Your business plan is just a road map to guide your company from where you are to where you want to be. To write it, think about the types of jobs you would like. Do you want to work on home additions and remodels in middle-class neighborhoods? Are you interested in building luxury homes? Do you picture yourself taking charge of skyscrapers in the big city an hour away?
Once you know what types of projects you want to work on, think about the people who own those properties. Where do they live, work, and spend their leisure time? Do they use social media? Do they participate in community events? Is there an annual trade show they like to attend?
The more you can determine about your ideal customer, the easier it will be to write both your business plan and your marketing plan. Your business plan will focus on how to get work as a general contractor, as well as on the financial considerations that are involved. Your marketing plan should be all about how best to target the customers you have identified.
Ready to Get Started?
At Next Insurance, we're changing the game in the small business insurance market. Our affordable, customized insurance plans can be purchased and used entirely online. We offer top-quality customer service, and we are committed to making your insurance work for you. Get your instant quote today or call us at 1-855-222-5919 to learn more.