Thinking of starting a general contractor business? Not only will you need a broad knowledge of the construction industry and years of experience working in the field, but you'll also need strong business skills.
There's no single way to break into this rewarding profession — but it helps to have the guidance of someone who's done it before.
General contractor Michael McSweeney knows what it's like to start from scratch. Growing up in Cleveland, he became fascinated with construction and started learning electrical and plumbing skills by reading books as a teenager.
But his building career took off in his twenties when he started working for a general contractor, studied construction at a community college and opened his own contracting business.
Now a four-decade construction industry veteran, McSweeney has mentored many new generations of builders. As a coordinator at the non-profit California Homebuilding Foundation (CHF), he provides resources to high schools to help train students for rewarding construction careers. And if these students can do it, he says, you can too.
"What I want to do is expose people to the possibilities that if you want to be the master of your own universe, this is a perfect industry to do that in," he says.
We spoke to McSweeney about how to build a career as a general contractor. Here are seven of his top tips, plus seven more from the NEXT team.
Jump to a tip:
1. Learn a bit of everything
Working as a general contractor is "like being an orchestra conductor," McSweeney says. "You have to not only understand the music, but be able to play it. You have to know a little bit about a lot of stuff."
When you take your general contractor's license exam, you'll need to demonstrate your knowledge of every single trade. "They can ask you about an elevator. They can ask you about painting. They can ask you about roofing, electrical, whatever," he says.
Read more: How to become a general contractor if you have no experience
That's something to keep in mind as you're learning new skills. McSweeney suggests looking for work that lets you see how all the trades come together in construction — like his first job as a laborer for a San Diego general contractor.
"I was kind of like the utility baseball player, which gave me the opportunity to meet all the subcontractors on the job," he says. "I could talk to the plumber, the electrician, the heating guy, all the different subs. And basically that was my college education."
McSweeney recommends working for a home remodeling company, where contractors do a bit of every trade.
Just by being on the jobsite, "You can learn from other trades because you'll be there doing cleanup or prepping for the next phase, when the electrician is there, the plumber is there, the heating guy is there, and when the insulation guys come in."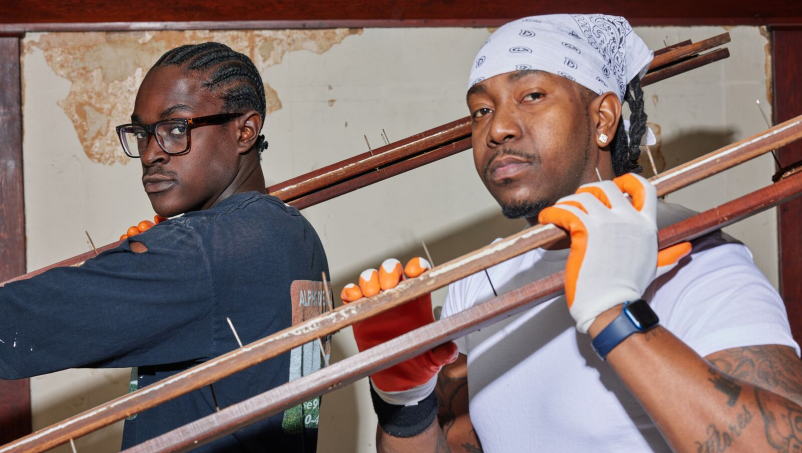 2. Structured training is valuable
While you can learn a lot as a construction helper, there are big benefits to enrolling in a structured training program like a vocational course or an apprenticeship.
These programs can help you build valuable professional skills needed as a general contractor while expanding your industry network.
McSweeney says school helped jumpstart his career. Most community colleges offer affordable courses on trades like electrical or plumbing that include hands-on learning.
You can also do an apprenticeship, which McSweeney says is like a "university of construction," with an important bonus: You get paid to learn. Typically, "you get hired by a contractor, you go to work during the day, and a couple of nights a week, you have a two-hour class."
Depending on the program and the trade, an apprenticeship could take as many as four years to complete. But by the end, you'll be well-prepared to start working on your own; many organizations offering apprenticeships will help you get a job.
Read more: 8 steps to build a successful home renovation business
3. Want to learn a trade? Try carpentry
Many general contractors start out specializing in a trade. If you're going to pick one, you might want to pick carpentry, McSweeney suggests.
"You're there at the beginning of the project," he says. "You'll set the forms for the slab to be poured. You'll have to coordinate with the plumber and the electricians who are there because they've got to put in their pipes before your forms go in, and then you'll frame the building and then you'll also come back and put in the doors and windows after it's framed."
Of course, carpentry isn't the only way in. McSweeney began as an electrician and painter.
"As the electrician, I was there putting in temporary power from the beginning of the project, and the painter is the absolute last guy on the job." That helped him gain an understanding of construction from start to finish.
Remember though, as a general contractor, your job isn't to do everything — it's to manage the crew.
"You don't need to be a master carpenter to hire a master carpenter. You have to be knowledgeable enough to be able to communicate with the master carpenter, to let them know what you want and what your client expects."
4. Learn accounting and estimating
Succeeding as a general contractor isn't about more than your building skills. You also need business smarts, starting with a basic knowledge of accounting.
"If you want to go borrow money from a bank, you've got to be able to show them a profit-loss statement," McSweeney says. "You've got to understand a chart of accounts. You've got to understand how to segregate expenses the proper way."
He learned this the hard way working as a young painter and getting hired by local contractors: "I didn't understand what my costs were. I didn't understand what my overhead was. I was getting 90% of the jobs I bid, and I thought I was just the world's greatest businessman. The reality was I was undercharging for really good quality work."
Read more: How to bid on construction jobs: Tips for winning the projects you want
Getting accurate information on your costs is especially important today, as supply chain disruptions mean the prices of common materials could vary significantly over short periods.
"If you're thinking, 'I'm going to need 10 spools of wire and they're $60 a piece,' but then you go to buy it and they're actually $125, that's going to hurt," McSweeney says.
Read more: Construction inflation: Contractor efforts to combat inflation have hidden risks
Also, keep in mind that your costs go beyond materials and wages.
"If you're paying a guy $30 an hour, then there's taxes, overhead, workers' comp — all those things add up along the way," he says. "So what does it actually cost you per hour to have that guy in the job? The $30 an hour you're paying him could be more like $50."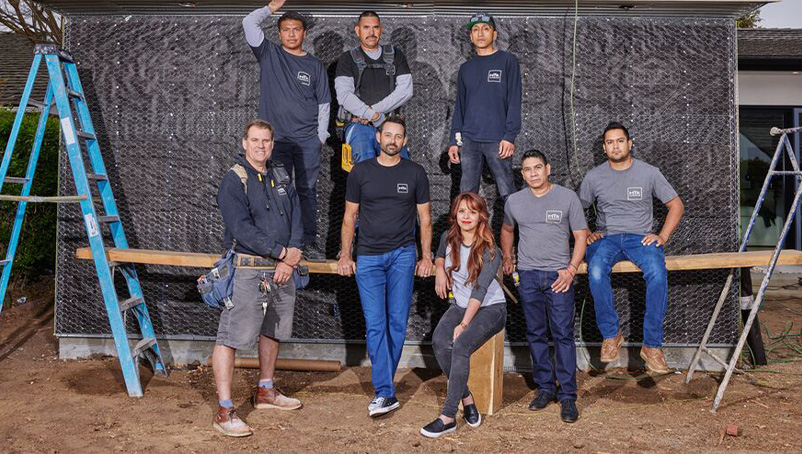 5. People skills are crucial
According to McSweeney, relationships are the key to success in the construction business. 
McSweeney says he always makes sure clients feel comfortable with him: "You have to know how to listen. You have to know how to communicate. You have to know how to build trust with people."
People skills also include treating your employees and subcontractors fairly. "You can't screw people over and not pay them and then expect them to work well for you," he says.
"The thing with being in business for yourself is you're the master of your own universe, but you are responsible for everything. And if the people that depend on you can't survive, you're not going to survive."
As a contractor, strong people skills help you grow your industry network. In particular, trade associations can be a great source of important connections and advice.
As a young builder, McSweeney recalls going to a cocktail party and meeting a local construction industry veteran who told him he should be charging more.
"I raised my prices after going to that trade show by 10%, and I didn't have a single client blink," he says.
6. Always protect yourself
Every construction worker deals with unexpected issues – from water damage to excavation issues, but "people can sue each other for the smallest of infractions," McSweeney says. That's why insurance is critical.
Read more: 6 common construction claims for general contractors and how to avoid them
Many states require general contractors to carry contractor insurance, and most clients will ask for a certificate of insurance before you take on a job.
"You've got to make sure that you've got enough insurance to adequately protect you," McSweeney says. "You better have enough liability coverage if something goes sideways. You don't want to have to lose everything."
If you have employees, you might need workers' compensation insurance. Many contractors also carry professional liability insurance, which can help protect you if you make a business-related mistake.
Commercial property insurance and tools and equipment insurance can protect the materials and gear your business relies on.
7. Don't give up
The road to becoming a general contractor can be long and humbling, and you shouldn't expect to figure it all out overnight.
McSweeney battled doubts when he first started construction work. But construction is a career that offers many "pivot points," he says. Even if you set out to be a general contractor, you're building skills that can come in handy for many other jobs, including building inspector roles or jobs working with suppliers.
For McSweeney, a construction career is a bit like driving on the freeway.
"You pick your on-ramp, and then as you're driving down the road, there's just all these exits that you can take," he says. "And so maybe you take an exit, and you work in that exit for a few years, then you get back on the freeway."
The rewards for sticking it out are greater now more than ever.
"Here's one fact that it's going to blow your mind: By 2036, 53% of the people working in construction today will have retired," McSweeney says. "For every five people my age that retire, there's only one coming into the industry. So if you want to go into something that is going to continue to rise because there's demand but not enough supply, this is the perfect industry to be in."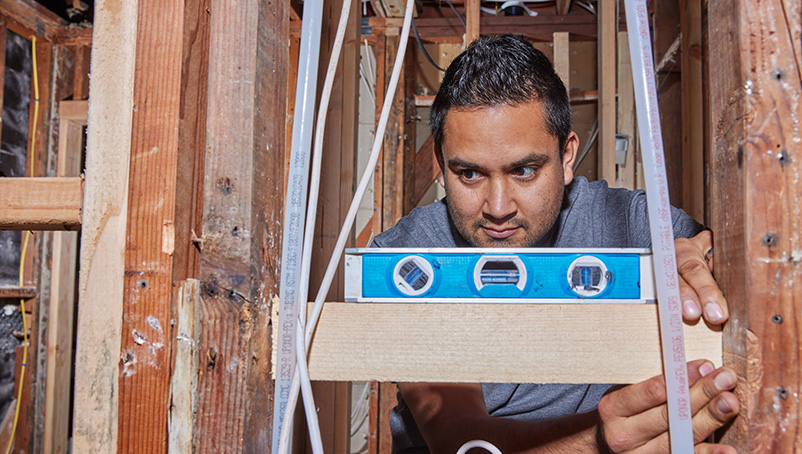 Besides McSweeney's seven tips for starting a general contracting business, NEXT has a few more tips to put you on the path to entrepreneurship.
8. Get licensed
As a general contractor, you'll be in charge of managing construction projects. For that, you'll need a license — whether you're working on a home addition or a brand-new commercial tower. The specific requirements to get a general contractor license may vary by state.
In general, you'll need to demonstrate several years of professional construction experience, or a combination of work experience and education. You'll also have to pass a state exam, post a contractor bond and show proof of general contractor insurance.
Here are our guides for state general contractor's license and insurance requirements:


Read more: General contractor license requirements by state: NEXT Insurance guide
9. Choose a business structure
Once you have your general contractor's license, you can register your business.
Your business structure is one of the most important decisions when starting a general contracting company. Some of the most common business structures for general contractors include sole proprietorship and limited liability company, or LLC.
Each structure has its own pros and cons and can have significant tax implications. Consider meeting with a tax professional or attorney before making your final selection.
All business structures have specific documentation requirements. You will typically need to get a business license and fill out additional forms with your state — check with your local agencies for more details.
10. Establish a business plan
A business plan helps you write your general contracting business goals on paper. (It's also essential if you want to apply for funding.) Here are the common parts of a business plan:
Management and structure of the business
General contracting services you offer
Preferred customer type and target market
Number of employees
Marketing
Estimated costs and income
Funding
The SBA has resources for creating your first business plan and even offers events to help new business owners.
11. Obtain funding for your general contractor business
Initial funding is one of your biggest hurdles in starting a general contractor business. Construction businesses struggle with cashflow problems — you have to buy expensive materials and tools before the job is complete.
You have many funding options:
Loans (traditional and SBA)
Credit
Investors
Grants
Read more: Should you rent, lease or buy construction equipment?
12. Market your construction company
Your potential customers need to trust you before they will hire you. Sometimes that trust comes from referrals, but you often build that through marketing. Start your marketing efforts small, and start them early.
Create an online listing. Google Business Listings is a great place to start. This way, you not only show up in local online searches, but you also can start collecting reviews — which is essential for building a reputation.
Create a website, and even a simple one will work initially. Your website should list your contact information, your services, and any photos of projects you want to display. Your customers are trying to gauge if you're the right fit for their project, so the more specific you can be about your business, the better.
Read more: 11 general contractor marketing tips to help your business stand out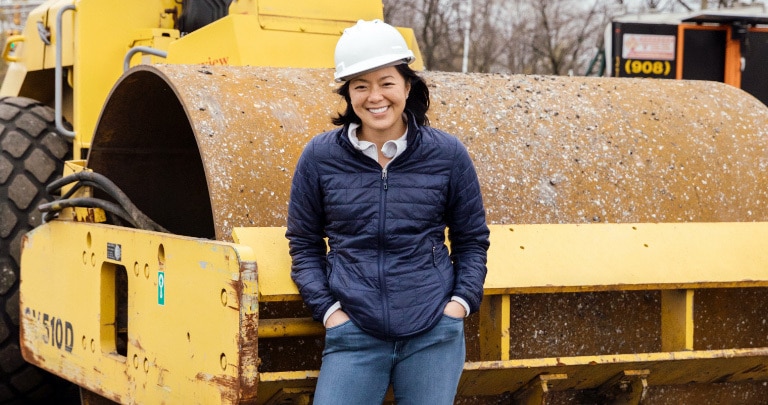 13. Grow your business by managing subcontractors effectively
As a general contractor, your primary responsibility is managing subcontractors. You are the hub of tradespeople at a job site. Your general contracting business will grow when you manage subcontractors effectively.
Step one is to find the right subcontractors. Look at reviews and referrals to make sure you are hiring dependable and talented subs. Take time to continually network so you can always be on the lookout for new subcontractors.
Read more: Perkins Builder Brothers tips for hiring, training and keeping construction employees
Once you have a team of contractors in place, you must manage them. The key to effective management is communication: communicate with the client and make sure your subcontractors understand their wishes. You also want to set up an independent contractor agreement that outlines clear expectations about how they should complete work. Examine work closely as you get to know your subs.
Read more: Effective subcontractor management: How to hire and manage construction trades
As your general contractor business grows, you will lean on your subcontractors. You will save time by retaining your subcontractors. Take the time to watch out for your subs by sorting through red tape, scheduling consistent work and managing client relationships.
Read more: Are general contractors responsible for subcontractors?
14. Get insured
When you're launching a general contracting business, getting the right contractor insurance is a must. Not only is insurance required for general contractors by most states and clients, having proper coverage could protect you from financial ruin when something unexpectedly goes wrong.
At NEXT, we're proud to offer customized insurance for general contractors. All our plans include general liability insurance, and you can add on coverage like workers' compensation, professional liability and commercial property, depending on your needs.
How NEXT helps general contractors succeed
We know launching your own business takes work. That's why we've made it as simple as possible to protect your business with general contractor insurance.
You can complete an application, view policy options, get a quote and purchase coverage in less than 10 minutes. When you make a payment, you'll get immediate access to your certificate of insurance.
Get started with your free online quote today.