Water damage is one of the most common and expensive types of property damage. If you work in construction, repairs or renovations, you're probably well aware of the nightmares leaks can cause on a job.
Leaky pipes, disconnected hoses or shoddy materials might not be immediately noticed until they are revealed by wet walls, stained ceiling tiles or mysterious puddles. That can wreak havoc on your bottom line and your scheduling plans.
If a leak causes water damage, you might have to use your contractors insurance to help cover repairs if you're at fault.
Most water damage insurance claims can be prevented
The good news is that most water damage claims can be prevented if you follow a few precautionary steps before you start work and while the project is underway.
Here are a few things you can do to reduce the chances of running into issues with water damage:
Brief all employees and subcontractors
You can train your employees how to identify potential sources of water damage and how to reduce those risks.
Create a written document or have regular training sessions so that all your employees and subcontractors are up to speed prior to beginning work. Damage caused by water is not only costly to your balance sheet but also to your reputation. Negative reviews and adverse word-of-mouth comments about your business will set you back enormously.
On the other hand, well-trained employees could impress your clients and help to give you a competitive advantage.
Observe the jobsite
Thoroughly check out the jobsite and note all potential risks for water damage. Is there anything unusual about this site that could cause you problems down the road?
For example, if you're a handyman (or woman) hired to hang pictures in a client's basement, it's a good idea to check where the water pipes are so you don't inadvertently drill into one. If you're a general contractor, show your employees how to locate and operate the main water shut-off valve in different types of residences and commercial properties.
Inspect all materials and equipment
All equipment and materials that will be used to complete the job should be inspected to make sure they are not faulty or damaged.
Double check that temporary or permanent seals are waterproof and test them as you move forward with your project to make sure they're performing as advertised.
Account for a change in weather
Make sure you and your employees are aware of any weather conditions that may affect your jobsite. Frozen water pipes that later burst and cause a huge mess are the most common source of water damage in cold weather. If water isn't coming out of the taps, that's not a good sign.
You can't control how a homeowner tries to prevent frozen pipes, but once you're on the scene make sure you and your employees don't use any kind of propane or kerosene heaters or open flame device to thaw the pipes. A potential fire could be much worse than burst pipes.
Heavy rain and wind can also be problematic for a variety of jobs — especially exposed roofs, walls and foundational work.
Monitoring the weather should include daily updates as well as noting any sudden changes. Materials and contingency plans should be ready to implement at a moment's notice to account for sudden changes in the weather like hail, thunderstorms and freezing.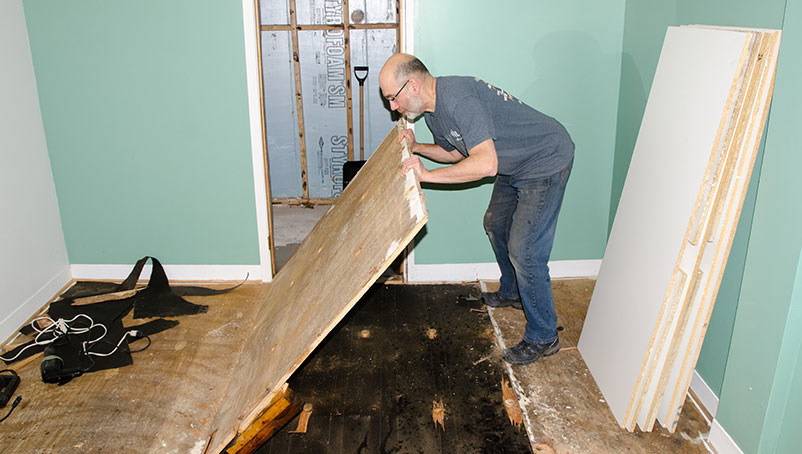 Respond quickly to water damage
If a water leak occurs, a prompt response can drastically reduce the damage and cost of an incident. Have a plan in place so that you are prepared if an incident occurs. Give your client after-hours contact information so you're easy to reach in an emergency and keep all repair tools and equipment easily accessible in case you need to respond in a hurry.
For example, if you're a plumber and you accidentally disconnect a client's dishwasher intake hose and it leaks overnight, make it your priority to set it right as soon as you realize what's happened.
What happens if you claim water damage on your business insurance
If you and your employees do all you can do to prevent water damage from happening on a job but it happens anyway, you can usually use your business insurance to help cover related cots for repairs.
Contact your insurance provider about the situation as soon as possible. Tell them about all the damage and include every detail of the complaint made by a customer.
Some insurance companies will require you to call to report a claim, while others (like Next Insurance) will enable you to file a claim online through an online form or virtual assistant.
When you make a water damage claim, your insurer will investigate the claim to confirm what happened. Once the claim review is complete, your claims advocate will let you know if it is approved or denied.
How Next Insurance protects you from water damage expenses
Part of being prepared is having appropriate insurance, such as general liability insurance, which will help pay for damages made to a residential or commercial property. How much your general liability insurance covers depends on your policy limits.
We specialize in helping construction professionals find the right coverage at an affordable price with our painless online process. Simply answer a few basic questions about your business to get an instant quote, explore coverage options and access your certificate of insurance.
Our licensed, U.S.-based insurance advisors are ready to help you if you have any questions.