Unlike most other states in the U.S., Colorado does not require a general contractor licensing at the state level. However, most general contractor projects are regulated at the local level. You may have to get a license or permit in the counties and cities where you work.
If you're wondering how to get a general contractor's license in Colorado, continue reading to learn more about:
How to become a contractor in Colorado
Colorado general contractor license requirements
The general contractor insurance Colorado requires
General contractor licenses in Denver
How long it takes to get a general contractor license in Colorado
Planning to work in other states? You can review licensing requirements across the United States with our general contractor license requirements guide.
How do I get a general contractor license in Colorado?
Since general contractor licensing is regulated by local governments in Colorado, the process will vary by location. Most areas do not require a contractor to be licensed unless they are performing work that requires a permit.
Start by contacting the local government in the areas where you plan to work.
In most areas, contractors must have a minimum number of years of experience working under another licensed contractor before they can get a license. As they get close to completing the necessary experience, contractors should get a general contractor insurance coverage that meets the requirements for their local areas. We'll share more details on that below.
Many local areas do not honor reciprocity agreements, meaning that you can't earn your license in one Colorado city and use it to work in another. As a result, contractors will typically need to obtain multiple licenses (and meet multiple requirements) when working in different cities within the state.
Types of Colorado general contractor licenses
There are several types of colorado general contractor licenses, but not all license types are offered in all municipalities. The most common license types for general contractors are:
Class A license: This is the broadest license type. It allows contractors to work on any building project, regardless of size. Contractors with a Class A type license may not work on plumbing, electrical, mechanical, fire extinguishing or elevators unless they obtain the trade-specific licenses in those areas.
Class B license: Contractors with this license can work on most residential and commercial building projects, except those designated as IA or IIA by the International Building Code. Class B contractors may not work on specific trades without holding additional licenses.
Class C license: Contractors with this license are limited to projects involving residential buildings for single-family dwellings or multi-family dwellings. The dwellings must be smaller than three stories with less than four living units. Contractors may not work on specific trades without holding additional licenses.
Colorado general contractor license requirements
In most cases, contractors will need to pass an International Code Council (ICC) exam to qualify for a license. Many areas in Colorado use the ICC national standards exams for Class A, B and C licenses. Some urban areas, such as Denver, use specific ICC local tests in conjunction with the national exams, depending on the contractor's chosen specialty.
General contractor licenses in Denver
Denver is the largest market for general contractors in Colorado, but the city also has the most restrictive licensing process.
Contractor licenses are issued by the Denver Office of Community Planning and Development. Applicants must hold a supervisor certificate, employ someone who holds a supervisor certificate or be a state-licensed electrical or plumbing contractor.
Once you meet the initial requirements, you'll also need to complete these additional application steps:
Read Chapter 1 of the Denver Building and Fire Code.
Complete the licensing application and specify the license classification you want.
If you are not a state-licensed electrician or plumber, you'll need to provide a "Supervisor Statement of Responsibility" from the supervisor certificate holder in your company.
If you are a state-licensed electrician or plumber, you'll need a copy of your current Contractor card issued by Colorado and a copy of your Master Electrician/Master Plumber ID card.
Provide documentation from the Secretary of State outlining the legal business status of your contracting company (LLC, Corporation, sole proprietorship, etc).
Submit your completed application, reference forms, proof of any required ICC exam scores and applicable fees to the Denver Community Planning & Development Office, either through the online portal or delivered to the Contractor Licensing Desk.
Insurance requirements for Colorado general contractors
Contractors are generally required to show proof of coverage for a minimum level of liability insurance to receive a license. The exact coverage amount can vary by license type and location or by the type of work being performed.
In addition, contractors in Colorado must carry commercial auto insurance if they have company-owned vehicles and workers' compensation insurance if they have employees.
General liability insurance for Colorado contractors
Most areas require a general liability policy with at least a $100,000 policy limit to get a license. Urban areas or areas with larger building projects may require higher coverage levels.
Here are a few examples of liability insurance requirements for various locations in Colorado:
Pikes Peak Regional Building Department requires general contractors holding a Class A license to carry $500,000 in combined single limit liability and contractors holding a Class B or C license to carry $300,000 in combined single limit liability insurance.
Larimer County requires general contractors holding a Class A, B or C license to hold $1 million in combined single limit liability insurance or contractors holding a single trade license, roofers license or mechanical license to hold $300,000 in combined single limit liability insurance.
The City of Longmont requires general contractors to hold $1 million in combined single limit liability, $2 million in general aggregate liability and $2 million in products completed aggregate liability insurance.
Commercial auto insurance for general contractors
Commercial auto insurance is not required for all general contractors. However, Colorado state law requires any business owners that have company-owned vehicles to carry commercial auto insurance. The amount of coverage required depends on the size and use of the vehicle.
Electrical and plumbing licensing
Although general contractor licensing is regulated at the local level, some specific contractors must obtain a state license. If you plan to offer plumbing or electrical services in your general contracting business, you will need to obtain an electrical or plumbing license issued through the Colorado Department of Regulatory Agencies (DORA).
To get an electrical or plumbing contractor's license, you must:
Meet the state minimum coverage for workers' compensation and Unemployment Compensation insurance
Be or employ a licensed master electrician (for electrical contractors) or licensed master plumber (for plumbing contractors) to accept responsibility for all work performed
Submit applicable fees and applications
Meet any additional local licensing requirements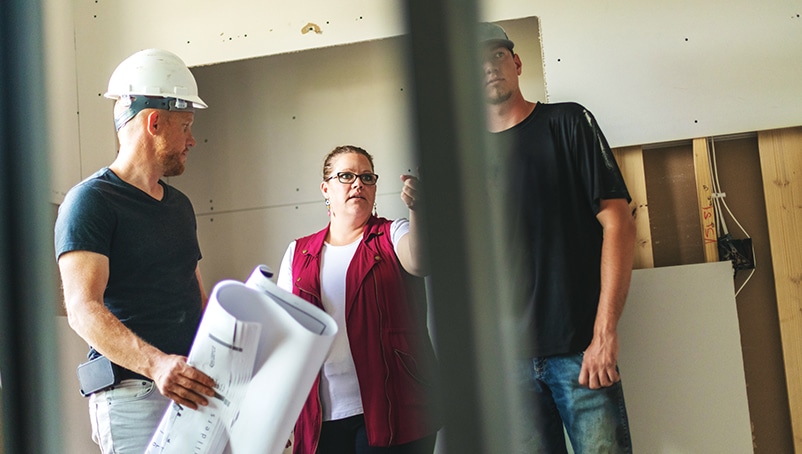 How long does it take to get a general contractor license in Colorado?
Once the requirements are met and your application is submitted, it will generally take a few weeks for review, depending on the municipality. Mail-in applications may also take longer than applications submitted online or in person.
In Denver, for example, applicants are told to expect anywhere from seven to 14 business days for application review, while the Larimer County Chief Building Official will issue all licenses within seven business days of receiving a completed application.
Common challenges for obtaining a license
Due to the fact that every local area sets its own licensing requirements in Colorado, it can be challenging to navigate the application process. Some areas require licenses at the city level while others manage it at the county level.
Some offer a plethora of information and FAQs online, while others handle license applications primarily in-person. To minimize delays in processing your application, the best approach is to visit your local office as soon as possible before your project is scheduled to start.
Get to know the government employees who can be a helpful resource in both obtaining your license and facilitating the process.
Colorado general contractor license renewal requirements
Most general contractor licenses in Colorado will need to be renewed every one to three years. Common requirements include:
An application
Renewal fee
An updated certificate of insurance insurance coverage.
Some local areas may have additional renewal requirements, such as a codes exam to test knowledge of recent building code changes. Most jurisdictions will also deny renewals for any contractor with unresolved building code issues.
How Next Insurance supports Colorado general contractors
Next Insurance helps contractors navigate the complex regulatory system in Colorado to find the right business insurance coverage to local requirements at an affordable price.
Use our painless online process to explore options, purchase coverage and access your certificate of insurance in a matter of minutes. If you have questions, our U.S.-based licensed advisors are standing by to help.
Get an instant quote today.
Do you have projects in a different U.S. state? Visit our summary of general contractor license requirements in every state.