The first thing you need to know before you begin any type of construction or contracting project in Alabama is whether an Alabama general contractor license is required.
It's necessary to obtain a license if you plan to work on:
Residential, commercial, or industrial projects that cost more than $50,000, including materials and labor.
Swimming pool construction of $5,000 or more.
Once you meet the requirements set by the Alabama Licensing Board for General Contractors to get your license, you can join over 8,000 other general contractors in Alabama doing commercial and residential project work.
However, general contractor requirements can vary by state. In this article, you'll discover:
How to become a contractor in Alabama
Alabama home builders and contractors must meet requirements set by the Alabama Board for General Contractors, submit an application and pay a fee to get a general contractor license. You must submit the contractor license application at least 30 days before board meetings, which are held each quarter. The application fee is $300 for a general contractor license.
Once you've applied and gained board approval, you can register for the required exams. You'll need to pass the Alabama Business and Law Exam with a score of at least 70% and any other specialty classification exams required within your particular trade.
After you've passed your contractor exams, your results are made available to the state to access so the Alabama Licensing Board can issue final approval.
Alabama general contractor license requirements
Before you get your general contractor's license in Alabama, you'll need to tick a few boxes as you start the application process. For an AL general contractor license (also called a prime contractor license), you must provide:
Proof of U.S. citizenship or lawful residence.
Proof that your business is registered for a business license in Alabama.
General liability insurance coverage that is current.
A financial statement, up to one-year-old, prepared by a certified or licensed public accountant.
A minimum of $10,000 in net worth or working capital.
Proof of your overall work experience.
Three references from any combination of a licensed general contractor, registered architect, registered professional engineer, or a person who supervised you on a project.
An organizational chart for your business.
Common challenges for obtaining a GC license in Alabama
Alabama has a more in-depth process for obtaining a general contractor's license than some other states. It's important to ensure you have all the paperwork ready ahead of time. You'll need your financial statements and must register your business with the state.
Since three references are required from people who have supervised you on a project, you'll need to have enough work experience to appease the board.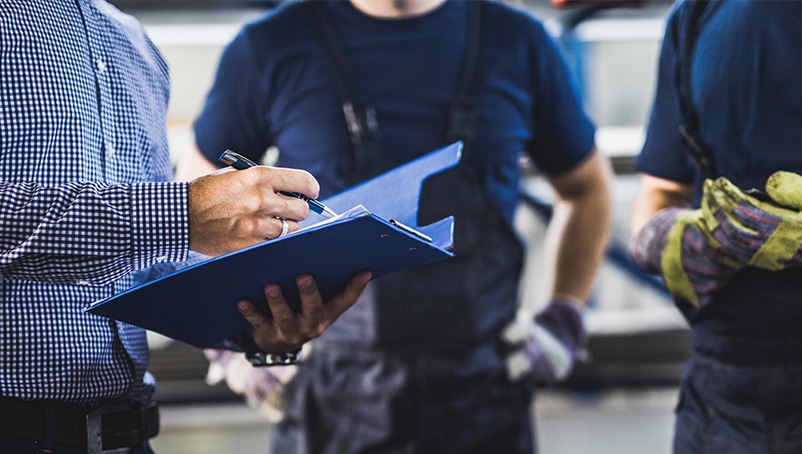 How long does it take to get a general contractor license?
You will need approval from the board before you can register for the license exams. The board meets quarterly, so the process could take upwards of three to six months, depending on when you can submit your application and register for the exam.
Alabama contractor license reciprocity
Once you are licensed as a general contractor, Alabama has a reciprocity program. Contractors who have held a license in good standing for at least one year may qualify and apply for reciprocity with Arkansas, Mississippi, Louisiana and Tennessee General Contractors Board, as well as for electricians with the North Carolina State Board of Electrical Contractors.
Alabama general contractor license renewal
To renew your general contractor or subcontractor license, you'll submit your application and renewal fee no more than 45 days before your license expiration date. The Alabama Licensing Board for General Contractors bases the renewal date on the first letter of your company name.
For example, if your company name begins with I, J, K or L, your renewal month is March. You can view a complete chart of renewal dates for more information.
Renewal fees are $200 for general contracting licenses. If you don't renew within 90 days of your expiration date, you'll pay a late penalty. If you fail to renew your license within one year of the expiration date, you'll have to re-apply for your general contractor license.
Insurance requirements for Alabama General Contractors
Every general contractor in Alabama must have business insurance, specifically general liability insurance and workers' compensation insurance if they have any employees. They also may be required to have commercial auto, umbrella and builder's risk insurance.
General liability insurance
Alabama general liability insurance can help protect your business against claims of property damage or third-party injury.
In Alabama contractors are required to have commercial general liability insurance at the minimum coverage limits:
General aggregate. $2 million dollars per project
Products, completed operations aggregate. $2 million dollars per project
Personal and advertising injury. $1 million dollars per occurrence
Each occurrence. $1 million dollars
Workers' Compensation insurance
Workers' compensation insurance in Alabama provides coverage for employees who are injured or become ill as a result of their job. The state of Alabama Department of Labor requires construction businesses to have workers' compensation insurance regardless of the number of employees.
Commercial auto insurance
Commercial auto insurance is another insurance type licensed general contractors in Alabama may need to obtain.
This type of insurance can help provide coverage for any vehicles that you use in your business and can offer some protection if you or your employees get into an accident or suffer an injury while driving. Add hired and non-owned auto coverage for protection if you occasionally rent vehicles or if employees use their personal vehicles for work.
In Alabama, contractors must have a minimum commercial auto insurance coverage of $1 million dollar combined single limits for each occurrence.
How NEXT Insurance helps Alabama general contractors
NEXT can help you quickly get the coverage you need to protect your business. We've helped thousands of general contractors to find customized insurance packages.
You can learn more about the costs of general contractor insurance packages NEXT offers to business owners like yourself.
Start an instant quote online to explore options for your business and get a certificate of insurance within minutes.
Do you have projects in another U.S. state? Visit our summary of general contractor license requirements in every state.