A business loan can be the key that takes you to the next big step in your professional life, whether you're an entrepreneur starting or a seasoned business owner.
But are small business loans hard to get? For many business owners, figuring out how to qualify for a small business loan can be intimidating. The paperwork. The details. The level of scrutinization.
Without a doubt, applying and qualifying for business loans can feel overwhelming.
But don't fret — with the right preparation, it doesn't have to be a difficult process. To feel confident when you apply and improve your chance of getting loan approval, follow our seven steps to getting the funding you need.
1. Know the business loan requirements
Each lender has different criteria for deciding who qualifies for business loans. Most have minimum requirements for annual revenue, personal credit scores and business experience.
Suppose you don't quite meet some of the qualifying criteria. Some lenders are flexible if you can prove your reliability in different ways. For example, say you have little experience but impressive annual revenues and a perfect credit score. They still may agree to your loan.
Lenders will also take into consideration incidents in your financial history like past bankruptcies or outstanding loans. If your financial history isn't spot-free, don't give up. Some lenders specialize in helping these business owners that have had financial troubles in the past, but be prepared for a more difficult application process.
Qualifications also vary by the type of loan you're applying for and the loan amount itself.
Loans through the U.S. Small Business Administration (SBA)
The SBA doesn't actually lend money to small businesses; instead, they partner with and connect small business owners with approved banks, credit unions and other lenders.
The SBA offers many different loan options, most commonly the SBA 7(a) and SBA 504 loans which can fund startup costs, purchase equipment and buy property. They also offer microloans of up to $50,000.
While each SBA lender will have its own requirements, there's one across-the-board rule for SBA loans: If you ever defaulted on a government loan, such as a federal student loan or a housing loan, you are ineligible. To qualify for a government loan, you must be current in all your loan standings.
To note, loans are not the same as grants. If you're applying specifically for small business grants from the SBA, they have different criteria you'll have to meet.
Loans from traditional lenders vs. online lenders
For the most part, the requirements between traditional in-person banks and lenders vs. online lenders are the same. There are two big differences.
Online lenders can pre-qualified you and show your interest rates without affecting your credit score. That's not always possible with traditional bank loans.
Online lenders are faster. You can get approved and receive the money faster. Online lenders like QuickBridge offer up to $500,000 in small business financing with a simple application and minimal paperwork. 
However, one potential drawback of online lending is that you have to submit all of your loan application and financial paperwork online. Not everyone is comfortable doing this and prefers to submit these documents in person.
2. Write a long-term business plan
Lenders rely on a detailed business plan to help them judge how risky it is to give you a loan. As a general rule: the more information, the better.
A business plan usually includes:
A description of who you are
What you offer customers
Information about your target business market
An outline of your business strategy
A financial analysis of your business
Your plans for the next 3-5 years
A SWOT (strengths, weaknesses, opportunities, threats) analysis for your company
The most important information to include is financial data. Your plan should have detailed information about your revenue, profits, current cash flow (working capital), your business need for the loan and projected revenue based on that investment.
3. Prepare assets and collateral
Some lenders will require collateral. These are major business assets, such as real estate or equipment, that the lender can take and sell if you can't pay back your loan.
Other lenders will ask that you guarantee your loan with personal assets such as savings or retirement accounts. Some lenders will want a combination of both business and personal assets.
For example, if you were to apply for an SBA 7(a) loan for more than $25,000, you would need to put up collateral and a personal guarantee. A personal guarantee is an individual's legal promise to repay a loan or credit.
Simply put, a lender could sue you personally, not just the business, for repayment.
4. Check your credit score
How easy is it to get small business financing? That depends heavily on your creditworthiness.
Your credit score is an analysis of how likely you are to repay your debts based primarily on your payment history. Your credit history includes everything from student loans, home loan payments, to credit card bills and car payments.
For most small businesses, your personal credit score is important as it provides a track record for how you use credit. However, more established business owners may also have a business credit score.
Having higher credit scores makes you look more attractive to lenders, so your approval odds are higher. You also tend to get more favorable interest rates because lenders are competing for your business.
Fixing your credit score
If your personal credit score is below 720, you'll have a tougher time securing a good rate, and in some cases, approval. It's best to work on improving your score before you start the loan application process.
Aside from paying bills on time, here are a few things you can do to bring up your score a little faster.
Ask for a higher credit limit. When your credit goes up but your balance stays low, your credit utilization lowers, giving you a boost in score.
Check credit reports for errors and disputes. Mistakes can bring down your score. If you find an error, file a dispute with credit bureaus and get them removed.
Keep credit cards open. You may be tempted to close your cards and start fresh, but having a card with a long history shows that you know how to use credit responsibly. It's better to pay down balances and keep an old card open.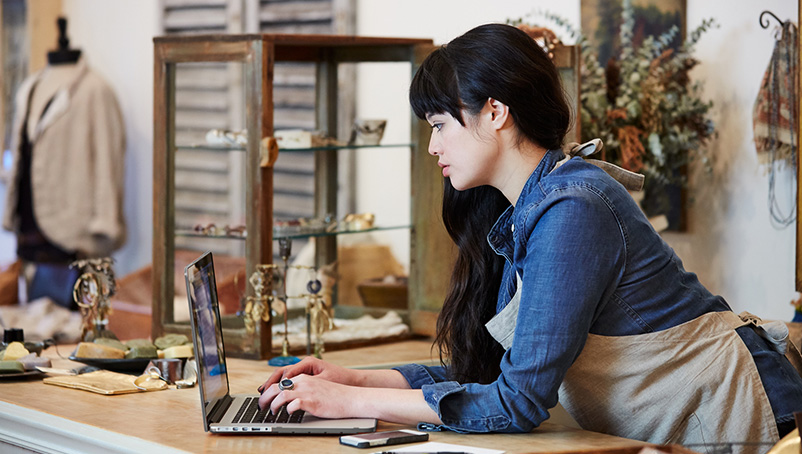 5. Plan professional references
Lenders can't know every field inside and out, making it hard to evaluate your experience and expertise.
They may ask to speak to established people who do business with you and understand your profession. Former employers, clients and colleagues are all good choices for references.
Make sure to ask people who were happy with your work to provide professional references. Be sure to ask for their permission before you list them as a reference or provide their contact information.
6. Gather legal and financial documents
How easy is it to get a small business loan? That depends on how organized you are. You'll have to gather a long list of documents, including lots of paperwork you already have, but probably not all in one place.
Topping the list of documents to have on hand are:
Your drivers' license or another form of ID
Commercial leases
Balance sheets and other income information
Bank statements and financial statements from both personal and business bank accounts
Personal and business tax returns
Financial projections
Resume
7. Get business insurance
Business insurance helps safeguard your business from a wide range of issues, which — in the lender's eyes — increases the odds that you'll pay back your loan.
It also demonstrates that you've taken precautions and presents an image of a financially responsible business owner.
Preparing for the future with NEXT
There's no one-size-fits-all answer for how to qualify for a small business loan. Still, in understanding these steps, you're gaining a headstart and knowing what to prepare for when evaluating financing options.
Business insurance from NEXT also helps you move forward confidently with the plans you're envisioning. Insurance gives you peace of mind so you can focus on growing your business. It protects you from unexpected costs and provides coverage if you need to defend yourself from libel or slander.
You can buy coverage, get your certificate of insurance and manage your policy all online. For a simple, easy way to get small business insurance online, get an instant quote today.