Working as an electrician is one of the most rewarding trades. It's also not easy!
Becoming an electrician requires extensive hands-on training and mastery of practical, theoretical, and specialized knowledge. You'll need to become an expert on the National Electric Code (NEC), a set of safety standards for all kinds of electrical work across the United States.
To practice as an electrician, you'll need an electrician's license. Additional certificates can help you expand your electrical career path.
Once you're a licensed and certified electrician, you can look forward to a long and fulfilling career where your skills will be in demand. According to Bureau of Labor Statistics projections, employment for electricians is projected to grow 9% from 2020 to 2030.
And with certain licenses, you can even start your own electrician business. That's great news because electricians are among the highest-paid construction jobs.
Here's a guide on how to become a professional electrician:
The path to becoming an electrician
There are different routes to getting your electrician certification, and they all require extensive time and training.
There are many variations by state, but generally, there are three levels of state licenses: apprentice, journeyman, and master.
An electrician apprenticeship means on-the-job training, typically under the supervision of a master electrician.
A journeyman is qualified to work on many projects, though still requires the supervision of a master electrician to work on certain larger or more complex projects.
A master electrician (also known as an electrical contractor) is the highest level, able to supervise other electricians and own a private business.
How to start electrician training
Before you start your journey to becoming an electrician, it's important to figure out your state's electrician licensing requirements.
Different states require different amounts of working hours and education and have different exam requirements.
Some states require an application for an apprenticeship license to begin your training.
Before you start an apprenticeship, you may consider finding a side job working as an electrician's assistant, laborer or helper.
How to choose an electrician apprenticeship
In many states, an apprenticeship involves around 8,000 hours — or four years — of supervised work in addition to classes.
If your electrical apprenticeship is offered by a union, the union may provide the classes for free.
An apprenticeship run by the electricians' union is the best way to learn the skills you need to be an electrician while joining a larger community. The International Brotherhood of Electrical Workers (IBEW) with the National Electrical Contractors Association (NECA) manages several hundred apprenticeship programs around the country.
You can find non-union apprenticeships run by the Independent Electrical Contractors (IEC) or Associated Builders and Contractors Inc (ABC). They help connect would-be electricians with apprentice jobs nationwide.
How to choose an electrician certification course
Instead of becoming an apprentice electrician, you may also enroll in a trade school or vocational course to gain classroom instruction.
Many community colleges allow you to practice on electrical systems, circuits and common appliances in a safe environment.
The quality of electrician courses can vary greatly. When choosing a certification program, you should figure out:
Does the course give you hands-on training or only teach you theoretical information?
Does the course comply with National Electric Code (NEC) standards?
Are the instructors professional master electricians?
Does the course require you to buy your tools through the school? (If so, it may be a scam.)
What happens when the electrician training program is finished? Do you get a certification? Does it lead to an apprenticeship or work placement?
You will still need to meet any working hours requirements before you can take a journeyman's exam.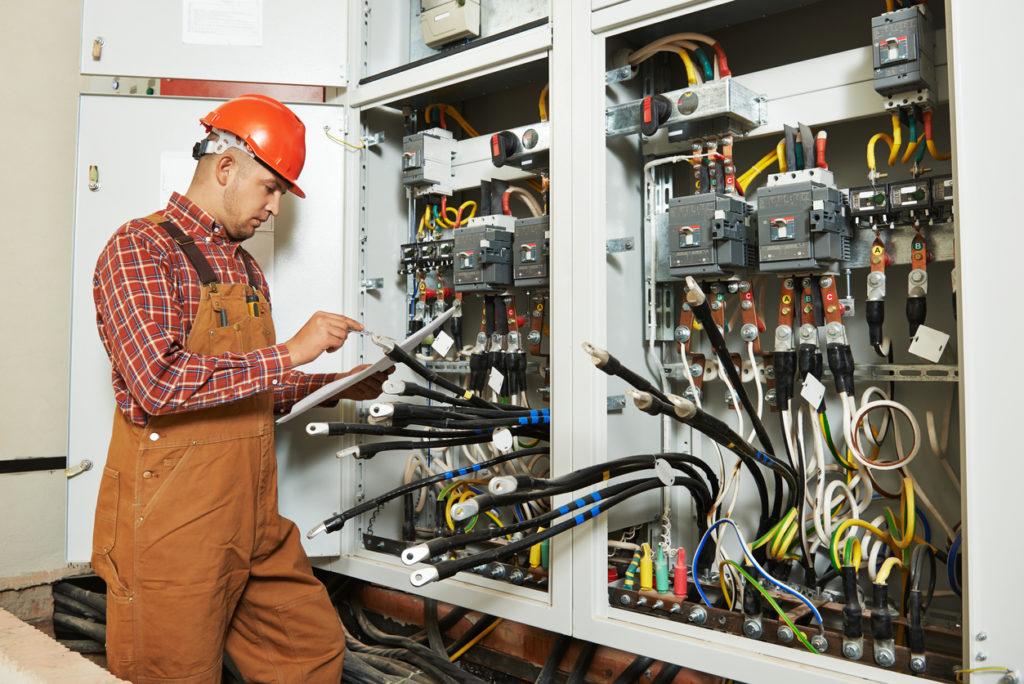 How to get a journeyman's license
You must meet many training and educational requirements before you can get your electrician journeyman license.
These requirements vary by state but generally include:
At least 8,000 hours of hands-on training as an apprentice or electrician's assistant
Classroom learning about electrical topics such as safety requirements and electrical wiring theory
A passing score on the journeyman electrician exam, which covers the National Electric Code (NEC) and electrical theory. The exam includes multiple-choice and written sections and takes around three to four hours to complete.
In some states, a certification from an approved electrician course can substitute for some of the required working hours.
You will need electrician insurance to get your journeyman's license in most states.
Working as a journeyman electrician
Say you've completed an apprenticeship through an organization like the IBEW, IEC or ABC. In that case, these training programs will help you find a job placement once you have your journeyman's license.
With a journeyman's license, you can start working on many projects. However, you will still require the supervision of a master electrician to work on certain larger projects.
Getting additional certifications
Once you start working as a licensed electrician, you can pursue additional certifications that will open up job opportunities, improve your skills and impress clients.
Many job sites require a certification from the Occupational Safety and Health Administration (OSHA).
The National Fire Protection Association (NFPA) also offers many general certifications for electricians.
Some certifications can help you break into niches, like solar panel installation, green energy, marine work etc. See more common construction certifications here.
Becoming a master electrician and starting your own electrician business
Working as a master electrician means you can run your own electrician company, supervise other electricians and take on all kinds of projects on your own.
In some states, a master electrician's license is known as an electrical contractor's license.
To get a master electrician's license, you must demonstrate years of work experience as a journeyman, including residential, commercial, and industrial work. You'll need to pass a master's electrician exam and show proof of electrician insurance.
Organizations like the IBEW, IEC and ABC offer classes to help you prepare for the master electrician exam.
NEXT helps electricians succeed
Good coverage is essential for professional electricians, and NEXT simplifies that process. Our customized electrician insurance offers protection designed for working electricians, whether you're a journeyman or a contractor.
You can use our online application to compare coverage options, get a quote, purchase coverage, and get your proof of insurance in just 10 minutes.
Get started with your free online quote today.