Are you a contractor who installs or repairs roofing, siding, flooring, plumbing or air conditioning? If so, you need an Oregon contractor license.
According to the Oregon Construction Contractors Board (CCB), anyone who "works in any construction activity involving improvement to real property" must have a Construction Contractors License.
Oregon's licensing requirements are more stringent than general contractor license requirements in other states. Following the steps necessary to obtain a license before submitting your application is important to avoid delays.
Here's what you need to know about getting a general contractor license in Oregon, including:
What are the Oregon general contractor license requirements?
To get an Oregon contractor license, you must be 18 years old and apply through Oregon.gov to the Construction Contractors Board (CCB). However, you'll need to consider a few other things before submitting your application.
If you haven't already registered your business name with the state, that's a good place to start. Then you must decide what types of buildings you plan to work on — residential, commercial or both — and what kind of work you intend to do.
You must then complete a 16-hour training course and pass an exam before applying for an Oregon state contractor license. If you've already passed the National Association of State Contractors Licensing Agencies (NASCLA) commercial exam, you don't have to take the pre-license training, but you do need to pass the Oregon exam for laws and rules, building codes, and business practices. 
Classes are available in self-study online or by mail and in-person formats. Fees range from $25 to $385 for online and self-study courses and $200 to $550 for in-person courses. The cost to take the license exam is $60.
How to get an Oregon contractor license
To apply for a license, you must have a surety bond in the appropriate amount. CCB surety bond amounts vary from $10,000 to $75,000, depending on your license type.
All contractors must provide proof of general liability insurance and their Oregon Business and Federal Employer identification numbers. You'll also need to purchase workers' compensation insurance if you plan to hire employees.
After you've met the requirements for obtaining an Oregon contractor license, you need to submit a completed application, your supporting documents and a $325 fee to the Oregon Construction Contractors Board. 
Oregon general contractor license types
Oregon has two types of general contractor licenses — residential and commercial projects. You can apply for a dual license if you work on both residential and commercial structures.
When you complete your license application, you must select an endorsement, which defines the type of work you're licensed to perform and, in some cases, the amount of experience you have.
You can choose from nine residential endorsements, which include:
Residential general contractor (RGC)
Residential specialty contractor (RSC)
Residential limited contractor (RLC)
Residential developer (RD)
Home services contractor (HSC)
Residential locksmith services contractor (RLSC)
Home inspector services contractor (HISC)
Home energy performance score contractor (HEPSC)
Residential restoration contractor (RRC).
Oregon also has five commercial endorsements, which include:
Commercial general contractor level 1 (CGC1)
Commercial general contractor level 2 (CGC2)
Commercial specialty contractor level 1 (CSC1)
Commercial specialty contractor level 2 (CSC2)
Commercial developer (CD)
Common challenges for obtaining a license
Applicants who have unpaid construction debt or have been indicted or convicted of certain crimes may have difficulty obtaining a general contractor license in Oregon.
If you have outstanding debt, you'll need to provide official documentation of the amount you owe. If you have a criminal record, you may need to explain the crime.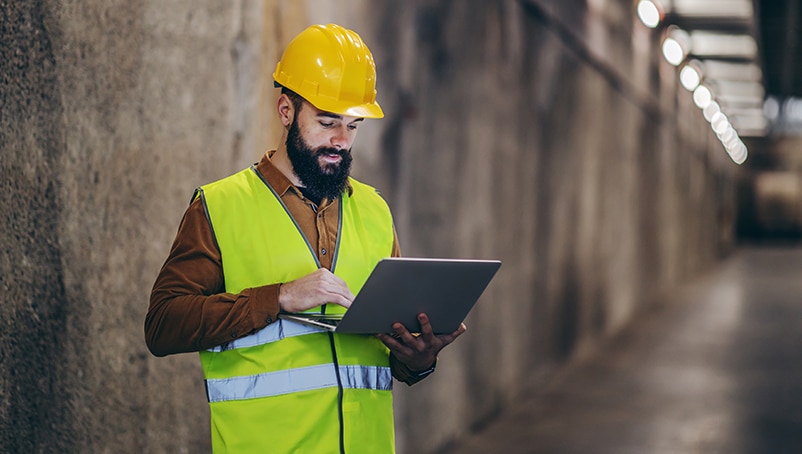 How long does it take to get a general contractor license?
Applications can take up to eight weeks to process. You must submit your application with your test score report, contractor license bond, certificate of insurance, application fee and any other required documents.
If you closely follow the instructions, submit a complete application, and include all required additional documents, your application can be processed sooner. Once approved, your license is valid for two years.
General contractor license renewals
General contractors in Oregon must renew their licenses every two years. The fee is $325, and continuing education is required for renewal. You can manage your CCB license information, review and complete your continuing education, and renew your license online with the Oregon CCB.
Insurance requirements for Oregon general contractors
As a licensed contractor, the right Oregon business insurance can help protect your business. There are several types of general contractor insurance you may want to consider or will be required to get, including:
General Liability insurance
All general contractors in Oregon must have general liability insurance. The required insurance varies by endorsement and ranges from $100,000 to $500,000 per occurrence for residential structures licenses. Commercial licenses must have $500,000 per occurrence and $2 million aggregate insurance limits.
General liability insurance helps protect you against claims related to property damage and injuries (to non-employees) caused by your business. It also helps with court costs and legal fees you may incur to defend your business against a claim.
Workers' Compensation insurance
Oregon law requires you to get workers' compensation insurance if you have employees or plan to hire them. It provides benefits to employees who experience a work-related injury or illness.
Tools and Equipment insurance
Tools and equipment insurance protects general contractors in Oregon. It covers damage, theft, and loss of tools and equipment used on the job, such as power tools, hand tools, and machinery.
This insurance helps contractors recover the cost of replacing stolen or damaged equipment, which can be a significant financial burden. It can also provide peace of mind, knowing that their tools and equipment are protected in the event of an unexpected loss.
Commercial Property insurance
Commercial property insurance covers buildings, equipment, and other property used in your general contracting business. It helps protect against financial losses resulting from property damage or theft. For example, if a contractor's equipment is stolen from a job site, commercial property insurance can help cover the cost of replacing the equipment.
The right commercial property insurance can ensure general contractors in Oregon can continue to do business even when things go wrong.
Commercial Auto insurance
It's illegal to drive in the state of Oregon without insurance, and your personal auto insurance policy won't cover business-owned vehicles. If you have vehicles you or your employees use for business purposes, you'll need a commercial auto insurance policy.
This type of coverage helps pay for medical bills related to injuries or property damage that occurs from driving a business-owned vehicle.
How NEXT protects Oregon general contractors
NEXT Insurance specializes in working with general contractors to create customized insurance packages designed to fit your business's specific needs.
With our online application process, you can get a free quote, view your coverage options, select the right policies for your business, and get your certificates of insurance in less than 10 minutes.
Start a free instant quote today.
Do you have projects in a different U.S. state? Visit our summary of general contractor license requirements in every state.