Are you starting a general contracting business in North Carolina or planning on working on a big project as a contractor? Before you get started, make sure you comply with North Carolina's general contractor license requirements. You'll need a license for any project that costs $30,000 or more.
However, navigating the North Carolina Licensing Board for General Contractors isn't exactly easy. You must understand the licensing requirements, which type of license to apply for, and how the application process works.
This article will cover those topics and ways to protect yourself with business insurance. If you plan to work in other states, you can find more information in our guide to general contractor license requirements in every state.
In this post we'll cover:
Do you need a license to be a general contractor in North Carolina?
If you plan to complete construction activity worth more than $30,000, you'll need to get a license in North Carolina.
Even if you might not take on projects of that size, you can benefit from having a license — it shows you've made the effort to meet the professional standards for your trade and are committed to staying on top of building codes and industry standards.
General contractor license limits
Different general contractor licenses in North Carolina limit the value of projects you can work on. Your eligibility for each license limit depends on your finances. If you don't have enough working capital, you can take out a surety bond instead.
| | | | |
| --- | --- | --- | --- |
| License | Working capital needed to avoid a bond | Minimum bond required | Project limit |
| Limited | $17,000 | $175,000 | $750,000 |
| Intermediate | $75,000 | $500,000 | $1.5 million |
| Unlimited | $150,000 | $1 million | Unlimited |
Source: NCLBGC.org
General contractor license classifications
License limits dictate the size of projects building contractors can take on, while license classifications determine what type of work can be done.
To qualify for a license classification, you must pass an exam. If you want to obtain more than one license classification, you must pass each test and fill out a separate application.
General contractor license classifications in North Carolina include:
Building: Construction and demolition for commercial, industrial, institutional and residential structures.
Residential: Construction and demolition of residential structures and individual units.
Highway: Grading and paving public roads; construction of guard rails, sidewalks, gutters and other highway contractor projects.
Public utilities: Construction of water and sewage systems, swimming pools, fuel lines and power lines.
Specialty: Grading and excavating, boring and tunneling, concrete foundations and tanks, substations, fuel distribution, marine construction, and more are included as a specialty contractor.
Unclassified: Includes all of the above classifications.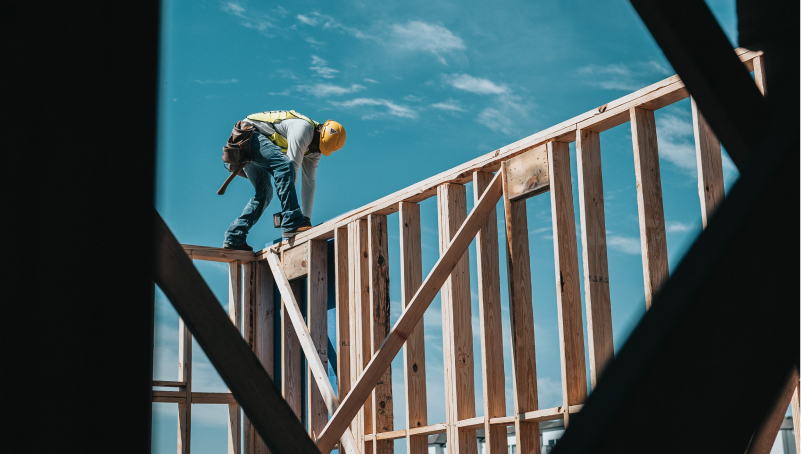 How to get a general contractor license in North Carolina
To receive a general contractor license in NC, you must meet the following requirements:
Age: You must be at least 18 years old.
Good moral character: You'll answer questions about your background.
Business registration: You must be legally registered to conduct business in North Carolina.
Examination: You must pass the National Accredited Building Examination given by the National Association of State Contractors Licensing Agencies (NASCLA). The type of license you are applying for may require you to pass several NASCLA exams.
Financial requirements: You must show financial responsibility by meeting the minimum financial requirements of the license you're applying for in case you encounter any problems when delivering the services you're contracted to deliver.
Application fee: Pay a nonrefundable license application fee. As of 2023, the fees are $75 for a limited license, $100 for an intermediate license, and $125 for an unlimited license.
To start the contractor's license application, you'll fill out an application (available online). Once you apply, the NC Licensing Board for General Contractors will send you instructions on how to enroll for the right building contractor exams, depending on what kind of license (or licenses) you want.
Once you find the right exams, you'll sign up and take the test(s). The exam is open book, but you may want to study because it has a time limit of 330 minutes. If you pass, the board will review your application, and if approved, you'll receive your license identification number.
How long does it take to get a general contractor license?
Obtaining your building contractor license in the state of North Carolina typically takes at least 30 days. This timeline includes about two weeks to process your application and time for the board to approve your license.
Plan on the process taking longer if you need time to study for your exam or if you don't schedule it immediately after your application is processed.
Although most people fill out an application before taking an exam, you can minimize the time it takes to receive your license by submitting your application with a completed exam. Further, you can accelerate your studies by taking an NC general contractor license exam prep course.
General contractor license reciprocity
North Carolina doesn't have full reciprocity with any other state. But exam waivers are available if you have an existing license in South Carolina, Tennessee, Louisiana, Georgia, Mississippi, Alabama, and Florida.
NC general contractor license renewal
You can renew your existing NC general contractor license online through the North Carolina Licensing Board for General Contractors website. The process involves submitting your financial statements, verifying employment and paying a license renewal fee.
Insurance requirements for North Carolina general contractors
There is no statewide business insurance requirement to obtain a general contractor license in North Carolina, however there may be requirements at the local level.
For instance, contractors in Iredell County must maintain minimum coverage limits for general liability, automobile liability and workers' compensation coverage. It's best to check with your city or country regulatory office for local requirements.
Similarly, many projects and building construction permits ask contractors to have proper licensure and business insurance. The following types of insurance are recommended for most general contractors in North Carolina.
General Liability insurance
General liability insurance for contractors protects your business from expenses related to common mistakes or accidents, including property damage and customer injury. As a commercial or residential contractor, you may need $1 million or more minimum general liability coverage in North Carolina.
For example, Charlotte general contractors must have a minimum of $1 million in commercial general liability insurance and list the City of Charlotte as an additional insured.
Workers' Compensation insurance
Workers' comp isn't required for an NC general contractor license, but state law requires this coverage for corporations, sole proprietorships, partnerships and limited liability companies with three or more employees.
However, some counties can have more strict requirements. In Iredell County, contractors or subcontractors must carry workers' comp regardless of the number of employees.
Tools and Equipment insurance
Tools and equipment insurance protects the tools and equipment you use as a contractor. In the event of theft or damage, it covers repairs and replacements.
Commercial Auto insurance
Commercial auto insurance protects your construction vehicles, drivers and equipment while driving for business purposes. In North Carolina, most insurance companies determine the cost of a policy based on driver experience, vehicle condition, route hazards and vehicle usage.
You can add hired and non-owned coverage if you occasionally rent vehicles or use employee vehicles for business purposes.
Commercial Property insurance
Having commercial property insurance will protect your business from damage and vandalism that may occur on your property.
What is the certificate of insurance requirement in North Carolina?
The state may not require general contractors to produce a certificate of insurance in North Carolina. However, city and county governments may require contractors to carry liability insurance, even though state regulations do not.
How NEXT supports North Carolina general contractors
If you're working on getting your general contractor license, now's an ideal time to learn how to best protect your construction business.
NEXT's seamless process can help you get the general contractor insurance you need and a certificate of insurance in as little as 10 minutes. And if you have questions, our team of licensed, U.S.-based NEXT advisors can help.
Get started today and get a free instant quote.
Do you have projects in a different U.S. state? Visit our summary of general contractor license requirements in every state.