A California general contractor license isn't easy to get, but the rewards can be well worth it. California general contractors earn an average of more than $87,000 per year, plus overtime, According to Indeed.
Once you get your license, you'll be set to start work in the Golden State on residential or commercial projects. Here's what you should know about California general contractor licensing and insurance to get your business up and running.


How to become a contractor in California
Deciding to start a general contracting business means committing to staying educated in the trade and gaining experience. While most states require a general contractor license, California is particularly stringent. No need to worry, though, as we'll explain the process step by step.


What are the requirements to get a general contractor license in California?
California's general contractor license requirements are standardized state-wide. To obtain a general contractor license, you must:
Be 18 or older with a valid Social Security number or individual taxpayer identification number
Have had four years of qualifying experience (journey-level or above) within the past 10 years
Pass a two-part exam through the Contractors State Licensing Board
There are no specific educational requirements, although you may submit technical school or college credit for a portion of the experience requirement. Apprenticeships and military experience may also qualify.
You might also be eligible for a waiver of the trade exam if you hold a contractor license in Arizona, Louisiana, Nevada, or Utah. However, you will still need to take the exam and meet the experience requirement.


General contractor license types
California offers three different types of contractor licenses. The first two allow you to serve as a general contractor:
Class A General Engineering Contractor: This is the license you need for specialized engineering projects.
Class B General Building Contractor: This is the license required to manage projects involving two or more unrelated trades.
Class C Specialty Contractor: You must have a specialty contractor license to perform any of 42 different types of construction work. General building contractors must also hold a specialty contractor license to take projects that are limited solely to one particular trade. Class C contractors may not serve as general contractors on projects that involve multiple trades.


Common challenges for obtaining a license
The two biggest challenges for obtaining a California general contractor license are passing the exam and paying all the fees.
The exam is intentionally difficult, and you are unlikely to pass it without studying. A quick Google search will reveal numerous general contractor license schools. These can be a reasonable option, but it's important to check reviews to make sure you choose a strong program.
You can prepare on your own by studying the California general contractor license study guide offered by the licensing board.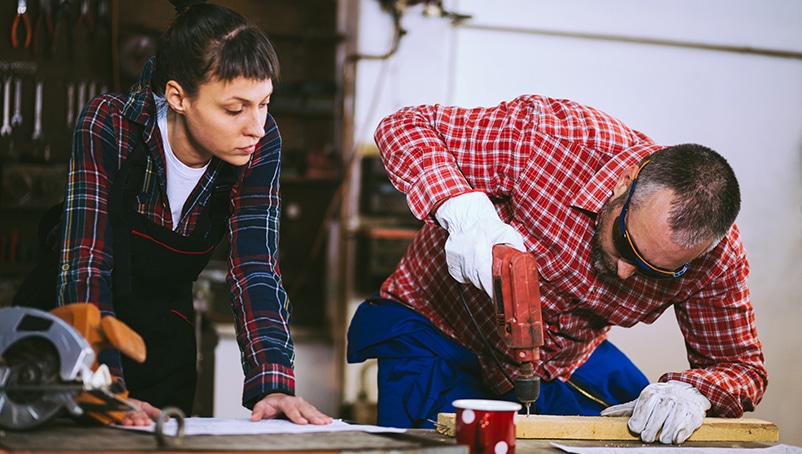 How much does it cost to get a CA general contractor license?
You will need to pay a series of fees, including but not limited to a $330 application fee and a $200 license fee. Active licenses must be renewed every two years at a cost of $450. You will also need to post a bond or cash deposit of $15,000.


How to get a general contractor license in California
Getting a general contractor license in California is a step-by-step process.
The first step is to make sure you meet all the requirements and then apply for the exam. Once your application is processed, you will receive instructions on submitting your fingerprints and taking the open book Asbestos exam online.
After passing the exam, you will be notified of next steps, including posting your bond or cash deposit and submitting proof of workers' compensation insurance if you have employees or are applying as a roofing contractor.


How long does it take to get a general contractor license?
It can take weeks to be approved to take the licensing exam, and there is no way to speed up the process. If you qualify for an exam waiver, it could be a little quicker, but there is no guarantee.
Fortunately, when you take the exam, you will know your results before leaving the testing center. At that point, it should take less than two weeks to receive your wall certificate and pocket license card.


Insurance requirements for California General Contractors
The most popular type of business insurance in California is usually a combination of general liability, professional liability, and commercial auto insurance. Additionally, California requires businesses with employees to carry workers' compensation insurance coverage.
California has no additional general contractor insurance requirements. However, failure to carry adequate insurance coverage will put you at financial risk.
Many clients and projects also require proof of insurance before you can start work.
Workers' comp insurance for CA contractors
Workers' compensation insurance is required if you have employees, as well as for all roofing contractors in California. This coverage will protect you and your employees if there is an on-the-job injury or illness.
General liability insurance for CA contractors
General liability insurance covers third-party bodily injury and property damage, as well as libel, slander, and defamation.
Whether a client trips over your toolbox, you drop your hammer and dent a customer's floor, or you say something disparaging about your biggest competitor, you will be protected from financial risk.


Commercial auto insurance for general contractors
Business use of a vehicle is not typically covered by personal auto insurance. Any vehicles owned by your company should be covered by a commercial auto insurance policy.
Depending on the specifics of your policy, commercial auto insurance may include bodily injury and property damage to someone else, personal injury to you or your employees, collision damage to the vehicle, and coverage for non-collision damage to the vehicle.


How Next Insurance supports California general contractors
Next Insurance has helped more than 100,000 small business owners obtain insurance coverage, including California general contractors. You can learn more about the costs of general contractor insurance packages NEXT offers to business owners like you.
Our online services allow you to apply for coverage and receive your certificate of insurance in just minutes, even if you're using your cell phone from a job site. You can share unlimited digital certificates for no additional charge, letting you easily submit proof of insurance whenever you want.
If you're ready for simple, tailored, and affordable business insurance, get your instant quote today.
Do you have projects in another U.S. state? Visit our summary of general contractor license requirements in every state.