Maryland's requirements for a general contractor license are split between state and local governments. Each of the 23 counties in the state has a Clerk of the Circuit Court that issues licenses for new residential and commercial construction projects. By contrast, the state government issues general contractor licenses for home improvements and other areas of specialization.
Continue reading to learn more about:
Planning to work outside Maryland? Check out general contractor licenses in other states.
How to become a general contractor in Maryland
The process of becoming a general contractor in Maryland depends on the kind of work you want to do. Here are the basics you need to know.
Construction license
You'll apply for a construction license with the Clerk of the Circuit Court in your county if you plan to work on new construction projects, excavating or curbing and paving streets or sidewalks.
Home improvement contractor's license
If you plan to work on existing residential property, you must get your Maryland home improvement contractor's license from the Maryland Home Improvement Commission (MHIC).
Waterfront, wetlands, and wharf contractors license
The Marine Contractors Licensing Board handles licensing for general contractors that work on projects involving waterfront structures, such as boathouses, piers, ramps and wetland observation decks.
Specialization licenses
Maryland also requires professional licenses at the state level if you plan to work in an area of specialization, such as HVAC or electrical work.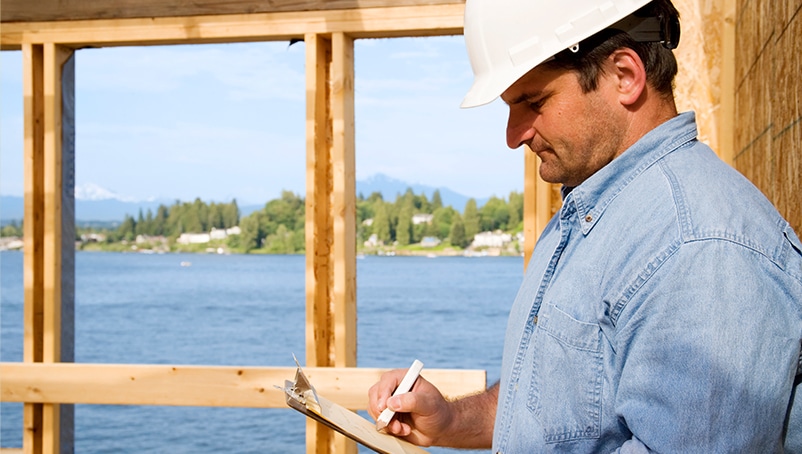 What are the requirements to have a general contractor license in Maryland?
The requirements for a general contractor license in Maryland depend on the type of work you want to do.
For the construction license, requirements vary by county. Contact the clerk at your county's Circuit Court Office to find the steps that apply to you.
To obtain a Maryland Home Improvement Contractor's License, you'll need the following:
Two years of experience
Pass a licensing examination
Meet financial guidelines (have more assets than debt) or purchase a surety bond
Pass a credit check
Have a Certificate of Good Standing (if you represent a corporation)
Purchase $50,000 of contractors liability insurance
Obtain approval of your business name (if different from your real name)
If you also want to specialize in a specific trade in addition to being a general contractor, each area will have its own requirements.
For example, a plumbing license has multiple license types you can earn, from apprentice to journey plumber. A journey plumber needs at least four years as an apprentice, 7,500 hours of training under a master plumber, 32 hours of training in backflow prevention device testing, and a passing score on a written exam.
How much does a general contractor license in Maryland cost?
Construction licenses vary by county, so you'll need to contact your local circuit court and clerk's office.
For MHIC licenses, you must pay a fee of $370 the first time you apply to cover the application fee, guaranty fund assessment, and processing fee. Additionally, the licensing exam costs $63. License renewals cost $250 and are required every two years.
Each time general contractors in Maryland renew their license, they must contribute $125 to a guaranty fund. This fund helps Maryland homeowners recoup losses if a licensed contractor fails to complete a project. 
Getting a general contractor license in Maryland
Contact your local circuit court to begin the application process if you want a construction license.
If you want a license for home improvements, you can start the application on the Maryland Department of Labor, Licensing and Regulation application page. Download and fill out the necessary paperwork, take any applicable exams and pay the required fees.
After completing the exam, you'll get a license application package with information about how to submit your application. It usually takes two to three weeks to approve, and your Home Improvement License usually arrives within 10 days after approval. However, your license may be added to the online database (where you can direct potential clients) before your paper license arrives in the mail.
What insurance do Maryland general contractors need?
Aside from licensing, here's a look at the general contractor insurance you should consider for your business.
General Liability insurance
In Maryland, you must purchase at least $50,000 in general liability coverage to obtain a general contractor license for home improvements. Many business owners buy more, especially if they work with subcontractors on large projects.
General liability insurance can help pay for expenses if you are held liable for an injury (not including your employees) or damage to someone's property while on the job. Without coverage, you could have to pay out-of-pocket.
Workers' Compensation coverage
General contractors with one or more employees must have Maryland workers' compensation insurance. This insurance can help cover lost wages and medical expenses if one of your workers or a subcontractor is injured on the job.
Many sole proprietors also get workers' comp because of the vital protection it offers after a workplace accident. Personal healthcare insurance won't cover lost wages and might not cover injuries if you are injured while working on a construction site.
Tools and Equipment insurance
To protect their expensive and valuable equipment, general contractors in Maryland can purchase tools and equipment insurance. The insurance provides coverage for loss or damage to these assets, whether stolen, damaged during transportation, or affected by natural disasters such as fire or flood.
With this insurance in place, general contractors can minimize the financial impact of any losses, allowing them to continue their operations without interruption and complete projects on time.
Commercial Auto insurance
Commercial auto insurance provides essential protection for business-owned vehicles involved in an accident. It can help pay costs associated with injuries and property damage not typically covered by personal auto insurance policies.
Commercial Property insurance
General contractors in Maryland need commercial property insurance to provide coverage for physical damage to your building and content, whether you own or rent.
Commercial property insurance allows general contractors in Maryland to secure their business and assets and ensure their operations can continue in the event of any unexpected events such as fire, theft, or natural disasters.
How NEXT helps Maryland general contractors
NEXT Insurance is 100% dedicated to small business and self-employed business owners. We can help general contractors get affordable and easy-to-manage business insurance in Maryland.
Our seamless online process lets you quickly get a quote for customized contractor insurance. You can purchase coverage and get a certificate of insurance in less than 10 minutes.
Do you have projects in a different U.S. state? Visit our summary of general contractor license requirements in every state.