Louisiana is home to more than 27,000 general contractor licensees. If you're interested in joining them with your own Louisiana general contractor license, you'll find plenty of opportunities in the market between commercial and industrial growth in the oil and gas industries and an uptick in residential projects.
The Louisiana State Licensing Board for Contractors (LSLBC) is the agency that approves licenses. Continue reading to learn what you need to know before you apply, including:
If you are considering working outside of Louisiana, visit our guide for general contractor license requirements by state.
Types of Louisiana general contractor licenses
Several types of general contractor licenses are available in Louisiana. The one you'll need depends on the type of work you plan to do.
Commercial license: This license is required for commercial projects valued at $50,000 or more, all projects involving hazardous materials, and plumbing, electrical and mechanical projects over $10,000.
Residential license: This is required for residential construction projects valued at $75,000 or more.
Residential specialty licenses: These are a requirement for residential subcontractors undertaking projects in a specialized area, such as swimming pools, roofing, masonry, etc., that are valued over $7,500.
Mold Remediation License: You'll need this license for any mold remediation project that exceeds $7,500 in value.
Home Improvement Registration: If you plan to do any home repair or improvement projects valued between $7,500 to $75,000 and don't have a residential or commercial license, you'll need this license. However, if your project is valued at over $75,000, you will need a residential license.
How to get a general contractor license in Louisiana
Once you know which license you need and you're ready to apply, there's a three-step process:
Fill out your application.
Pass the exam.
Get approval from the Louisiana State Licensing Board for Contractors.
While that sounds straightforward, there are a few things to consider as you go through the application process.
First, make sure you have all the necessary information in your application packet ready to go (see more on the requirements below).
From there, prepare for your tests. Every contractor applicant must take the Louisiana Business and Law Exam, which is online. For any other required tests, you will have to go to one of 11 testing centers throughout the state.
You can refer to the Louisiana general contractor study guide for exam prep and a list of classifications to see if you are required to take a contractor exam for the work you plan to do.
Once you have everything set, you can send it to the board for approval. The board convenes every month and reviews applications during that time.
Common challenges for obtaining a license
Although you can complete most of the general contractor application process online, you cannot submit it online. Some of the documents need to be notarized before you can submit them to the board. Also, you'll need to take the required trade exams in person at one of the pre-approved testing centers throughout the state.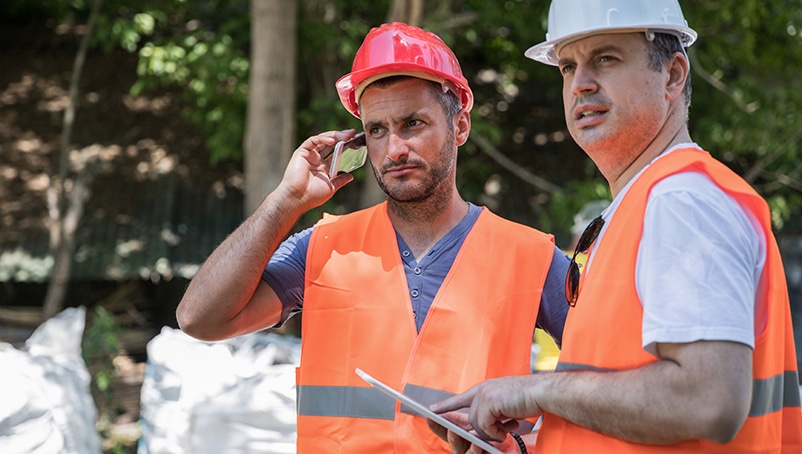 What are the requirements to get a general contractor license in Louisiana?
To get your general contractor license, you'll need to meet the following requirements:
Select your classification: On your application, select the classification of work you want to perform from 10 options, including building construction, electrical work, mechanical work, plumbing work, specialty classifications or residential construction.
Prepare financial statements: Provide the board with your notarized financial statements for the past 12 months that prove you have at least $10,000, or a letter of credit, bond or other security in the same amount.
Choose your legal representative: Choose a qualifying party to be the legal representative for your contracting business. This does not necessarily mean that you need to hire a lawyer. You can represent yourself. Or you can list a business partner, spouse or anyone else who is qualified to represent you.
Pass the board's exam and vetting. You will need to undergo vetting by the board and will have to pass an exam. They can decide if you can engage in contracting activities based on your experience and records.
Get insured. You must have proof of general liability insurance coverage and a certificate of insurance for active workers' compensation insurance (see more details below).
Pay fees. Pay appropriate fees, which will vary depending on the type of classification you choose (residential or commercial contractor, etc.), plus exam costs and processing fees. The costs run from $400 to $1,100.
Pass all the exams. Pass the required license exams, including the business and law exam, plus any specific trade exams.
Once you have fully completed your application, you may submit it for board approval before you have taken the required exams.
How long does it take to get a general contractor license?
For in-state applicants, the process takes about four weeks, start to finish. For those who live out of state and want a general contractor license, Louisiana has a 60-day waiting period, which begins once the board receives the application.
General contractor renewals
Once you have your license, you must renew it yearly. The board suggests preparing your renewal at least 30 days before the expiration date. Any applications turned in 15 days or later than the expiration date will face an additional late fee.
Louisiana general contractor reciprocity
Out-of-state contractors can receive credit in Louisiana for approved classifications without taking the Louisiana trade exam and are also exempted from the 60-day waiting period. The contractor must:
Not have been sanctioned by the Board of the reciprocal state for the past three years for violations of their contractor licensing laws.
Meet all other requirements for licensure by the LSLBC.
Out-of-state applicants must still take the business and law course before the board issues a license.
The following states have agreements with Louisiana: Alabama, Arkansas, California, Florida, Georgia, Kentucky, Mississippi, Nevada, North Carolina, Ohio, South Carolina, Tennessee, Texas and Utah.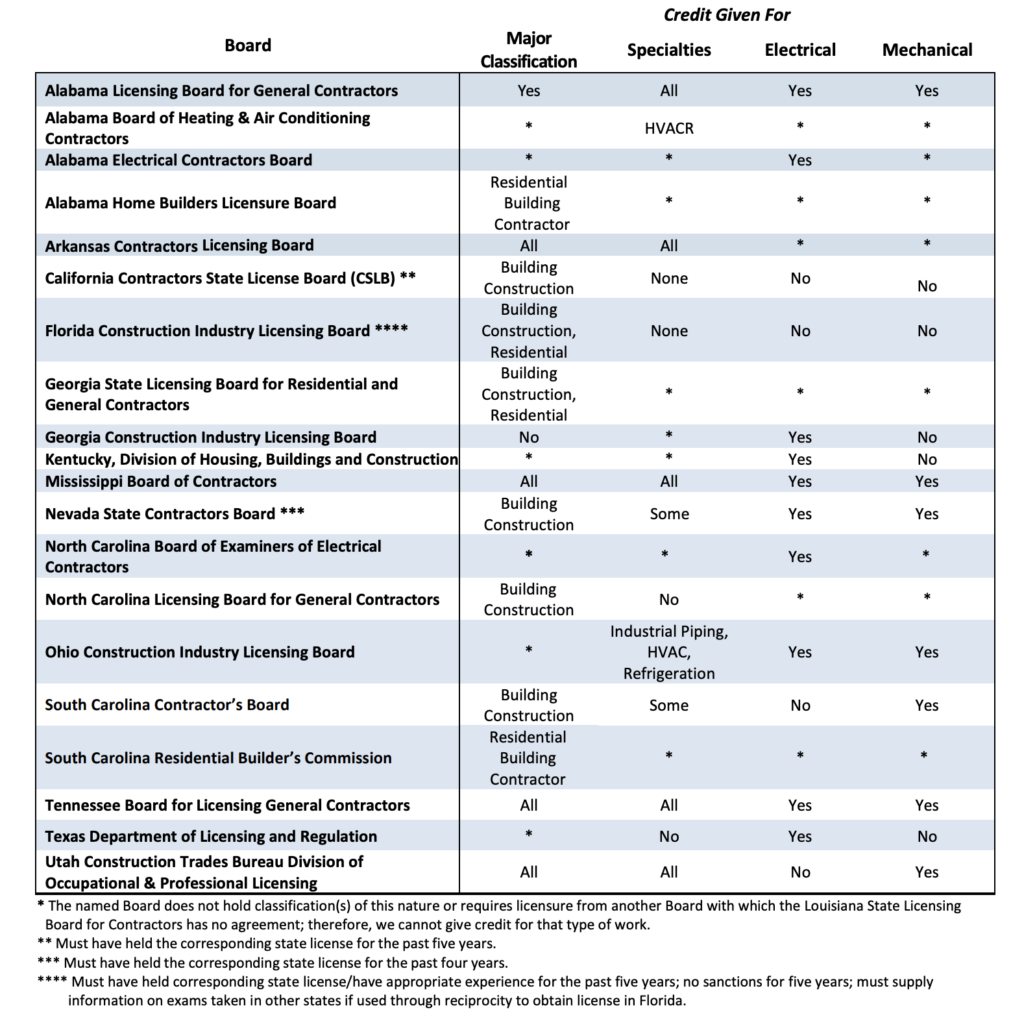 Insurance requirements for Louisiana general contractors
As part of the licensing process, you will need business insurance in Louisiana. Check out the following insurance coverage types.
General liability insurance for Louisiana contractors
General liability insurance is required for licensed general contractors in Louisiana. This coverage can help cover expenses for non-employees injured during a project or if there is any damage to property that doesn't belong to you.
Residential contractors are required to have a minimum of $100,000 in coverage, mold contractors must have $50,000 and home improvement contractors must also have $100,000.
Workers' Compensation insurance
Residential, mold and home improvement contractors must submit certificates of insurance proving Louisiana workers' compensation insurance coverage in compliance with state law. This ensures employees are covered if they become ill or get injured on the job.
Tools and Equipment insurance
Tools and equipment insurance covers power tools, hand tools, and other items you might use in the course of your work as a general contractor in Louisiana. It protects the investment you made in your contracting or construction business and ensures you can continue to work in the event of loss or damage.
Commercial Auto insurance for general contractors
Another type of insurance many general contractors in Louisiana consider is commercial auto insurance.
This type of insurance covers any vehicles that you use in the course of your business. It also can help to protect your business in case your employees get into an accident or are injured while driving.
Commercial Property insurance
If you own or rent property for your contracting business, Louisiana commercial property insurance can protect you from damage and vandalism.
How NEXT Insurance supports Louisiana general contractors
NEXT can help you quickly get the coverage you need to protect your business. We've helped thousands of general contractors just like you find customized insurance packages to meet licensing requirements.
You can start a quote through our online process, explore options for your business and get a certificate of insurance within minutes.
Start an instant quote online.
Do you have projects in a different U.S. state? Visit our summary of general contractor license requirements in every state.