There's nothing quite like a fresh coat of paint to instantly bring living spaces to life.
Research has shown
that even children's study habits improve in a home with a great paint job. But most people consider painting their own space a headache. They don't have time for the research, setup, labor, and cleanup, and would much rather outsource this important job to a professional painting contractor. If you have a thorough approach and a steady hand, starting a successful house painting business could be a profitable and enjoyable path. Let's cover four major areas you'll need to focus on to start off on the right foot with the steps to starting a painting business: how much to invest, business structure, steps to starting your business officially and how to advertise painting business. If you are already running a house painting business, follow these same steps to take your services to the next level. Either way, you know that running a successful painting business is not always straightforward, and we hope this guide will help.
How Much To Invest in a House Painting Business
At the beginning, your costs for starting a house painting business can be relatively low-on average, less than $2000. When you're first starting out, you'll need:
Brushes
Rollers
Paint trays
Tarps
Tape
2 ladders (8′-12′ and a 28′-32′ sizes)
Sandpaper
A wire brush
A caulking gun
Protective clothing
A breathing mask
You can minimize your business' overhead costs by being based out of your home or truck at the beginning. As your projects
scale up
, you will need more equipment to get it all done. Scaffolding, sprayers, and compressors will make bigger jobs a snap. Make sure that your business plan includes your price adjustments and increased equipment costs as you scale up-that way, you and your painting business profits will be ready to thrive.
Choosing The Best Structure For a House Painting Business
There are
three forms of business structure
for you to choose from. Each one has unique benefits for you to consider when you are starting out. As your painting business grows, you'll want to reconsider which structure is best for you.
Independent Contractor
Being an independent contractor is a great way to start off solo. You can make your own contracts and work directly with your clients (as opposed to an employee who works for a company), giving you the flexibility to take on a large range of painting projects, at whatever pace works best for your life and business.
Partnership
Starting a successful painting business in a
partnership
allows you to share expenses and risk with your partner. Another plus is that you can build off of each others' business skills-as the saying goes, two heads are better than one.
Limited Liability Corporation
An LLC is its own entity. This means you will not have personal liability and your personal finances won't be vulnerable to covering potential small business debt. And out of the three options available, putting your employees on a payroll is easiest with an LLC in place.
Steps to Starting a Home Painting Business
Certification
There are no national certification requirements in order to break into the painting business, but there are lots of ways to acquire your skills. Most house painters take at least one professional painting course to learn the basics. Becoming a formal apprentice to a professional painter, with coursework and hands-on experience, is another excellent way to get started. Assisting a professional painter would be another route to consider, in order to gain confidence and see what really works. If you're already established in the field and you're looking to expand your offerings, you might consider getting certification in specific areas of expertise like
industrial coating
. If you'll be working on buildings built before 1978, remember that the The Environmental Protection Agency (EPA)
requires
house painters to get certified through the Renovation, Repair, and Painting program (RRP).
Licensing
Depending on your state's
requirements
, you might need a painting contractors' license. The process can range from filing a simple registration form, to being tested on your industry know-how.
Insurance
There are a handful of factors to consider when choosing insurance for your home painting business. Look for a plan that is tailored, affordable, and simple to understand. Like most businesses, it's likely that your painting business will need
liability insurance
and
insurance for painting contractors
. If your business is slapped with a lawsuit, your personal finances could (or could not) be on the line depending on your business structure. Choosing to work with a partner and/or employees will also affect the types of insurance coverage you'll need. A painter's insurance plan will cover all of these bases and allow you to focus on building your business.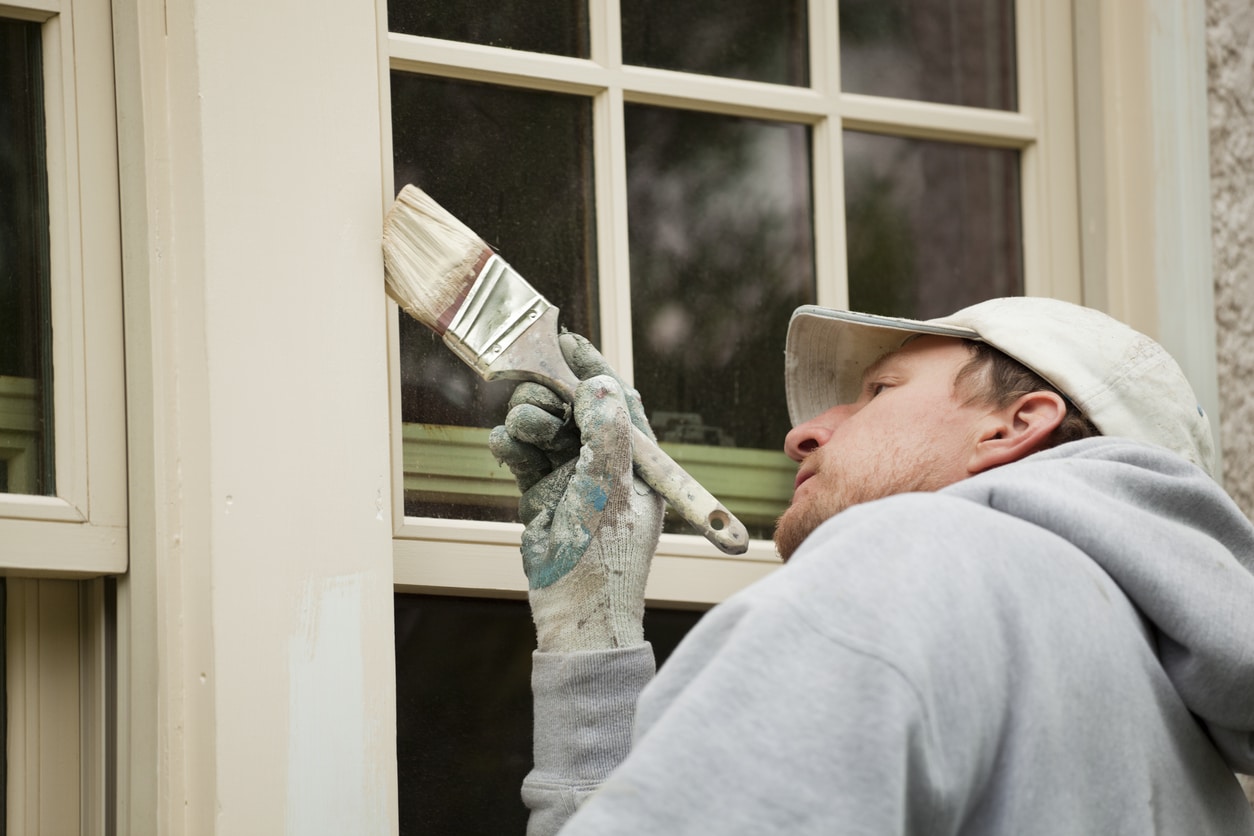 Advertising a House Painting Business
Are you eager to get the word about about your painting business? You have lots of
options
for getting more leads and customers, and none of them are particularly costly.
Friends and Family
Tell everyone you know. This will lead to organic, in-person referrals and recommendations-the best kind. Offering a commission on referrals is one way of keeping your marketing costs low and predictable.
Print Business Cards and Flyers
In the home improvement industry, house painter business cards, magnets and flyers remain an incredibly effective way of getting your business' name right in front of your customers. Print a few hundred flyers and painting contractor business cards and go knocking door-to-door, the old-fashioned way. People will remember meeting you personally, which means they'll be far more likely to call you for painting when they need help.
Social Media
Gathering reviews and posting photos on sites like Yelp and Facebook is a free and fast way to build your local reputation as a professional house painting business. Not sure what to post? One way to start is to notice the most common questions you find your customers asking, and make a video where you answer them to a larger audience. Before you begin each project, get permission from your customers to take 'before and after' photos of your paint jobs. That way, you'll always have exciting pictures to post.
Get To Know Your Industry
The U.S Bureau of Labor Statistics
projects
that the number of actively employed painting contractors will have increased by 38.5 percent from 2010 to 2020. With such a large demand for home painting services, there's no need to view other painters as competition. Instead, by building your relationships within your community of service providers, you'll get to learn about the best suppliers and latest trends while giving and receiving advice and referrals to your friends in the industry. The
Painting Contractors Association
is a great starting point to get connected. While any business takes good old-fashioned hard work to succeed, asking these important questions at the beginning can help make your hard work as a painting contractor much more effective.