Carpenters are considered the "master crafters" of the construction industry because carpentry is essential to virtually every project.
That makes carpenters one of the most sought-after skilled workers in the U.S. job market. The Bureau of Labor Statistics (BLS) projects that, on average, from 2020-2030, there are about 89,300 openings for carpenters annually.
But to become a successful carpenter, you'll need the right training. That could mean getting a carpentry certification.
Here's what you need to know about the path to becoming a fully certified carpenter:
1. Know the requirements to become a carpenter
There's no federal law that requires a license or certification to practice carpentry. But many states and localities have their own rules.
Most states don't require a specific license to work as a carpenter, but may require licenses for larger or more specialized construction and carpentry projects. Similarly, some states consider carpentry a type of home improvement or remodeling work that may require a license.
Also, depending on what kind of carpentry business you have or the jobs you work on, you may need liability insurance.
You can check your state's requirements here.
2. Choose a carpentry learning path
Many carpenters' career paths begin with high school woodworking, geometry and mechanical drawing classes.
Traditionally, carpenters gain real-world experience through an apprenticeship, which is a supervised work program that often pays a good wage. To become a carpenter apprentice, you need a high school diploma (or an equivalent such as a GED) or associate degree, and the endorsement of an organization like a union. Organizations might also provide financial aid for formal classroom training.
Typically, carpentry apprentices work under a supervisor on various jobs, which can be very demanding. A carpentry apprenticeship may also include classroom learning and can last as long as four years. This is where apprentices learn about building codes, blueprint reading, power tool fundamentals and more.
Another route to a carpentry career is a carpentry certificate program through a trade school or community college, which provides training in basic carpentry skills and classroom learning opportunities. Carpentry certificate programs may help prepare you for a carpentry certification exam and offer the chance to become a paid apprentice after the course.
It's also possible to gain carpentry experience without formal training, though this can be more challenging. The best way to go this route is to find a company with a supportive crew that's willing to give you a wide variety of experiences.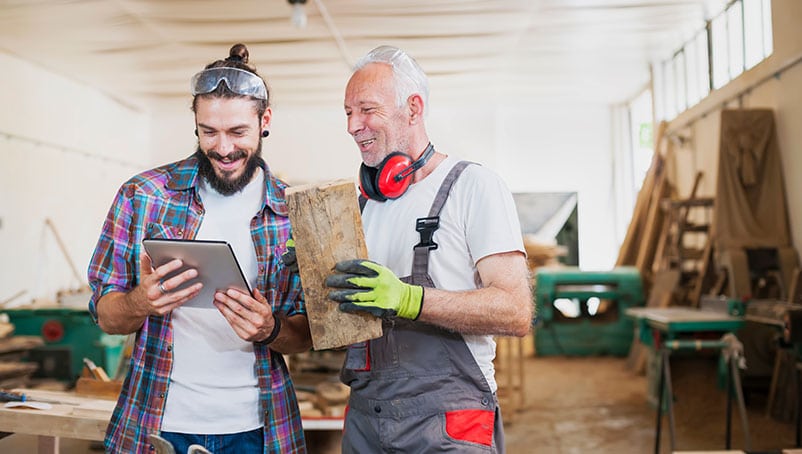 2. Become a certified carpenter
In some construction trades, the step after an apprenticeship is to become a journeyman by completing a journeyman's licensing exam, which legally qualifies a professional to work independently.
Because most U.S. states don't offer official carpentry licenses, the typical way to become a certified carpenter is usually by completing the requirements of a trade union's apprenticeship program and receiving a training verification card (TVC), also known as a journeyman carpenter card.
The TVC is essentially a professional carpentry certification, demonstrating that a carpenter can work independently.
Clients and employers are more likely to hire a certified carpenter than a non-certified carpenter, so a certification helps you stand out. It can also be helpful for a carpenter to obtain additional certifications, which demonstrate a carpenter's advanced skills and safety knowledge.
Some jobs will require certain certifications. Common certifications for carpenters include:
As a professional carpenter, you'll want to carry carpenter's insurance. Business insurance protects your business from common construction risks and is often a requirement for jobs.
3. Start your own carpentry business
Once you're able to work independently, you can start your own carpentry small business and work as a subcontractor or directly with clients.
Many general contractors start out as carpenters. As you gain carpentry experience, you may want to take that next step as well.
General contractors can manage larger and more complex construction projects, and hire people to work on them. In most states, a general contractor will need a general contractor's license and proof of insurance.
How NEXT helps carpenters thrive
Protecting yourself and your carpentry business is important no matter where you are in your career.
At NEXT, we make it easy to get coverage for general liability, workers' compensation, professional liability, commercial property and tools and equipment. You can bundle two or more of our policies and save up to 10%
You can complete an application, view policy options, get a quote and purchase coverage fast. Get proof of insurance when you need it, no waiting around.
Get started with your free online quote today.