For many carpenters, training starts with high school classes in carpentry, geometry, and mechanical drawing. Trade or vocational school classes may include carpentry certificate programs and build on basic skills with hands-on experience, classroom learning opportunities, and the chance to become a paid apprentice.
A union apprenticeship offers the opportunity to gain real-world experience while making a good hourly wage. Carpentry apprentices work under a foreman on a variety of jobs. The work is demanding, and expectations for attendance, responsibility, and following directions aren't negotiable. To advance from an apprentice or journeyman to a leadman and then foreman, it's important to demonstrate a willingness to learn.
While the apprenticeship program offers various pay grades as a carpentry student moves up through the ranks, it may also offer classroom experience learning the technical parts of the job. Carpentry certificate programs include the education needed to pass a carpentry certification test, although apprenticeship programs don't require it.
What to Expect in the First Years as a Carpenter
Wondering how to become a certified carpenter?
In the United States, certification isn't required in the field of carpentry. Most experienced carpenters started as an apprentice. To join the program, you must have a GED or high school diploma, be at least 18 years old, and be a U.S. citizen or have authorization to work in the U.S.
What is a master carpenter certification?
You can't get an official master carpenter certification in the United States since the highest recognized designation in the field is that of a certified journeyman. The title master carpenter exists in Japan, Germany, and Australia. A carpentry certification is simply a completed apprenticeship combined with the required supplemental education.
Some websites offer a carpentry certification online, which consists of classes that you complete at home at your own pace. While you can learn the terminology, safety practices, and building code requirements via carpentry certification online, the hands-on part of a successful career in carpentry is built on a foundation of experience.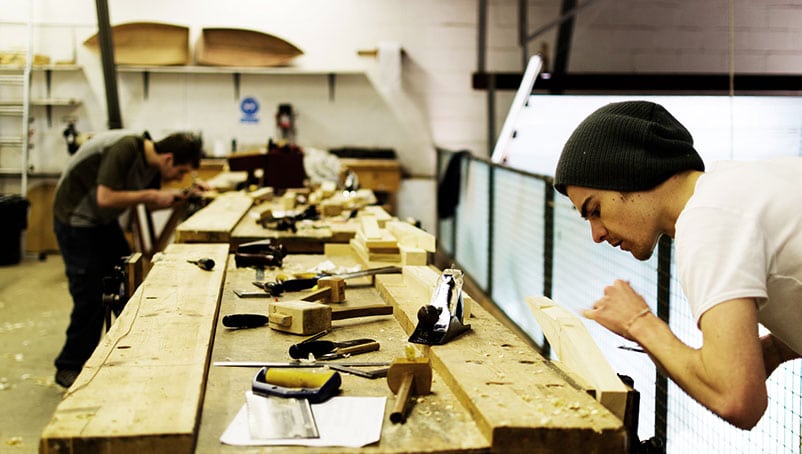 What to Do After You Finish a Carpentry Apprenticeship
Curious about getting a full-time carpentry job after you finish your education and how to become a certified carpenter? An apprentice carpenter works for about four years to complete the required 2,000 hours of job site work.
They also attend about 144 hours of classroom or formal education. The local trade union where they completed their apprenticeship then awards them a training verification card, also called a journeyman carpenter card.
The journeyman carpenter card could be called a carpentry certification, but there isn't a formal or state-administered carpentry certification test that an apprentice must pass to reach journeyman status.
Working as a Journeyman Carpenter
A journeyman carpenter teaches new apprentices the trade as they work to complete the job at hand.
On any given day, they may be responsible for tracking supplies and inventory, maintaining a service truck, reading blueprints and plans, and following OSHA safety regulations in addition to normal building and repair work.
While each state has its own carpenter license requirements, most states require professional carpenters to get a general contractor's license. In some states, a carpenter may be a specialty contractor, which requires a state license and may also require proof of insurance. 
For example, in California, a carpenter needs a state license if they work on any project worth more than $500. In Florida, carpenters must pass the contractor's license examination. Plumbers, roofers, and electricians must pass a separate specialized test, but carpenters can take the business and finance examination and general contractor examination to become properly licensed. In New York, there aren't any state-imposed licensing requirements for carpenters, but local governments may have individual licensing requirements.
Many carpenters are self-employed, which means they should carry a certain amount of liability insurance or carpenters insurance. Both are types of business insurance that protect a professional's personal financial assets if they are involved in or cause an accident while performing work-related duties.
While insurance for carpenters isn't typically expensive, it could protect them from devastating financial losses due to accidents. 
How to Run a Carpentry Business
Carpentry business ideas are plentiful. There are many niche specialties where skilled and experienced carpenters are in demand.
A rough carpenter handles formwork, framing, roofing, and structural tasks on a building site. They report to the job's foreman. A trim carpenter is great with detail. They handle finish work like trims, skirting boards, mantles, and trims. A joister specializes in building the framework for flooring. Not all carpenters work as part of a building team. Some design and make furniture and cabinets.
After completing the required education and receiving a journeyman's card, you may decide to continue work as a union carpenter. Whether you start your own business or work for someone else, it's important to have the right type of insurance. Carpenters work on various job sites in a career that is physically and mentally demanding. General liability insurance protects carpenters from advertising injuries, property damage, and third-party injuries. While the type of insurance that's best for an individual professional carpenter may vary by state, it's crucial for anyone who works in this field to understand how best to protect their financial assets.
Depending on where a carpenter works, there may be laws requiring certain minimum amounts of insurance. Even if there aren't definitive guidelines, it's crucial to understand the types of insurance available for independent contractors. In most states, building contractors must carry general liability insurance. It protects the business if there's an accident and the injured party sues. It also covers personal injury, if you or someone who works for you damages another person's livelihood or reputation.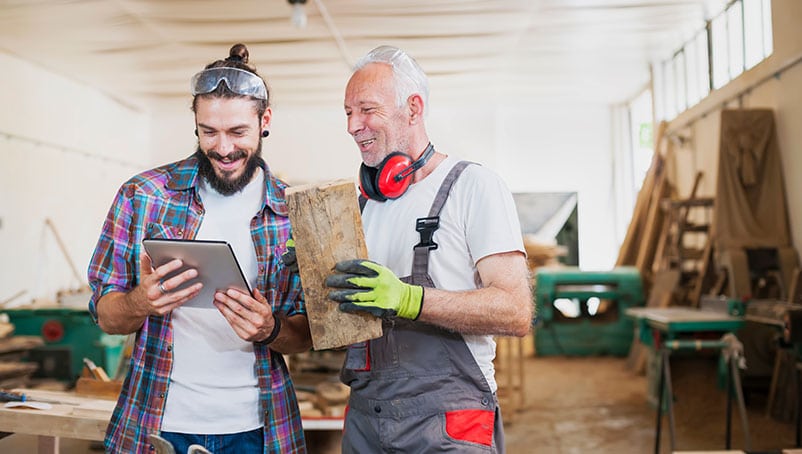 Next Insurance Offers Comprehensive Insurance Plans for All Carpenters
With Next Insurance, carpenters have access to a live insurance document via tablet, smartphone, or computer any time and in any location with an internet connection.
With 24/7 access to online rate quotes and insurance specially designed to meet the needs of carpenters at any stage in their professional journey, Next Insurance has the carpenter liability insurance and business policies that new and experienced contractors need most.