It's a great time to start a home renovation business. A 2022 survey found that renovation activity and spending are at a four-year high, with 55% of homeowners planning to renovate before the end of the year.
A record-setting real estate market means consumers need renovations to boost their resale values. And with pandemic restrictions easing, more consumers are no longer doing DIY home renovations but hiring pros.
If you're thinking about running your own home renovation company, chances are you've already got some relevant experience. If not, that's okay!
Whether you're a handyman, construction worker, or thinking about entering the industry for the first time, there are many paths you can take to become a successful home renovation business owner.
Here are eight steps to plan, build and grow a thriving renovation business:
1. Understand the basics
Home renovation and remodeling are similar concepts with important differences.
Renovation focuses on repairing, restoring or updating a space. One person may sometimes do smaller renovation jobs.
Remodeling typically implies larger projects that alter a building's structure and will almost always require a team.
Typical home renovation projects involve updating a kitchen or bathroom with new appliances and fixtures, or upgrading a home's floors, windows, or doors. Examples of remodeling projects could be adding a new room to a house or combining multiple apartment units into one.
Depending on the complexity of a home renovation or remodeling job, a general contractor may need to hire a team of subcontractors, in addition to a designer, an architect, or even a structural engineer.
2. Level up your skills
Nobody starts knowing everything. Unless you've already got years of experience, it's not feasible to start out managing big home remodeling projects from the jump.
That's why it's often a great idea to build up your home renovation skill set before you launch your small business.
Home renovation and remodeling require many different skills, including:
Carpentry
Electrical
HVAC
Plumbing
Concrete
Masonry
Flooring
Carpeting
Tiling
Drywall
Windows and doors
Painting
When you're a general contractor running your own home renovation or remodeling business, you'll typically specialize in a few of these skills and subcontract out the rest to electricians, plumbers and more.
If you're trying to figure out what skill to develop first, a good bet might be carpentry, which comes into play in most home renovation jobs. Getting a carpentry certification is a good start.
Other skills like electrical, plumbing, and HVAC are also in high demand for home renovations but take longer to master. Each trade has its own licensing and certification requirements that vary by state.
The best way to start is by doing. If you're starting from zero, the internet is an incredible resource that can give you enough guidance to start practicing trying home repair out on your own. Then, you can look up courses at trade schools and community colleges that offer hands-on training.
Many aspiring home renovators level up their skills by working as a subcontractor for a general contractor. If you've developed some know-how, look for a highly-regarded general contractor in your area and see if they'll hire you as a laborer or an apprentice.
Doing this can get you invaluable first-hand experience and help you find a mentor who can be there for you when it's time to start your own construction business.
3. Get licensed and insured
Depending on your state's general contractor license requirements, you will likely need a license and insurance coverage to work on a home renovation or remodeling project, especially as the scope of the job increases.
To protect your home renovation or remodeling business, getting the right general contractor insurance is essential.
A general contractor insurance package could include general liability insurance, workers' compensation, commercial auto, tools and equipment, and commercial property coverage. This can give you financial protection if someone goes wrong, and project owners and licensing agencies often require it.
Many general contractors will also get a bond, which is like an added level of insurance on your coverage plan.
NEXT offers an easy option to get general contractor coverage within a few minutes online, but it's important to note that we don't currently offer contractor bonds.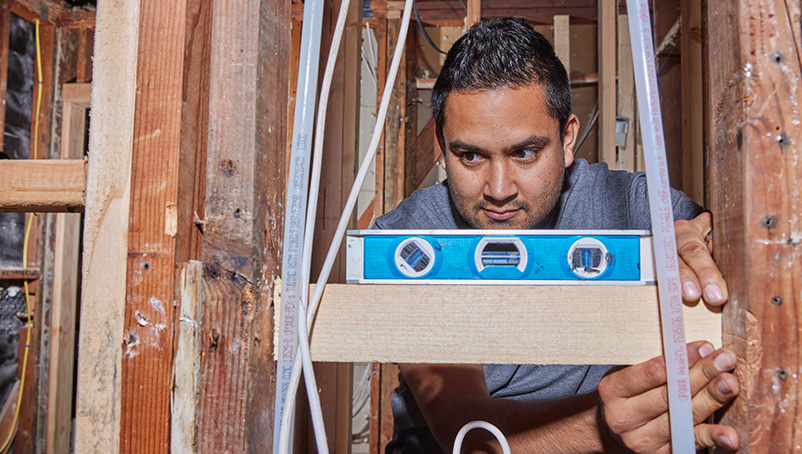 4. Focus on your customers
Today, there are easy marketing options to reach the customers who will be searching for your home renovation services online. It costs very little to make a website and social media profiles. Boost their reach with Google and Facebook ads.
Even with a good online presence, it's important to remember that word-of-mouth from satisfied customers is the number one source of referrals for many self-employed home renovation entrepreneurs.
The most successful general contractors often have strong relationships that help them get the best jobs.
When you're first starting out, you'll likely have to rely on your networks. There's a very good chance you might find your first clients through relatives, friends and people in your neighborhood. Offer discounts and ask people to help spread the word.
Doing jobs for lower costs at the beginning is an excellent way to sharpen your skills as you ramp up. It's also a huge marketing opportunity, as you can start filling up your website and social media with genuine and positive customer reviews.
Remember to follow up with your customers after each job to make sure they're happy and address any issues.
Take photos before, during, and after your home renovation work, with your customer's permission. These pictures will be worth a thousand words on your website and social platforms. For your potential customers, seeing is believing.
5. Build industry relationships
In the home improvement business, your industry relationships are vital.
Because this business involves so many skills, a general contractor's success depends on the quality of the people they work with, from subcontractors to suppliers. That's why it's so important to network.
If you have the industry contacts to pull together the right professionals quickly, you'll be able to take on jobs that your competitors can't.
Consider joining a local chapter of organizations like:
National Association of the Remodeling Industry (NARI)
National Association of Home Builders (NAHB)
National Kitchen and Bath Association (NKBA)
You can meet other contractors and industry professionals who can help you grow your new business.
Networking with other industry professionals, like wood, metal, glass and paint suppliers, can also become a great source of early referrals for your home remodeling business.
Make sure to invest in those relationships as you would with customers: they are key players to have on your team.
6. Give good estimates
A good contractor must become proficient at estimating the costs for each job.Larger construction firms have estimation departments that handle this, but you'll likely have to do this yourself or hire an estimator for a while.
To prepare a bid, you'll need to create a quantity takeoff (QTO), which is a detailed table itemizing the cost of materials. You'll also need to calculate your overhead and profit margin. There's software that can help you do this, but you can also do it by hand.
It's tempting to underestimate to get a job when you're starting out and then raise the estimate as the job gets underway. However, try not to do this; it upsets clients and hurts your reputation.
Instead, make sure to work closely with a client to get as much information as possible about their needs. Then give a solid, accurate and transparent estimate.
7. Manage your cash flow
In this business, time is money, and cash is king.
Whether your home renovation business succeeds or struggles often comes down to whether you can effectively manage your cash flow.
Materials and labor cost a lot, and you might find yourself stuck if you don't have enough cash to buy materials or pay subcontractors on time. Figure out your start-up costs, how you'll collect deposits and payments from your clients, and have a plan for what happens if a client falls through.
It can help to learn accounting basics and invest in some invoicing and business finance tools. 
8. Keep growing
As you gain experience, you'll be able to hire more help and take on bigger, more complex, and higher-end jobs.
Many experienced general contractors get certifications that can impress clients and help them get more opportunities. NARI, NAHB, and NKBA all offer highly-regarded certifications for home renovators and remodelers.
To stand out further, you may consider focusing on a niche target market that caters to the kinds of residences near you. For example, if you work near an urban area with lots of crowded apartments, you could advertise small space design solutions. If you live near a beach, you could focus on deckbuilding or kitchen remodeling for vacation homes.
After some projects, you may be able to gain an income stream by offering maintenance plans for any renovations that require regular check-ups.
NEXT helps you build your home renovation business
NEXT makes protecting your home renovation business fast, easy and affordable.
You can complete our online application, view coverage options, get a quote and purchase a policy in less than 10 minutes. If you need more than one type of coverage, you'll save up to 10% when you bundle two or more policies together.
You'll get access to your certificate of insurance as soon as you make a payment.
If you have questions at any time, our licensed U.S.-based insurance professionals are available to help.
Get started with a free quote today.