As you probably know very well, when you're running your own business, it's your responsibility to bring in the customers. The field referred to as "customer acquisition" is a unique challenge for any business, including yours as a contractor. That's why, one of the keys to your long-term success is getting repeat customers.
Getting a customer to make an initial purchase – in this case using your contracting services – is generally considered the hardest part of business. This person must take a leap of faith to hire you, and trust you with a project that matters to them.
Getting customers to take that step often requires considerable resources in terms of marketing, advertising, money and time spent. These factors combined are what make new customers a serious investment, and the reason why getting repeat customers is a crucial marketing goal.
The good news is, satisfied customers will remember you, on their own, the next time they have a need for your services. Even better, when they come back, they'll often be ready to invest in bigger projects or recommend you to their friend, that is why the value of repeat customers is even higher than it might seem. This in turn gives them what in marketing is called higher customer lifetime value.
The question then is, how can you get customers to come back?
How to Build Long-term Relationships with Customers
If you're wondering how to get customers to come back, you're not alone. Repeat business, known as customer retention, has grown to become a discipline of its own. While many large companies will hire customer retention managers, or entire teams, to build long-term relationships with customers, there are plenty of things you can do on your own to help get customers coming back.
7 steps on your journey to get repeat customers
1. Be available
You may be surprised by how many contractors don't answer their phone. It might sound obvious, but you have to take customers' calls in order to get their business. If you're too busy to handle this yourself, hire someone to answer the phone for you. Likewise, if you have an email address or social media account, you must be available and responsive. In today's atmosphere of instant access, if you aren't available, customers will go elsewhere. Simply put, you need to get business in the first place, in order to get repeat business.
2. Be reliable
A long-term customer relationship is built on trust, and that starts by doing what you say you'll do. If you say you're going to be at a customer's site at 9am, be there at 9am. This holds true whether you're coming to give them a quote, or complete a major project.
3. Be courteous and clean
You should be polite when speaking with customers. That's a given. But more than that, you need to respect their space. Don't leave spackle or nails lying around. Nobody wants to pay you money to do a job that creates more work for them. Always clean up after yourself, without being asked. This is part of being a professional and will help you with getting repeat business.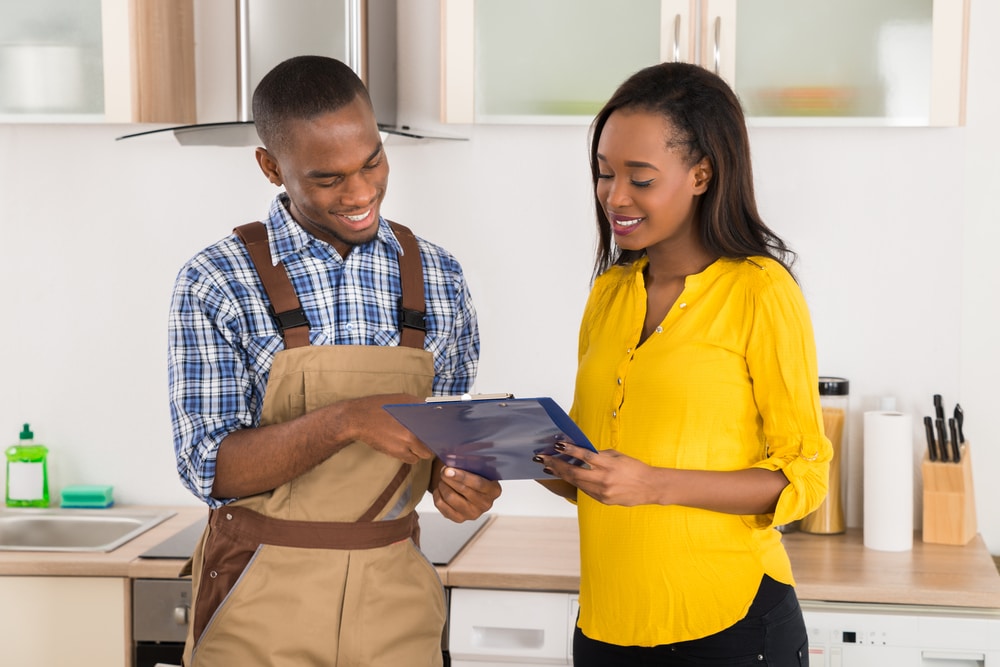 4. Be trustworthy
There are many reasons why you need contractors insurance – first and foremost to protect yourself, and your business. But another benefit of having insurance is that it makes you look more reliable. You may even find that some customers want to see a Certificate of Insurance as a prerequisite for working with you. If you have a website or social media profile, make sure to highlight the fact that your business is insured on your profile page; it's a great marketing edge!
5. Treat every job like it's a big one
A first-time customer may need you to do a small job, like fix the stairs or re-hinge a door. If you're in it for the long haul, it's important to look at small jobs as a gateway to bigger things. This week you might be fixing a door, next month, repairing the stairs, and who knows, maybe a kitchen renovation or new roof will come along in a few months. Build a strong relationship and there's no telling where business can turn.
6. Get recommendations
When looking to attract business in your quest to getting repeat customers, recommendations from people who have used your services go a long way. There is, of course, the old-fashioned word-of-mouth type of recommendations that work well. Better yet, ask happy customers if you can quote them on your website, or ask them to rate you on Facebook or Yelp.
7. Keep a respectful distance
Don't mistake being friendly for being friends. While it's fine to chat in order to establish a rapport, don't start sharing your life story. Your customers don't need to know if you were up with a sick child, out late at a party, or in Mexico on vacation. Part of ensuring repeat business is respecting people's time. Your job is to get the job done. Plus, the more efficiently you move through jobs, the more jobs you can get done in a day. That's a win-win situation all the way.
Bottom-line on How to Get Repeat Business
At the end of the day, if you want to focus on getting repeat business you need to be the type of contractor customers want to work with. It's really as simple as that. Provide excellent quality. Be punctual. Complete jobs as quickly as you can, and always be honest about what you can and can't do. In other words, be the type of contractor you'd want to hire yourself.