The art of yoga is a rapidly growing business, a $7 billion dollar industry to be exact.
As yoga becomes more popular it acquires more legal risks and involvement. According to yoga expert and attorney Gary Kissiah, "lawyers follow the money, and lawsuits follow lawyers," which means that you as a yoga studio or teacher should get keen on smart practices to keep your business alive.
As a yogi, you may not view yourself as a business, but the law views everything about this practice as a business so it's important to be knowledgeable of yoga liability waivers and business insurance.
Growth Becomes Risk
Yoga continues to gain traction amongst the United States general population, and with brand new practitioners in an ancient practice, it is likely that there will be injuries and liability on those who teach it.
A study conducted by the Yoga Journal and Yoga Alliance, "The 2016 Yoga in America Study," states that within the 36.7 million yogis within the U.S., 74% of them have only practiced fewer than five years. Yoga, just like any other sport or craft, takes practice. As a rule of thumb, a novice of any kind will make mistakes as they are still learning to listen to their body and adapt to their new practice. These mistakes can be due to an individual yogis malpractice, but they can also fall on the instructor's lack of attention or ability to properly guide their students.
Effective yoga teachers will often ask the class if they are nursing any injuries and throughout the class suggest variations of the same pose in order to be inclusive of the silent injured. However, no matter how much you do as a yoga instructor to prevent injuries and encounters with the law, you cannot predict the results of all students. Since the world can get litigious, it is wise that you get yourself covered as a teacher.
Do not wait until you are faced with a lawsuit in order to get yourself covered by an insurance policy that covers you individually- get yoga teacher insurance today.
How Waivers and Proper Liability Insurance Benefit Your Practice
Yoga participation waiver forms and liability insurance, together, can be the difference between hiring expensive lawyers and losing valuable time to focus on business expansion to benefit your yoga students.
Your teacher training may have briefly glassed over the possibility of lawsuits, but even if your program delved deep into the horror scenarios, your focus remains on this practice with a noble cause. You want to serve others and teach the benefits to the public for a better world. If you are covered by the appropriate waiver of liability and personal trainer insurance then you will have more time to focus on your lesson plan and continuous self-education to fulfill your duty to serve others.
Stay Zen with preventative measures that will not tarnish your appreciation for a career that you've invested much time and money into.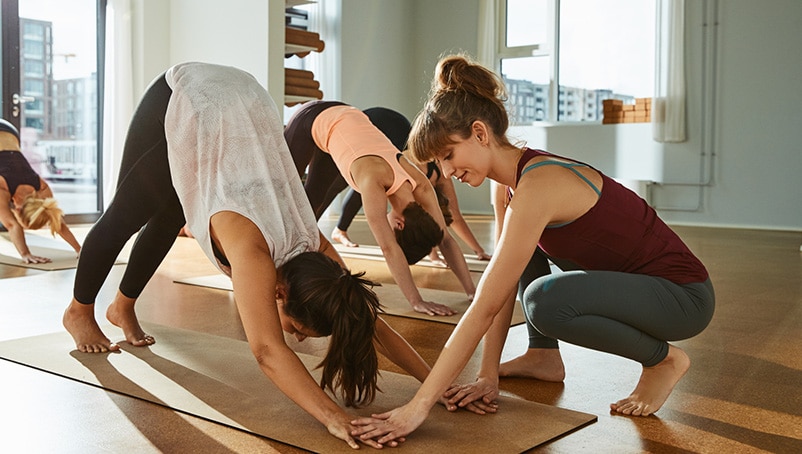 Liability Waiver and Teacher Insurance In Practice
Yoga should be free of judgment and accepting of all who are interested, so it may be difficult to introduce legalities to your students. However, once you do it will be a mere formality that saves you down the line.
A yoga waiver of liability and release form will cover you in various ways: you will ask them to acknowledge and consent to the risk of the yoga practice, require that they disclose previous health conditions to prevent new injuries, and stress the idea that yoga may not be for everyone. It can be weaved into your new student check-in process to have them sign a yoga waiver and release form. This will set you up for success as it relieves some of the liability and is documented evidence which you may need in court.
Legal jargon is very calculated, so you have to make sure that the type of liability insurance you employ works for you, and includes both employees and teachers. Next Insurance is an easy, online, and tailored approach for any small businesses including yoga businesses like yours. You should start to think of yourself as a small business whether you are a studio or individual that teaches at a park.
The Most Common Lawsuits In Yoga
Below are some of the most common liabilities that can turn into potential lawsuits and impede growth within your business:
Bodily Injury: A student may slip, fall, or overstretch a muscle and hold you accountable. They may blame you for improperly
Property Damage: If you are a teacher at several studios you could be sued by the property if there are any damages to their premises. You could also be sued by a student for damaged personal items. For example, if there is a leak in the studio and their items are damaged by it you could be held responsible. 
Personal and Advertising Injury: Social media makes advertising your business instant, but it can also be a recipe for miscommunication & slander. You cannot predict how your followers will react to your posts or interact with each other. 
In order for you to maintain your yoga teacher or studio reputation, it is crucial to consider the possibility of lawsuits, and get the appropriate coverage. Solid insurance that covers you as a teacher and a well-written yoga instructor agreement form will help your business grow for years to come.
Proper Coverage Strengthens Your Business Growth
As a business owner, you have to accept specific unknowable possibilities that can make or break your establishment.
To have insurance that's flexible and effective is a necessity you cannot ignore. It will save you time and money which you can invest back into the business and help it flourish to new heights. This means more time for crafting thoughtful lesson plans and more money for studio improvements or higher education for your teachers.
Get covered today with an insurance policy that gives you, your students, and your business peace of mind.