As a yoga teacher, you may dream of opening a yoga studio of your very own, and wonder how to open your yoga studio. What could be more pure and wholesome than a studio of your own, with the practice you prefer, the teachers you love, students who are engaged?
Actually, there is lot more to take into account than simply continuing to teach if you open your own studio. We can help you set up a business plan and understand the factors that you need to take into account in order to become successful.
Let's go step by step through the points you need to consider to move forward when deciding who, what when and how to open your yoga studio.
Developing a Business Plan
Yoga is a growing industry in the US. There are more than 35 million yoga practitioners and around 80 million people who will try yoga in a given year. With a studio being one of the most popular locations for trying out yoga, owning a yoga studio can be a business with money-making potential. But, as with any other small business, it is essential to have a solid business plan in place when determining how to open your yoga studio.
Here we will look at the factors you need to take into account within your plan for how to open your yoga studio.
Selecting Your Location
Knowing how to open your yoga studio is the first thing to figure out, but in order to be successful, figuring out where to open can be just as important. Location is a key factor for many reasons, including ease of arrival, public transportation and whether people will come.
You need to find a landlord that understands your business, but gives you the privacy and the space to run your business in the way you need. Where in the city you choose to open will also depend on the types of clients you hope to attract. Make sure that you take this into account when picking your location.
Choosing Your Studio Name
Before starting a yoga studio business, you need a name, but before you can choose a name, you need to decide on the focus of your studio. What will make your studio stand out from others in the area? Do you teach specific workshops or offer training? Are you certified by the Yoga Alliance? Do you offer classes for specific audiences, such as pregnant women, children or the elderly? Consider the type of environment you'd like to promote. Is your studio a place for fun, is it trendy or is it traditional? Is it a quiet haven or is it a hub of activity? While this should all be part of your business plan, it will also help you choose a name for your studio.
Costs to Consider
When opening a yoga studio, start up costs are important to consider. Knowing and understanding your costs will help you create a plan that can work for your budget, and working within your budget is the first step to success. Here are some costs you must take into account when determining how to open your yoga studio: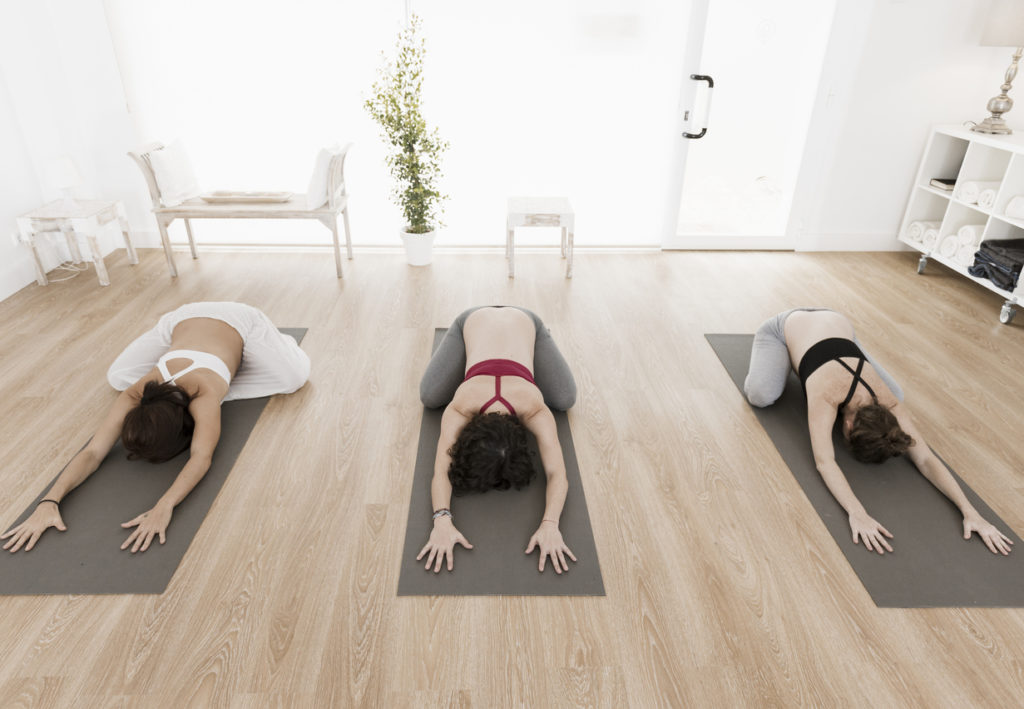 Venue: This will be your biggest initial expense when starting your business, so it's important to work out how much space you will need per studen. Location is an important factor when working out your yoga studio start-up costs. For example, if you are based in New York City, you can expect to pay $80 per square foot for commercial space (or significantly more if you set up along Upper Fifth Avenue in Manhattan), while in Boston you are more likely to pay around $30 per square foot. Des Moines would be even less.
Design: How you design your space will depend on the initial condition of the venue, the environment and style you want your yoga studio to offer and your budget. There are many do-it-yourself options that can enhance your space that will leave your budget open for other things.
Equipment Costs: Opening a yoga studio requires basic equipment. Consider the costs of a studio floor, sound system, DVD players, computers and printers, flat screen TVs, projectors, telephones, filing cabinets and furniture.
Marketing: When you first start a yoga business, it will not be popular or profitable immediately. You will need to spend time and money on marketing. It is possible to design and print flyers yourself to help keep the costs down, but make sure they look professional before you distribute them. It is more worthwhile in the long run to pay for flyers, billboards and advertisements than to produce poor quality material.
Insurance: Insurance is a relatively big cost, but it is one of the most important. With proper yoga instructor insurance, you will be able to rest assured that your studio is in good hands so that you can worry about growing your business. The costs of insurance for general liability, theft, property casualty and workers comp need to be taken into account.
Legal: Legal expenses are a must before owning a yoga studio. This includes a fee for registering a business in the United States (up to $750), as well as the fees for licenses and permits (Health Department license, business license, fire department permit, licenses for office software and more). Expect to pay several thousand dollars for these.
Taxes: Make sure you understand the local, state and federal taxes you will need to pay as a small business owner so that there are no surprises.
The Bottom Line
While there is nothing you can do to guarantee success, you will increase your odds by being smart and considering all of the items we've listed above. How to open your yoga studio is a complicated question, but being systematic about it will help you thrive.