Personal training is a growing, thriving industry. With American consumers spending more than $25 billion per year to get in shape and maintain an active lifestyle, it's no surprise that top-notch personal trainers like you are more in demand than ever before. With that increased demand comes a growing need for personal trainers to ensure that their businesses are safe and protected, including by making sure to have a proper personal trainer liability insurance policy in place.
What separates good personal trainers from great ones is the trainer's ability to inspire people to try harder than ever before. Personal training is a people-centered business that rewards those who can inspire trust and confidence in clients who may be uncomfortable or physically vulnerable.
Why Bother with Insurance?
When starting a personal training business, you're placing a huge bet on yourself. You believe that you have the skills and knowledge to help people push past their comfort level and towards results they once thought impossible.
But what happens if you push a client too far, find yourself being asked to cover someone's medical costs, accused of inappropriate touching, or on the wrong end of a lawsuit?
If you aren't sure about the answer to those questions or wonder if you could afford to fund a legal defense or settlement, now is the time to figure out what type of insurance you need to enable your business to grow and flourish. In order to do that, you need to understand where you are legally vulnerable and what insurance policies exist to strengthen your weak spots.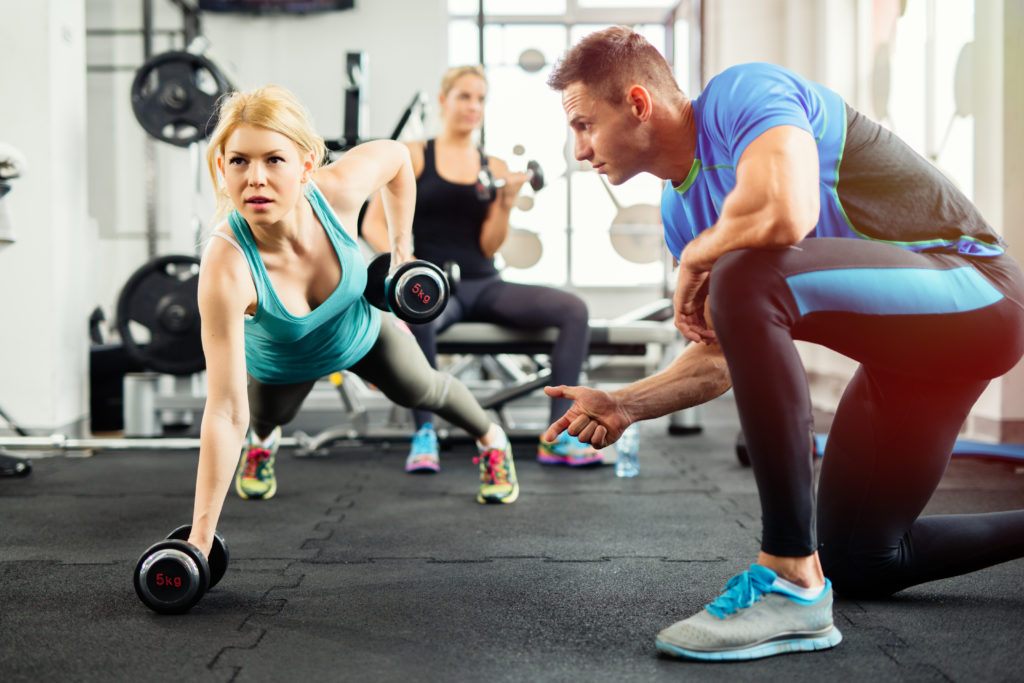 Personal Trainer Vulnerabilities
What types of problems can arise for personal trainers? One potential lawsuit could involve a client who alleges that your failure to instruct them properly led to a major injury. Maybe they missed out on work and lost a portion of their salary, or they had to undergo painful surgery. Another could be a client who drops a barbell on their foot during a session and asks you to cover their medical costs of $3,000, suing you when you decline.
Whatever the case and whether they're right or wrong, defending a lawsuit is an expensive process that generally involves legal fees, a settlement, or a court-ordered verdict. The single best way to protect yourself against the hazards of one of these lawsuits is to carry the necessary personal trainer liability insurance.
Covered Through Your Gym?
In many cases, personal trainers who work for corporate gyms will be covered by their employer's general liability insurance policy; in other cases, and almost always if you're a contractor rather than an employee, you'll need to provide Proof of Insurance to any gym you work out of, often listing the gym as an Additional Insured.
Assuming that you are covered by the gym's policy can be a costly mistake. Once you clarify that you are indeed covered, asking for additional information concerning their policy limits, exclusions, and terms is a smart move, to ensure you have the coverage you need.
For independent contractors or free agent trainers, gym or public park policies are unlikely to offer any protection in the event of a negligence lawsuit. A professional liability insurance policy is critically important for these trainers.
Personal trainer liability insurance from a trusted provider that offers Proof of Insurance easily and quickly also provides you a major advantage in a highly competitive market. When you have insurance, your clients know that they are dealing with a skilled professional who takes their small business seriously. They appreciate that you can show them a certificate of coverage so that they can focus on the results they demand rather than the risk they would take by working with an uninsured trainer.
What Does Insurance Cover?
Personal trainers are typically sued for one of three reasons:
Negligence
Trainers can be sued because their clients allege that they did not do a good job in supervising their workouts. An example of a negligence lawsuit would be found in the case of a personal trainer who told a recent heart attack victim to do 200 burpees. If the client suffered an injury or had another heart attack, the personal trainer would not fare well in a resulting lawsuit!
Equipment or supplement
You can still be sued by a client if you are completely reasonable in the creation and supervision of their workouts. How? Clients have successfully sued personal trainers in the past (and not just in this massive case) because the trainer's equipment injured them or the trainer recommended the use of supplements that resulted in serious injury or death. Even if you had no reason to suspect that a supplement you were selling would cause them harm, you could be found responsible for the damages your client suffers.
Allegations of Misconduct
A final common source of liability is found in misconduct. The reality is that personal trainers operate in the personal space of clients. If a client feels that their boundaries were violated in an unprofessional way, they may be tempted to file a lawsuit. Touching or comments that are perceived as inappropriate can be the basis of costly lawsuits. Even if you were completely innocent and all the allegations were false, the costs of defending a lawsuit can be extremely damaging.
So What Personal Trainer Insurance Do You Need?
For many small businesses, a general liability policy will be enough. Unfortunately, for personal trainers that's just not true. Like doctors and lawyers, your needs will best be covered by an insurance policy that offers professional liability or malpractice coverage in addition to general liability insurance.
A policy with full coverage will fund your legal defense, settlements paid out to end lawsuits, and judgments entered against you, up to the policy limits.
With insurance premiums costing as little as $11 per month, these insurance policies will pay for themselves many times over in your ability to focus on growing your business without fear. A personal trainer liability insurance policy shows that you are operating a sophisticated personal training business and want to focus on results, with risk having been accounted for.
Being a personal trainer is a great choice and it offers tremendous opportunities. A solid insurance policy can help you be confident that you're covered no matter what, and free to focus on growing your business and hitting your targets.