Venturing out into the world of the self-employed is a lot like juggling.
You need to keep several balls in the air without letting any of them drop. As a tradesperson, you'd like to stick with what you know. Electricians have a hands-on background in fuses, watts, amps, and circuit breakers, for instance, but that's not necessarily where the story ends. If a small business owner could simply ply their trade and farm out everything legal and administrative in nature, the job might go a lot smoother from day to day.
But hiring employees or outsourcing tasks is not often feasible and as a result, the master of one trade also becomes a jack of many. Tackling all the requirements to become an electrician, you'll have some red tape to slice through and while none of it is earth-shattering, all of it is necessary— and a bit time-consuming.
Not to worry. We'll guide you through some of the bureaucratic hurdles you'll need to clear and electrician requirements you'll want to secure.
Licenses
You may have learned a lot about starting an electrician business through electrical technician requirements or by tooling around on the job with an experienced mentor or family member. In that case, you may already have a leg up on working toward an electrician license. From state to state, the titles an electrician license is more or less the same but the requirements to obtain that piece of paper vary with geographic locations.    
Electrician apprenticeship requirements don't involve licensing, but that person's day may look like yours as an upstart tradesperson: learning by watching and performing a little of work in the trenches. In some states, journeymen need four or five years on the job with some additional classroom training to meet electrician qualification requirements. Master electricians must also put their time in, along with passing an exam in some states.
And finally, an electrical contractor license may require that you've completed all the previous steps, with some supervisory experience.
Certifications
As you branch out and specialize, to bid on large-scale or unique jobs, some more formal education might be required.
Numerous trade schools and organizations around the country have programs that impart more knowledge on their students. Electrician certification requirements are needed to pursue specialties like fiber optics, low-voltage circuit breakers, and substation maintenance, among many others.
While obtaining a certification may require a lot of time and effort outside an already demanding 40-plus hour workweek, the reward at the end of the road usually manifests itself in the ability to bid more jobs and command higher rates.
So, the return on investment for efforts like licenses and certs can definitely be appealing.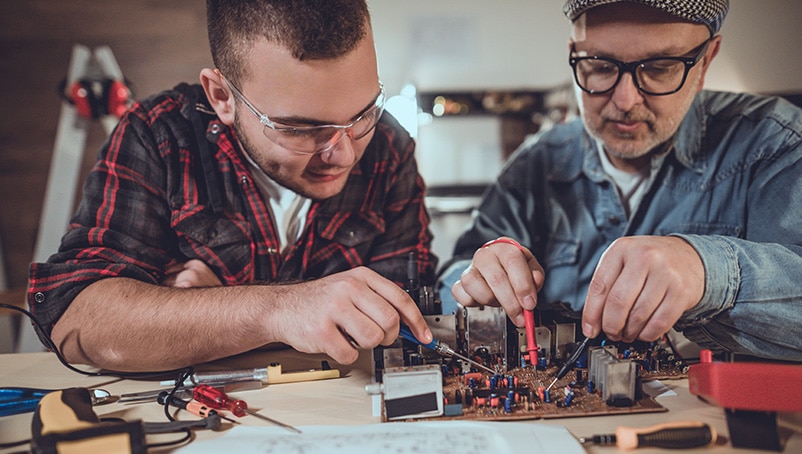 Taxes
Not everyone's favorite subject— but we can show you how the door swings both ways with taxes.
You'll likely want to retain the services of a Certified Public Accountant (CPA) to help you navigate all the ins and outs of self-employed taxes. And while you'll still have to pay Uncle Sam on either a quarterly or annual basis, you will find some tax advantages as well.
Electricians who have a home base of operations may be able to deduct part of their mortgage, real estate taxes, utilities and depreciation. Some of these expenses may reduce your taxable income but you'd best check with a professional before making any assumptions or commitments.
Another good idea involves a retirement plan, to which you can contribute pre-tax dollars and build a nest egg.
Insurance
You've undoubtedly worked hard to get where you're at in life and with so much on the line, risking the well-being of the business to an accident or catastrophe makes no sense.
Enter your business insurance plan. You'll want to protect all your business assets: tools, equipment, vehicles, etc. through electrician insurance requirements. There's also the possibility that something could go wrong on the job, and damage to a customer's property could set you back significant dollars if you didn't carry business insurance. 
Designing an insurance plan is not too cumbersome with proper guidance. Many contractors policies package property and liability insurance together, and if you have vehicles and employees, you can customize auto and workers compensation programs to supplement electrician insurance. 
Next Insurance can tailor your coverage to meet your needs and provide electronic certificates in an instant.
Business Registration
Formally registering your business with government entities lets federal, state and local know you exist.
You'll need to acquire a federal employer identification number (EIN) for tax reporting purposes and likewise with a state employer number. If you have employees, these identifiers will be necessary to file withholding and state unemployment taxes.
At the local level, municipal registration procedures vary greatly so you'll want to check with authorities to make sure you fulfill all your electrician requirements. There may be obligations such as business or occupational privilege taxes and acquiring permits for residential or commercial work within select localities will require you to have the necessary credentials.
This is especially important if you plan to bid on governmental contract work in your backyard.
Staying on Top of It All
To spur growth, you'll want to ascend to the highest electrician education requirements because it opens the path to landing lucrative jobs and builds credibility.
Tax compliance speaks for itself but it's worth noting that getting off track with respect to filings and payments can invite significant financial penalties that can hinder your cash flow. Running without insurance can crush your business dreams in one fell swoop as a single liability claim could run into the hundreds of thousands of dollars and it's unlikely you have the assets on hand to cover that risk.
The Importance of Your Legal and Administrative Responsibilities
While you undoubtedly fancy wiring homes and businesses most of all, what is required to be an electrician involves a bit more than handiwork.
When it comes to all the legal and administrative details, it might not be your pleasure or your forte but help is a stone's throw away. Contact Next Insurance to see how we can help push your business to the next level.