Second only to Texas in terms of energy consumption, California has a huge stake in the nation's electrical services.1 In fact, over 65,000 electricians are employed in California — more than any other state in the country.
If you're interested in working as an electrician in California, there's even more good news. In addition to employing an abundance of electricians, California also boasts above-average pay for this profession. In this state, electricians make an average annual wage of $75,870, which is over $12,000 more per year than the national average.2
Before becoming a California electrician, you'll need to complete the work experience and licensing required by the state's Department of Consumer Affairs Contractors State License Board.3 This process involves a number of steps, including passing an exam and submitting a bond. Follow this guide to learn more about how to get an electrician license in California, including:
Do you need a license to be an electrician?
California commercial and residential electricians must obtain a C-10 license to bid on projects valued at $500 or more. The state applies the following definition to determine what types of electrical work require a license:
"An electrical contractor places, installs, erects or connects any electrical wires, fixtures, appliances, apparatus, raceways, conduits, solar photovoltaic cells or any part thereof, which generate, transmit, transform or utilize electrical energy in any form or for any purpose."3
How to get an electrician license in California
General electricians in California must apply for a license through the Contractors State License Board (CSLB). In addition to filling out and submitting the application for your general electrician certification, you must complete the following steps.
Verify your work experience
Report and confirm your past job experience as an electrician by filling out the Certification of Work Experience form and including it with your application.
Pay the application fee
You must submit a nonrefundable payment of $450 with your California electrician license application.
Get fingerprinted
You must submit a full set of fingerprints so that the CSLB may conduct a criminal background check.
Pass two exams
You must pass two exams: an exam covering law and business topics and a general electrician exam covering the electrical trade, such as troubleshooting and electrical system requirements. The exams feature a multiple-choice format and are not open book. You must take both closed-book exams at an official testing site.
Submit your license fee
After passing the examination, you must submit an initial license fee ($200 for sole owner or $350 for non-sole owner).
California electrician license requirements
To earn an electrician license, California applicants must have at least four full years of experience as an electrician, either at the journeyman level or as a foreperson, supervisor or contractor.
You must include details about your hours of work experience as well as verification from an employer, foreperson or supervisor in your Certification of Work Experience form.
How long does it take to get your electrician license in California?
A number of factors influence the processing times for electrical contractor applications. Applicants may look up their status on the CSLB website using their application fee number and PIN to find out what application dates the Board is currently reviewing.
Making sure your application is completely filled out with all the proper information, forms and signatures can help you avoid long processing times.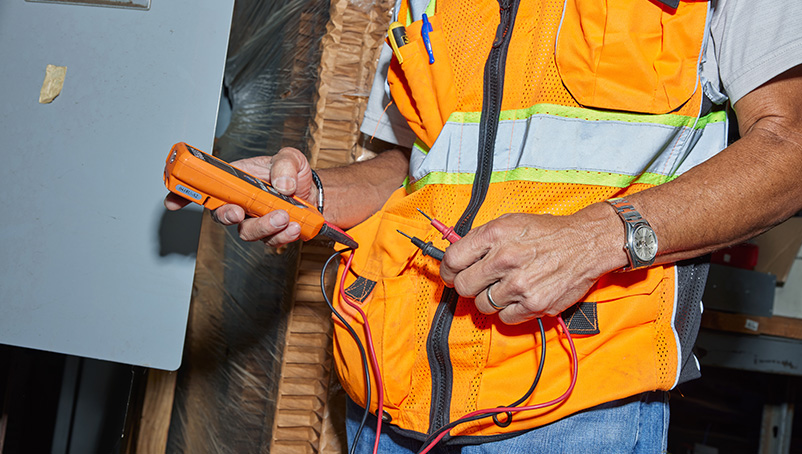 California electrician license renewal requirements
Certified electricians must renew their license every two years. You must submit a renewal fee of $450 for sole owners and $700 for non-sole owners with your renewal application. There are no continuing education requirements.
The CSLB will send a renewal application approximately 60 days before the expiration. To find your expiration date, look at your current pocket card or use the California electrician license lookup tool.
Reciprocity for California electrician license
California maintains reciprocity agreements with Arizona. The following Arizona contractor classifications correspond with California's C-10 contractor classification:
To qualify for reciprocity, you must have held an active Arizona license in good standing in one of these classifications for the previous five years. Include a Request for Verification of License form with your application.
The CSLB may waive the trade exam if approved, but you must still take the law and business exam.
California electrician license bond requirements
All applicants must file a $25,000 bond with the CSLB after passing the examination. You may secure a bond through your insurance agent or a private holding company listed by the California Department of Insurance.
What kind of insurance does an electrician need in California?
Electrician insurance can help cover your work once you become a licensed contractor. Consider these types of California business insurance for electricians.
Workers' Compensation insurance
California electricians with employees must have workers' compensation insurance to secure and maintain their contractor license.4 This insurance can help provide wage protection and coverage for medical expenses if you or an employee gets hurt on the job.
General Liability insurance
California general liability insurance can help provide coverage for work-related accidents, like damage to someone's property or a client injury.
Tools and Equipment insurance
Tools and equipment insurance can help cover the cost of repairs and replacements if something happens to your work gear, like theft or damage.
Commercial Auto insurance
If you drive for work, commercial auto insurance can help cover costs related to accidents, such as property damage and medical expenses.
Commercial Property insurance
Commercial property insurance can help provide coverage for damage or vandalism to a property you own or rent.
What is the certificate of insurance requirement in California for electricians?
You must submit a certificate of insurance as proof of your workers' comp coverage. This certificate must be written by an insurance company licensed through the California Department of Insurance, with CSLB listed as the Certificate Holder.
If you do not have any employees, you must submit a signed exemption form with your application.
How NEXT supports California electrical contractors
If you're looking for electrician insurance, NEXT offers the coverage you need to protect your business. We only work with small businesses and we've helped thousands of contractors get affordable insurance packages customized to meet their unique needs.
Using our online services, applying for coverage is simple and easy. You can get a certificate of insurance in just minutes from any computer or mobile device.
Get an instant quote online today.
Are you interested in becoming an electrician in another U.S. state? Learn what states require electrician licenses in our summary of electrician license requirements.


Sources
1 U.S. Energy Information Administration
2 U.S. Bureau of Labor Statistics
3 Department of Consumer Affairs Contractors State License Board
4 California Department of Industrial Relations (DIR) FAQs for Employers