Florida is one of the nation's top electricity producers. And with a fast-growing population, this state's electrical industry is thriving.1 
As a result, it comes as no surprise that Florida has plenty of job opportunities for electricians. It boasts the third-highest employment in the U.S. for this profession, with over 41,000 electricians currently working in Florida.2
In order to become a Florida electrician, you'll need a license from the Florida Department of Business and Professional Regulation.3 In addition to having sufficient work experience, you must pass a two-part exam. In this detailed guide, you'll learn more about how to get an electrician license in Florida, including:
Do you need a license to be an electrician?
You must have a Certified Electrical Contractor license from the Florida Department of Business and Professional Regulation in order to work as an electrician in this state.
In Florida, an electrical contractor is defined as "a person who conducts business in the electrical trade field and who has the experience and knowledge to install, repair, alter, add to or design electrical wiring, fixtures, appliances, apparatus, raceways and conduit, including the electrical installations and systems within plants and substations and all alarm systems and specialty categories."
How to get an electrician license in Florida
To get your license, you'll need to submit a Florida electrician license application to the Department of Business and Professional Regulation and pass a two-part exam.
Submitting your application
You may apply online or print an application and submit it by mail. Include payment for the non-refundable $263.25 fee with your completed application.
Taking the licensing exam
You can schedule the licensing exam within 72 hours of your application approval. You must pay a fee of $78.75 directly to the test vendor to sign up.
The electrician licensing exam consists of two parts:
Business section: 50 questions, 2.5 hours
Technical/safety section: 100 questions, 5 hours
The exam is administered through a computer-based testing format. Study guides are available online, and you may bring approved reference materials to the testing site. You'll receive your results immediately following the completion of your exam.
You must score at least 75% on both parts of the test to pass.
Florida electrician license requirements
To earn an electrician license, Florida residents must provide proof of their work experience, demonstrate financial responsibility and submit a criminal history disclosure.
Work experience
Applicants must meet one of the following work experience requirements:
Three years as a licensed electrical professional engineer
Three years of management experience in the trade
Three years of experience as a foreman, supervisor or contractor in the trade
Four years of experience as a supervisor in electrical work in the U.S. Armed Forces
Six years of comprehensive training, technical education or broad experience associated with an electrical contracting business
Six years of technical experience in electrical work with the Armed Forces or a governmental entity
A combination of the above qualifications totaling six years of experience
You must submit W2 forms and employment verification forms signed by your employers. To qualify for licensure, at least 40% of the required work experience must be in three-phase services.
Financial documentation
You must demonstrate financial responsibility by submitting a personal financial statement or credit report. Issues like delinquent accounts, collection accounts, unpaid liens or judgments must be reviewed before your application is approved.
Criminal history
You must disclose any criminal history on your application, which will be reviewed before your application is approved or denied.
How long does it take to get your electrician license in Florida?
Various factors may affect the time it takes to process individual applications, including the time it takes to review your financial documentation and criminal history. Applicants may check the status of their application at any time by visiting MyFloridaLicense.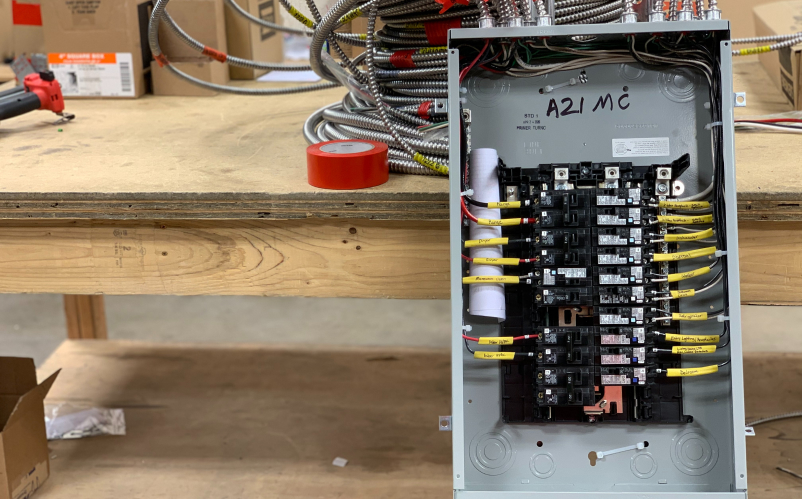 Florida electrician license renewal requirements
Certified Electrical Contractor licenses expire on August 31 in every even-numbered year. To renew your license, you must pay a $296 renewal fee and complete 11 hours of continuing education.
Continuing education requirements
You must complete the following continuing education hours prior to renewing your license:
One hour workers' compensation
One hour workplace safety
One hour business practices
One hour Florida Laws & Rules
One hour Florida Building Code advanced module course
Six hours of Technical
For certified electrical contractors who perform alarm work, an additional two hours of continuing education hours on false alarm prevention are required.
Florida electrician license reciprocity
Florida does not maintain reciprocal agreements with any state for electrician licenses. However, electricians who hold an out-of-state license may be able to apply for endorsement if they have passed the licensing exam in one of these states:
California
Colorado
Georgia
Nevada
North Carolina
Oklahoma
South Carolina
Texas
Endorsement is similar to reciprocity, but it is contingent upon approval. Candidates must still submit a complete application and demonstrate that they have the work experience required for Florida licensure.
What kind of insurance does an electrician need in Florida?
Once you get your license, it's time to consider what type of Florida business insurance can help protect your work. The following types of insurance are available for electricians.
Workers' Compensation insurance
All Certified Electrical Contractors are required to carry Florida workers' compensation insurance unless they apply for an exemption. This insurance can help provide coverage for lost wages and medical expenses if you or an employee gets hurt on the job.
General Liability insurance
Florida general liability insurance can help provide coverage for certain types of work-related accidents, such as property damage or a third-party injury.
Tools and Equipment insurance
Tools and equipment insurance can help cover the cost of repairs and replacements for stolen or damaged work gear.
Commercial Auto insurance
If you drive for work, commercial auto insurance can help cover accident-related costs like property damage and medical expenses.
Commercial Property insurance
If you own or rent property for your business, commercial property insurance can help provide coverage in the event of damage or vandalism.
What is the certificate of insurance requirement in Florida for electricians?
Florida electricians must have liability insurance with one of the two following coverage options:
$100,000 per person, $300,000 per occurrence and $500,000 property damage
$800,000 combined single limit
The Florida Department of Business and Professional Regulation/Electrical Board must be listed as the certificate holder on your certificate of insurance.
You must also attest that you have or will obtain workers' compensation coverage prior to contracting. If you qualify for an exemption, you must obtain it within 30 days after your license is issued.
How NEXT supports Florida electrical contractors
NEXT Insurance offers affordable options for electrician insurance, including business insurance and self-employed electrician insurance. We specialize in helping contractors like you get insurance packages customized to meet their unique needs.
Applying for coverage is simple and easy. Using our online services, you can compare coverage options and get a certificate of insurance in just minutes from any computer or mobile device.
Get an instant quote online today.
Thinking about becoming an electrician in another U.S. state? Learn what states require electrician licenses in our guide to electrician license requirements.


Sources
1 U.S. Energy Information Administration
2 U.S. Bureau of Labor Statistics
3 Florida Department of Business and Professional Regulation