There are a few reasons that electricians may want to call Louisiana home. With the second-highest per capita residential electricity consumption of any U.S. state, Louisiana has plenty of customers to keep electricians busy.1 In addition, Lake Charles and Baton Rouge both rank among the top ten U.S. metropolitan areas with the highest concentration of electrician jobs.2
But the excellent conditions for employment are only one factor in choosing Louisiana for this type of work. Another perk of being an electrician in Louisiana is the fact that there are fewer licensing hoops to jump through compared to many other states. In fact, you won't need a license unless you plan to perform high-value jobs.
To learn more about how to get an electrician license in Louisiana, review this detailed guide which covers the following topics:
Do you need a license to be an electrician?
Louisiana does not require a license for electricians doing residential or commercial work as long as the value of any single project does not exceed $10,000, including labor and materials.
If your work does involve projects which exceed $10,000, including labor and materials, you must have a commercial electrical contractor license from the Louisiana State Licensing Board for Contractors.3
How to get an electrician license in Louisiana
To get your commercial electrician contractor license, start by completing the Louisiana electrician license application.
If you are submitting an application for an LLC, corporation or limited partnership, register your business with the Louisiana Secretary of State before submitting your license application. Make sure to note the charter number provided by the Secretary of State as the application requires this information.
Once the Board approves your application, you'll receive information about how to sign up for the appropriate exams. The first is a trade exam testing your general knowledge of electrical work. You must also complete an online business and law course.
Be prepared to pay $400 in fees when applying for your electrician license: a $100 application fee, $120 per exam and $60 for a background financial investigation.
Louisiana electrician license requirements
Applicants need to fulfill specific financial requirements to apply for an electrician license. You must provide a notarized financial statement affidavit prepared by an accountant, CPA or bookkeeper. This statement must include financial information from the previous 12 months and demonstrate a net worth of at least $10,000.
Those unable to meet the net worth requirement of $10,000 may secure a bond or letter of credit as an alternative. Contact the State Licensing Board for Contractors for more information on this option.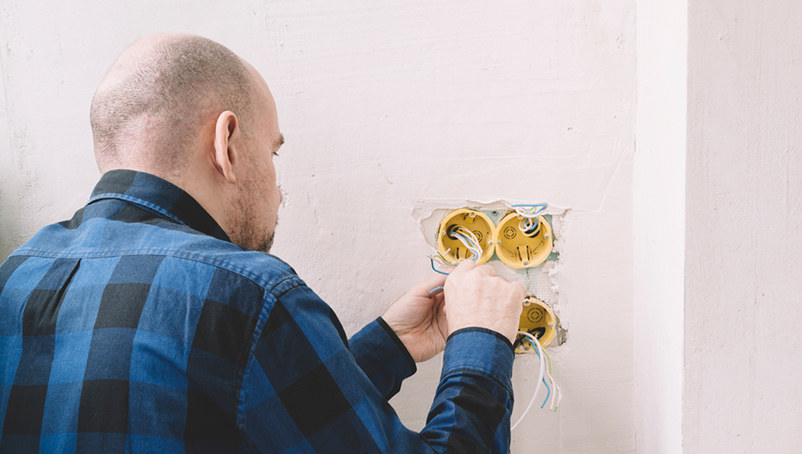 License renewal requirements for Louisiana electricians
Your initial Louisiana electrical contractor license will remain valid for one year. After that, you may choose whether you want to renew it for a one-, two- or three-year period. You'll receive a notice about 60 days before the expiration date containing instructions on how to renew.
Louisiana electrician license reciprocity
The Louisiana State Licensing Board for Contractors has reciprocity agreements for electrician licenses with the following states:
Alabama
Arkansas
Georgia
Kentucky
Mississippi
Nevada
North Carolina
Ohio
Tennessee
Texas
To qualify for reciprocity, you must meet all other requirements for licensure and have no sanctions for violations from the reciprocal Board in the past three years.4
What kind of insurance does an electrician need in Louisiana?
You aren't required to provide proof of business insurance in Louisiana. However, the following types of self-employed electrician insurance can help protect your business.
Workers' Compensation insurance
In Louisiana, all employers must have workers' compensation insurance. This insurance can help cover lost wages, medical expenses and more if you or an employee gets hurt on the job.
General Liability insurance
General liability insurance can help cover costs for third-party work-related accidents, property damage and more.
Commercial Auto insurance
If you drive for work, commercial auto insurance can help cover accident-related costs, such as property damage and medical bills.
Tools and Equipment insurance
Tools and equipment insurance can help cover the costs of repair or replacement if your work gear is stolen or damaged.
Commercial Property insurance
Commercial property insurance can help provide coverage for your electrician business property, which includes space you own or rent as well as equipment, inventory and furniture.
How NEXT Insurance supports Louisiana electricians
NEXT has helped thousands of Louisiana contractors obtain the insurance they need to protect themselves, their employees and their assets. We're dedicated to helping electricians like you thrive by creating custom and affordable electrician insurance packages that include the right coverage for each customer.
With our online services, it's never been easier to get business insurance quickly. Applying for coverage only takes minutes, and you'll instantly get a certificate of insurance that you can share electronically or print as needed.
Get an instant quote online today.
Do you have projects in another U.S. state? Learn what states require electrician licenses in our summary of electrician license requirements.

Sources
1 U.S. Energy Information Administration
2 U.S. Bureau of Labor Statistics
3 Louisiana State Licensing Board for Contractors