Did you know that Massachusetts was the home of one of the first electric utility companies in the U.S.? Founded in 1886, the Edison Electric Illumination Company of Boston (later renamed the Boston Edison Company) helped usher in new electrical technologies, including underground wiring networks.1
Today, Massachusetts continues to be a great place for those in the electrical industry. In fact, Boston ranks among the top ten U.S. metropolitan areas with the highest employment levels for electricians.2
But before you can start working as an electrician in this state, you must have a license. To be eligible for licensure, you must meet certain work and education requirements and earn a passing grade on a two-part exam. To learn more about how to get an electrician license in Massachusetts, check out this guide covering the following topics:
Do you need a license to be an electrician?
All electricians working in Massachusetts must have a license from the Board of State Examiners of Electricians.3 There are two license categories: journeyman electrician and master electrician. Professionals in this field generally move up from apprentice to journeyman, then journeyman to master.
How to get an electrician license
The basic steps for licensure are the same whether you are interested in how to get journeyman electrician licenses or getting master electrician licenses.
First, submit your application. The state licensing board does not process applications, so you must send your application directly to PSI Examination Services.4 The application fee is $226 for a journeyman license and $276 for a master license.
Upon approval of your application, PSI will send information about how to schedule your license exam. The exam is open book so applicants can use resource materials like the National Electrical Code (NEC) book and the Massachusetts State Amendments. You must receive a score of at least 70% on both parts of the exam to receive your license:
Journeyman exam: The first part of the exam covers general industry practices like wiring methods, overcurrent protection and alarm systems. The second part covers applied skills like electrical schematics and troubleshooting.
Master electrician exam: The first part of the exam covers general industry practices for transformers, lighting, alarm systems and more. The second part covers business and law topics.
Massachusetts electrician license requirements
When you submit your Massachusetts electrician license application, be sure to include the following:
A current, passport-quality photo
Your application fee
A Criminal Offender Record Information (CORI) acknowledgment form
Documentation from your education provider
Documentation of your work experience (including a signature and license number for your supervisor/employer)
Additional Massachusetts electrician license requirements vary depending on which type of license you're applying for.
Journeyman electrician license requirements
To apply for a journeyman license, you must have a high school diploma and 600 hours of journeyman education. In addition, you must show four years of work experience with at least 8,000 hours of documented electrical work.
Master electrician license requirements
You can apply for a master electrician license after you have worked for at least one year as a licensed journeyman. You'll also need to show that you have completed a 150-hour master electrician program.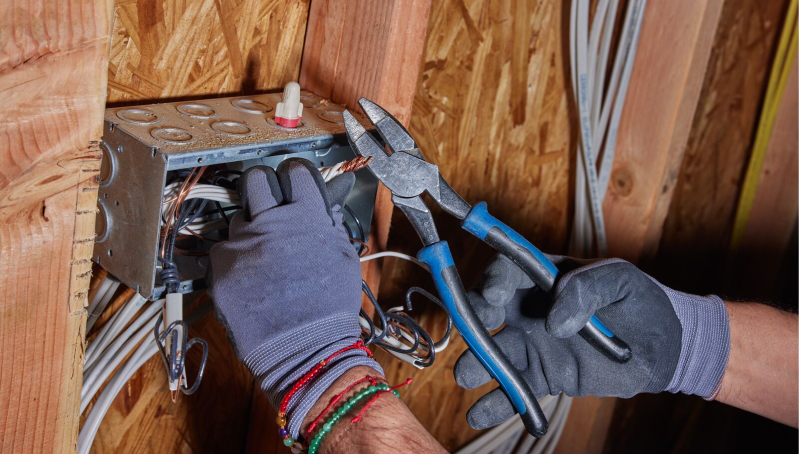 How long does it take to get your electrician license?
PSI typically takes about 30 to 90 days to review applications. Once approved, you may sign up to take your exam at your earliest convenience. PSI administers tests at sites located in Auburn, Boston, Fall River, Lawrence and Springfield.
If you pass the test, PSI prints and issues your license on site. You must pay the license fee ($104 for journeyman and $155 for master) in advance or at the test site to receive your license after the exam.
Massachusetts license renewal requirements
You must renew your Massachusetts electrician license online every three years. Before you can complete your renewal, you must complete 21 hours of continuing education courses, 15 hours of which must cover the current Massachusetts electrical code.5
You will receive a renewal notice about six weeks before your license expires. This notice will include instructions for submitting your continuing education verification and renewal payment ($78 for journeyman and $117 for master).
Massachusetts electrician license reciprocity
The Massachusetts Board of State Examiners of Electricians has a reciprocity agreement with New Hampshire, which also offers both journeyman and master license options. Massachusetts applicants may apply for the same level of license that they currently hold in New Hampshire.6
You must submit the following in order to apply for a Massachusetts electrician license by reciprocity:
A copy of your current New Hampshire license
A letter of good standing from the New Hampshire Board
A recent, passport-quality color photo
A notarized Criminal Offender Record Information (CORI) authorization form
Documentation that you completed a 150-hour master electrician program (for master license only)
The cost to apply to become a licensed electrician by reciprocity is $208 for a journeyman license and $310 for a master license.
What kind of insurance does an electrician need in Massachusetts?
You can help protect your business with electrician insurance. The type of insurance that's right for you depends on whether you own a business or need self-employed electrician insurance. Take a look at these common insurance options for electricians.
Workers' Compensation insurance
All employers in Massachusetts must have workers' compensation insurance.7 This can help provide coverage for costs related to workplace injuries, like lost wages and medical expenses.
General Liability insurance
General liability insurance can help protect your business in the event of a work-related accident, such as damage to someone's property or a customer injury.
Tools and Equipment insurance
Tools and equipment insurance can help provide repair and replacement coverage for work gear that has been damaged, stolen or lost.
Commercial Auto insurance
If you drive a vehicle for work, commercial auto insurance can help cover accident-related costs like repairs, towing or an underinsured motorist.
Commercial Property insurance
Commercial property insurance in Massachusetts can help provide coverage for your work property, including physical spaces that you own or rent and inventory and equipment.
How NEXT supports Massachusetts electricians
NEXT Insurance is 100% dedicated to small businesses. We'll help you get affordable electrician insurance to satisfy state laws and protect your business.
All our services are available online, meaning you can apply for coverage and get a certificate of insurance in minutes. You can share unlimited digital certificates for no additional charge from anywhere, including job sites.
While your work as an electrical contractor may be challenging, your insurance doesn't have to be.
Get an instant quote online today.
Are you thinking about taking on projects in another U.S. state? Find out what states require electrician licenses in our summary of electrician license requirements.


Sources
1 Harvard Library Boston Edison Company Records
2 U.S. Bureau of Labor Statistics
3 Massachusetts Board of State Examiners of Electricians
4 Examination Candidate Information Bulletin
5 Mandatory Continuing Education (MCE)
6 Applying for a License by Reciprocity
7 Massachusetts Workers' Compensation Insurance Requirements