If you work with clients or partners, you could be asked to add someone to your business insurance as an additional insured.
This might sound like an unusual request if you are new in business, but it's actually a common update with your business insurance. You can make that update in a matter of minutes if you're working with the right insurance company. (Hint: that's where NEXT can help.)
If you're confused about exactly what an additional insured is and what that means, you've come to the right place. We'll share all the details below, so you can quickly get back to focusing on your business.
We'll cover:
What is an additional insured, a policyholder and a certificate holder?
An additional insured is an individual or organization that is insured under the business insurance policy you have purchased. The additional insured has the same coverage and is on the same policy as the named insured.
In other words, the relationship looks like this:
Policyholder
This is the person, group or company that owns an insurance policy and is typically who benefits from it. So, if you purchased the insurance policy for yourself or your business, that makes you the policyholder and the named insured.
Additional insured
An additional insured is any person or company that you add to your insurance coverage. This is because some projects or contracts require policyholders to extend their liability coverage to other parties.
Additional insured are named on your certificate of insurance (COI) but only have access to your if you send it to them as an electronic or physical copy. NEXT makes this process painless with our easy online tools.
Certificate holder
A certificate holder is someone whom you have provided a certificate of insurance. The COI is proof that you have insurance at that point in time.
A certificate holder will often request proof of your insurance and can contact your insurer to confirm that you have active coverage. If you're a NEXT Insurance customer, you can send your live COI to certificate holders directly through our online customer portal.
Putting it all together
Now, let's put these insurance terms into context. Say you're a contractor working in construction. Many jobs will require you (the policyholder) to add the general contractor who hires you to your coverage as an additional insured. If the general contractor is both a certificate holder and an additional insured, it will be documented on the COI.
Generally, when two parties are doing business, the smaller party usually has to have proof of insurance. If a small business wants to do business with a larger company, the larger company will often require the smaller company to have insurance before moving forward.
That way, the larger business will have less financial risk if something unanticipated happens.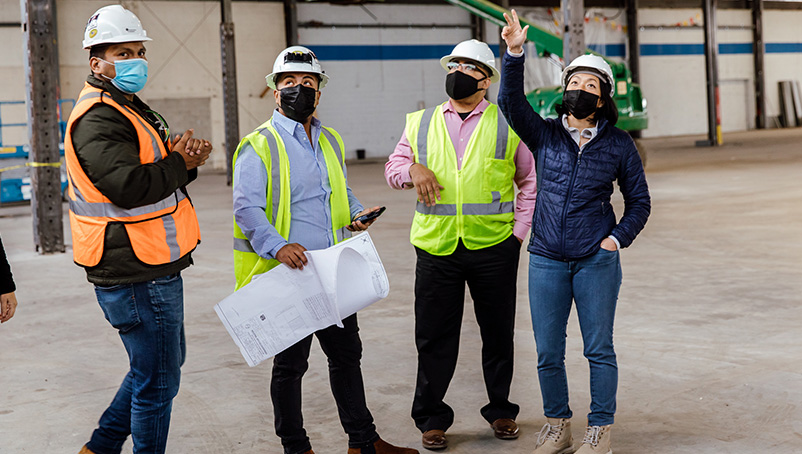 What does additional insured cover?
When you add someone as an additional insured, you are extending your insurance to them.
The additional insured entity can turn to your insurance policy if they are sued for your actions and will be covered according to your policy.
For instance, if you're a personal trainer, any gym you've listed as an additional insured would be protected under your policy limits if there is an accident and you are held liable.
Listing a place as additional insured does not change your coverage. It simply means that the additional insured party has protection for liabilities you may bring to their business.
Examples of additional insureds in different industries
Different industries have various reasons for wanting to be included as additional insured. Check out some examples below.
Cleaning
Through their work, janitorial and floor waxing businesses can create situations where others may slip or fall. A building or business that hires cleaners may require being added as an additional insured on the cleaner's general liability coverage. If someone fell where you were cleaning, the additional insured may have coverage based on the cleaner's insurance policy.
Construction
Construction contracts commonly require adding additional insureds to general liability coverage due to all the risks involved. Developers, building managers and other clients want to ensure they're protected in case of common construction claims such as bodily injury or property damage.
In turn, a general contractor who hires other contractors to carry out work will also want to be included as additional insured to have some protections from the contractor's policy, if the contractor is responsible for damages.
Fitness
Some fitness professionals are not full-time employees of a gym or a studio; they're often self-employed individuals hired to provide services such as personal training or yoga instruction.
Before employing these contractors, gyms and studios will typically require them to have general liability and professional liability insurance. They'll also ask to become an additional insured, so they have protection if their contractor is held liable for fitness injuries or negligence.
Hairstyling
Hair stylists are often self-employed and will rent a booth at a salon to operate their business. While their work may not seem as overtly risky as other examples, they can still be held liable for damaging a person's hair or someone tripping over power cords. Salon owners may require stylists to have their own general and professional liability insurance and have their booth renters add them as additional insured.
Accounting
The accounting profession doesn't have the same kind of obvious bodily or property damage liabilities as other examples, but their risk is in the services they provide. A series of typos or miscalculations can cost a client a lot of money in fines, fees and taxes.
Some clients will require their accountants to carry errors and omissions insurance (the same as professional liability). They may also ask to be included as an additional insured if they have to defend themselves for an error their accountant made.
How do I add an additional insured?
Any general liability insurance policy and other types of insurance will offer you the option to add additional insured coverage. Usually, you can add as many individuals or companies as you need or want. How easy this is, however, depends on your insurance company.
NEXT Insurance customers have a free, immediate option to get their live certificates of insurance and add additional insured anytime.
While almost every insurance policy offers the option to add an additional insured, some companies make it harder to get. You might need to contact an insurance agent or pay a fee to make the update.
Additional insured with NEXT Insurance
We know you're busy and that you need to get back to your business. That's why we work hard to provide the tools you need to update and access your certificate of insurance with additional insureds 24/7.
You can share as many certificates and add as many additional insureds as you need.

Start an instant quote today and get instant access as soon as you buy insurance with NEXT.