Janitors and owners of janitorial services face unique challenges with risks that are specific for your type of business. Your clients need the service you provide in their offices or buildings and they expect you to leave their property spotless and working perfectly. You, or your janitorial team, will be given keys to the premises and are often expected to clean after hours or late at night. It can be challenging to leave the area exactly how your client likes it. While handling delicate or expensive items, and using water or caustic cleaning material, accidents can unfortunately happen. It is very important to have janitor insurance to protect you and your business so you can take on jobs, big or small, with confidence.
Why Janitor Insurance is Important for You
Janitor liability insurance protects you and your business against many types of damage, most commonly including lawsuits. Sometimes, allegations leveled against you may be false and other times, an accident may have happened. Either way, janitorial services insurance will give you the peace of mind to be able to work without stress. Some of the coverage you have will be the same as for any other business, but some is unique to your job.
This is largely because you are working on someone else's property which comes with its own specific set of risks. Janitorial services are among the most commonly outsourced jobs in the country, and with the US Bureau of Labor Statistics projecting 10% growth in employment of janitors and building cleaners by 2026, you need to know how to protect your business within this sought-after professional and growing industry. So why do you need to get a janitor's insurance policy?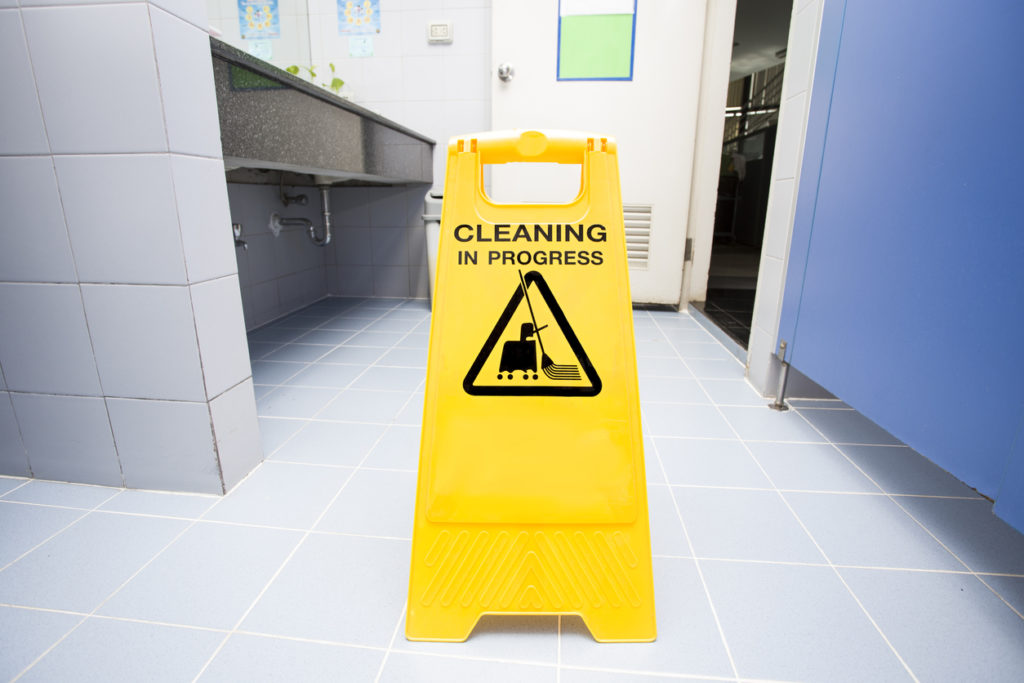 Workplace Requirement, Competitive Edge
One common reason janitors may buy liability insurance is that businesses may require you to show proof of insurance before they hire you to clean their premises. Having general liability insurance can give you a comparative advantage over other businesses who can't offer proof of insurance, and help you get well-paying jobs in serious offices where this insurance is required, and they need someone who can start today.
Protection in Case of Injury
Your work as a janitor involves cleaning workplaces, buildings or private premises, and you often can't control how many people will walk through your wet floor while you are busy cleaning it, or will kick your bucket and trip by accident. Janitorial insurance will protect you in case your mop pulls out a critical cable in an office. Janitor insurance will cover lawsuits and medical payments, often whether you were at fault or not.
Property Damage
Many times while performing janitorial duties, you will be working in small spaces or surrounded by many breakable items. Sometimes, you will need a ladder to reach high places or will need to push large carts full of your cleaning materials around small spaces. The cleaning materials that you use are often dangerous, and could cause harm. In addition to that, you may also need to carry or push around buckets of water. Imagine if your ladder hits a window and breaks a pane, your cleaning cart knocks over a stand with a computer on it, your cleaning material damages a wooden table, or water spills on some electronics. Even if a computer itself is inexpensive to replace, it may be costly to recover information from a computer with water damage. Janitor insurance will cover you in these circumstances.
Privacy and Advertising Harm
Imagine a client sees you posted a picture on your website of their office for advertising purposes without getting their consent. They could easily decide to take action and sue for damage to their reputation if you published "before and after" photos showing their office as a mess before you arrived. This is another area where insurance for janitors is critical and protects your business from lawsuits.
Say Yes to Insurance!
As a janitor you will have a lot of responsibility with high expectations placed on you. Because you are working in someone else's personal or professional space, there are many unique challenges that come along with the job you need to do, which may not apply to other businesses. Having janitor insurance will allow you to take on bigger jobs with confidence; knowing that you and your business are protected wherever you go.