Any business owner knows that a company cannot survive without customers, and one-off purchases will not help a small business thrive.
You can improve your company growth and surpass the competition by using customer loyalty programs to convert the one-time purchasers into happy and loyal customers.
Customer loyalty is crucial for successful small business growth. To have repeat customers who come back to purchase your product or service consistently is one of the most, if not the most, valuable assets your business could have. 
That said, to help you devise your own customer loyalty program, here are a few things you should know:
What is Customer Loyalty?
Customer loyalty is exactly what it sounds like—when a customer chooses your company over another and does so consistently.
These allegiant consumers will not jump ship to any other company just because of better pricing or certain perks. You hook them from the get-go with great value, products, or services, and they will most likely want to invest personally and for the long-term.
A loyal customer would rather pay for what they already know and love. If they had purchased from you before and had a positive experience, the likelihood of them coming back again is much higher. They also will most likely stand behind your mission as a company.
In small business marketing, there are many ways marketers know how to measure customer loyalty. You can quickly determine how much each customer spends per transaction or overtime, how frequently, and also how recently. This marketing tactic helps to measure overall growth in a company, especially a small business trying to figure a first quarter or year of earnings.
Why is Customer Loyalty Important in Small Business?
Turning over fast profit is a must for any small business to remain profitable, especially when just starting out.
Whether you are selling a product or providing a service, you will quickly learn that customers who continually come back are the ones who contribute the most to overall business growth.
Loyal customers will:
Spend money with you again

Refer friends and family

Buy more during the holiday season

Support you during slow periods

Write positive reviews online
These actions made by loyal customers will not only keep your business afloat, but they will also help your company grow. However, if you do not know how to keep customer loyalty, you will quickly lose it.
Selling a quality product or providing exemplary service from the moment you open doors is a surefire way to grab a customer's attention from the beginning. You can lure them into your shop with free samples or a buy one get one deal. You can put a coupon in a local newspaper or mailer. But how do you keep them coming back for more?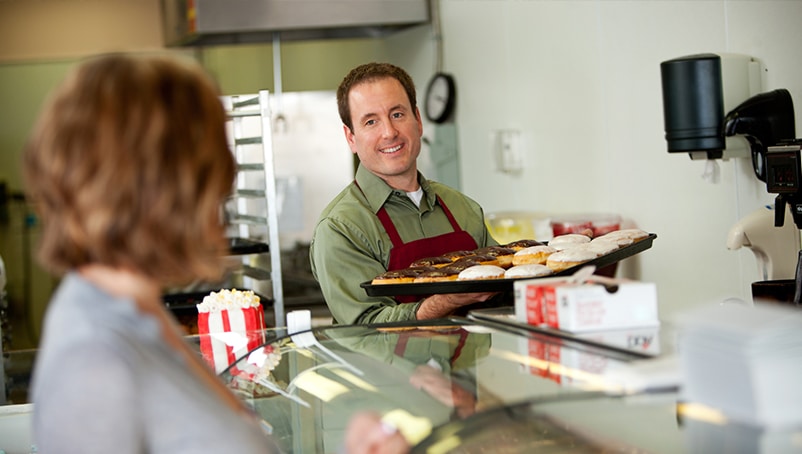 How to Gain Customer Loyalty
No matter what industry you are in, you can significantly benefit from getting to know your customers. There are many ways to make your customers feel special, and they should! They are the ones keeping your business open, after all.
It can be as simple as providing good customer service and hiring folks that genuinely show that they care. If you operate an online boutique, it can merely be responding to an Instagram photo you are tagged in with your product or someone using your service. Express gratitude and acknowledge the fact that you see what your customers are doing. They want you to see them, too.
Of course, giving your customers pricing that will beat out other small business competition in your industry will undoubtedly help your cause.
But, one of the most valuable ways to show your appreciation is to provide enticing customer loyalty programs. This is where you can get creative with coming up with your own small business loyalty program ideas.
Here are a few to help you get the wheels turning:
Give out punch cards that offer a free purchase after a certain amount punched.

Create a point-based system that offers an incentive to spend more money.

Offer VIP benefits that customers pay monthly or yearly to unlock exclusive discounts and freebies.

Build a tier system to offer different benefits based on a certain amount invested over time.

Offer discounts on applicable types of

business insurance

.
Any time you throw in a little extra to whatever product or service that you specialize in, you are adding value to your business as a whole. It sticks in the mind of your customer, which will prompt them to remember you later to repeat purchase, tell a friend or family member, or give you props on social media.
However it ends up working out, you are getting positive reviews and feedback for your business, which is the most organic way of making your way to the top.
Keep Them Coming Back for More
From there, your goal should be to focus on how to retain customer loyalty. There are many types of loyalty program software for small businesses that you can utilize as a tool for success. Be sure to do your research and find the most cost-effective plans available, and also consider your customers (as you always should).
What Will Work Best for Them?
Make it easy to sign up for deals by offering value from the initial transaction, or even the initial communication.
Sometimes, customers are not ready to pull the trigger and give up their credit card information. They are interested but are still looking for more reasons to buy.
By enrolling them in an email-based program, you can bank on their interest from the moment you first initiate contact. Once the customer provides an email, you can send periodic notifications that will entice interest and give hints about special sales, offers, and events that only exclusive members would know about. A deal is not in the books yet, but the potential customer feels like they are in on something they like already.
It doesn't matter what your business or industry is, it is essential to provide excellent customer service, and also to make your customers feel comfortable enough to spend more money with you. Do this by creating customer loyalty programs your customer base can get behind, and you will not be surprised by the support you get in return.