Being a handyman comes with a lot of perks, like personal satisfaction from seeing a job completed, or always having a hammer around when you need it. If you want to keep your business running smoothly, you'll need to make sure you're covered, even if something you don't anticipate happens. Accidents occur on job sites, which is why handyman insurance is so important to anyone running a repair or construction company.
What is handyman insurance and why do you need it? Read on to find out why handyman insurance is critical. It might be the most important step you take for your business.
Handyman Insurance: What Is It?
Handyman insurance covers accidents that occur on a job site. Policies can cover liability for incidents that take place during a job, such as if someone trips over your toolbox while you're working, one of your clients sues for damage you did while walking into their house, or even if you're sued for damaging another hanydman's repuatation. These are all very realistic incidents for handymen and are among the cases when your handyman insurance policy is going to be relevant.
Coverage will vary based on the type of work you do. Some of your options include:
General liability and worker's comp are required, so every handyman service should have this coverage. These types of insurance protect against damage done on-site, medical payments in the event of an injury, and uncompleted projects. Look for general liability coverage from a reputable company that offers various coverage options and affording pricing. Here at Next Insurance, we offer three levels of insurance, so you can decide what works best for you and your business.
General liability coverage
Worker's comp
Equipment insurance
Commercial auto insurance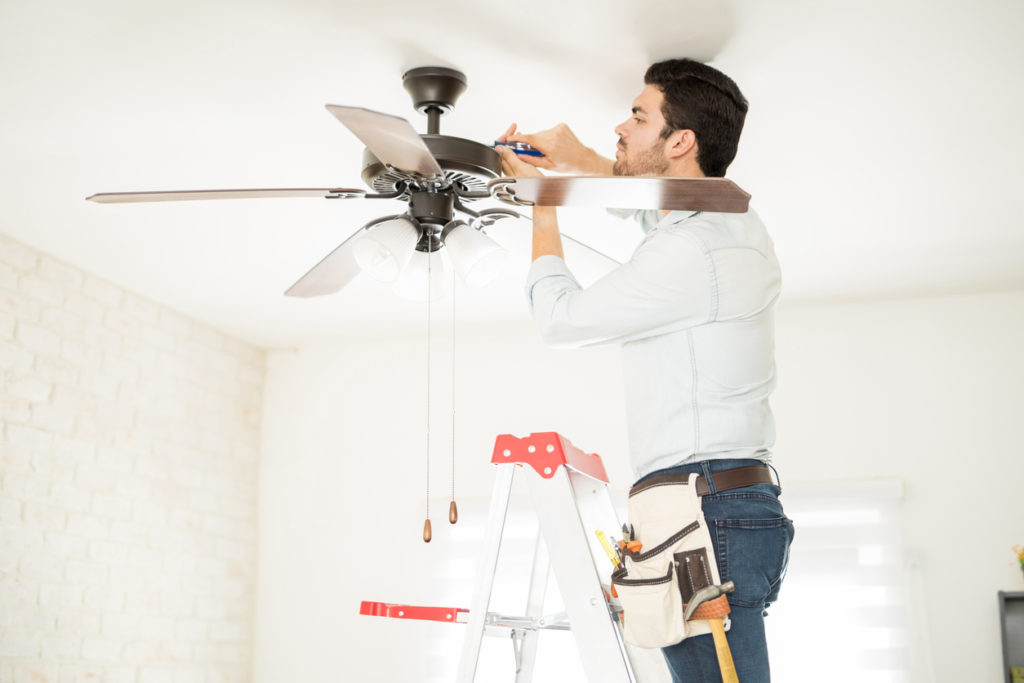 For each type of coverage, you will need to pay a premium, and each will have a deductible. A premium is the amount you'll pay to have the insurance regardless of what happens, and a deductible is the amount you'll have to pay in case of a claim. We've created a handy guide that explains the differences between these terms, to help you understand why handyman insurance is right for you.
What to Look for In a Handyman Insurance Provider
Construction companies, as well as small repair services, contractors, and private handymen will benefit from handyman insurance. So what exactly are you getting and what are the differences that make one insurance company stand out from another? When searching for a handyman insurance policy, look for these six key criteria:
Coverage Limitations
Some policies will cap your coverage below what you need, which can leave you with major expenses in case of a claim. Look for a provider that offers premium coverage amounts that make sense for your business, and make sure you understand the difference between per occurrence and aggregate limits. Anything not covered by your insurance must be paid out of pocket, so the higher the coverage, the less you will have to pay.
Deductibles
Deductibles can vary based on coverage type and provider. The higher the deductible, the more you have to pay out of pocket before the policy is activated, so look for companies that offer low or no deductibles. For example, if you have general liability coverage with a $500 deductible, you'll need to pay $500 before your insurance "kicks in" and covers the rest of the expenses.
Coverage Range and Exclusions
The next question you have to ask is: What is covered by the insurance you purchase?
When does coverage end – immediately when you leave the job site, or is there protection even after you've completed a job?
Are all of your activities included, or are some of them specifically excluded?
Find out what your policy includes, and make sure it's everything you need it to be.
Free and Online Certificate of Insurance
Your customers probably ask you often for a Certificate of Insurance. That's why handyman insurance matters, and how it can set you apart from the competition and reassure your customers that even in the unlikely situation that something goes wrong while working with you, they are protected because you carry insurance.
When buying insurance, you will want to make sure that whatever company you're buying from offers free online Certificates of Insurance. That way, you can download these forms as needed, without waiting for an agent to arrive at the office, or needing to pick up the phone. Online access is the easiest way to do this, so make sure your company offers it. If you already have a policy with Next Insurance, we've got you covered–download and print those certificates as you need, anytime!
100% Online Process
You work hard, getting the job done, and you probably don't have time to run around to different offices. That's why an online insurance purchasing process is important. Fill out the form, press a button, and you're covered. No waiting on an agent, or waiting for Monday morning or waiting for…anything at all. If you're working with an online company, you can buy insurance on your terms, not theirs.
Tailored Handyman Policies
Some companies offer blanket coverage, a sort of one-size-fits-all policy. But your company is unique, and your coverage should be tailored to fit your needs, not someone else's. That's why handyman insurance that's tailored is the final feature to look for when shopping around for providers for your handyman insurance. Look for a company that builds unique policies for each type of business it covers. If you're not a painter, the coverage you need is different from what a painter needs.
Handymen do important work to make our homes better and our lives smoother. Here at Next Insurance, we know how hard you work and we know that the right insurance coverage can give you the peace of mind you need to thrive.