Maybe you're someone who loves cleanliness and order. Or maybe you see residential cleaning as a reliable way to earn a living. Either way, starting a house cleaning business can be a satisfying career choice.
Working either full-time or part-time at house cleaning offers flexibility in your hours. You can decide which homeowners you will work with, and you'll get to choose the type of cleaning you do. For instance, you can choose to specialize in something, such as using only eco-friendly cleaning products.
Working either full-time or part-time at house cleaning offers flexibility in your hours. You can decide which homeowners you will work with, and you'll get to choose the type of cleaning you do. For instance, you can choose to specialize in something, such as using only eco-friendly cleaning products.
No need to feel overwhelmed, though. This post will take you through how to:
1. Develop a house cleaning business plan
One of the first things you can do to turn your business dreams into reality is developing a business plan to guide your steps. Your house cleaning business plan should include your goals for your business, how you will achieve them and a timeline for reaching those goals.
Business plans typically include:
An executive summary: An overview of your plans and how you envision your business
Business facts: Details about your location, equipment and staff
Market research: Comparisons with other competitors
Products and services: What kind of products will you use, and what services will you offer?
Finances: Fixed and variable costs and projections for three to five years
You'll also want to include the following in your house cleaning business plan.
Who's your competition?
Some people prefer to use a cleaning service to clean their home, while others have a one-on-one relationship with a cleaner they know. Ask around to find out which business model your target customers prefer so that you can sell your service accordingly.
Where are you going to find employees?
One of the hardest parts of setting up a cleaning business, or any type of business, is finding good workers. If you're going to hire employees, make a list of places where you can find honest, reliable cleaners.
What should you charge?
Setting your rates is harder than you might think. You need to cover your costs, including paying workers, cleaning supplies, advertising and insurance payments — while making a profit.
You also need to think about how you will charge. Does it make sense for you to charge an hourly rate? Or will you set a flat rate based on square footage? Will you start as a cash-only business, or will you accept credit cards or P2P payments?
Beyond your bottom-line, rates also help position your business. Some house cleaning businesses will give a low initial rate to attract new customers. By contrast, others prefer to set high rates, selling themselves as a premium, high-end service.
2. Set up your cleaning company
Setting up any new business starts with a lot of paperwork. It takes a little more work than choosing a business name and opening a business bank account. Here are some things you'll have to take care of before operating.
Licenses and certificates
Cleaners don't need an official house cleaner license or certificates to perform their work. But your company will most likely need a state or local business license (sometimes called an occupational license).
Registering your business ensures you're paying all applicable taxes. Requirements vary by location, so check your state's official website for details.
You can complete this paperwork yourself or hire an accountant to help you. Paying an accountant to help you set up your business correctly can save you a significant amount of money, as well as effort and time, in the long run.
Tax forms and business structure setup
One of the most important aspects of starting a house cleaning business is choosing the business structure that works for you. The type of business structure affects your taxes and liability, so it's worth doing some research to choose the one that best meets your needs.
You may also want to consult with a tax professional and a local startup attorney before making your final decision. Or you can follow the IRS's checklist. Don't forget to check with your state for any forms that may be required.
Small businesses typically take one of three structures:
Sole proprietorship: If your business has just one owner, a sole proprietorship is the simplest structure. The downside is that if someone sues your business, you could be held personally liable.
LLC: If your company has two or more owners, it can't be a sole proprietorship. An LLC (limited liability company) is a relatively easy solution. An LLC is a separate entity, so your personal assets are typically shielded from business-related lawsuits.
S corporation: LLCs have the option to become S corporations if you want to incorporate someday. S corporations offer some tax benefits, but they require more paperwork than LLCs.
For a more in-depth look at business structures, read about the main differences between independent contractors, sole proprietors and LLCs.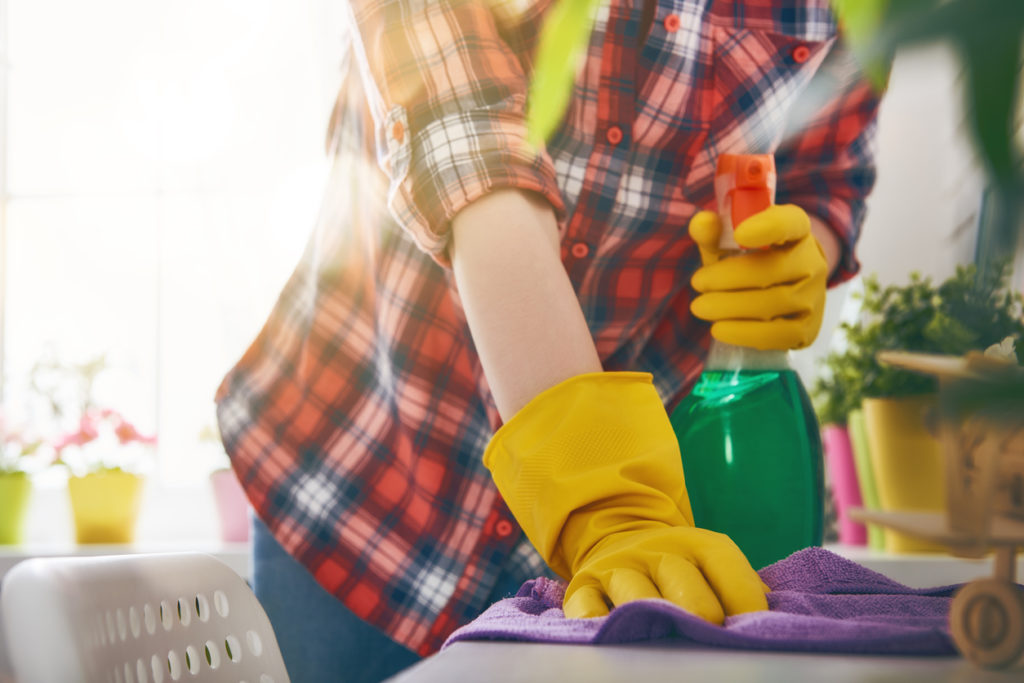 3. Get house cleaning business insurance
One of the great perks of starting a house cleaning business is that only a few startup costs are involved, and often very little overhead. However, there is one fixed cost you absolutely cannot spare – and that is insurance.
Your house cleaning insurance requirements will vary depending on your business.
For example, if you're starting as a business of one, you probably don't need to worry about workers' compensation just yet. (Though you should always check your local regulations for businesses.) However, once you start employing other people, you'll want to look into that.
The most important form of insurance you'll need is general liability insurance. This will cover you and your workers in case of non-employee accidents or property damage, whether in your own offices or at customers' homes.
Typically, house cleaning and maid services have the following types of insurance:
4. Promote your new business
Once you've completed all the upfront paperwork, it's time to launch your business. It takes time to build up a steady pool of repeat customers, so one of your first steps is to get your name into the world.
Take a few minutes to think about promoting your business to potential customers. Luckily, there are many easy ways to promote your house cleaning services. To start, you'll want to:
Print business cards and flyers. These are inexpensive advertising methods that you can distribute within your network and local businesses. Don't forget to include your contact information.
Ask friends and family members to refer you. It's always good to start with your contacts, as word-of-mouth referrals increase the likelihood of getting cleaning jobs. Your first clients might be people you already know.
Create a business profile on Google and Yelp. Creating and claiming a listing with your company's name helps your target market find your business. You can also ask happy customers to leave you reviews to help you build your business's reputation.
Make a social media profile. Similarly, opening a business Facebook or Instagram account can help your business get found. You can also eventually use these accounts for paid advertisements targeting new clients.
How NEXT helps house cleaning businesses
Launching a successful business takes a lot of work. We help you by making an essential part of starting a house cleaning business easy: getting insurance.
At NEXT, we've simplified getting the business insurance you need to protect your business. Our customized house cleaning insurance packages allow you to mix and match policies to get exactly what you need.
Your clients may require proof of insurance, so it's crucial to choose a company that can provide a Certificate of Insurance anytime, on the spot. Our online application streamlines the purchasing process. You can apply, get a quote, see policy options and purchase coverage — all in less than 10 minutes.