Launching your own business from scratch is certainly a milestone worth celebrating. However, keeping that business afloat once your open for operation? That's a whole new game.
Every new company just starting should expect the usual small business challenges at first. The key, of course, is to be advantageous and keep working towards the larger goal of money-making success.
Depending on your industry, some challenges may be harder to overcome than others. It might take more effort and strategy to establish your brand, surpass the competition, and earn the results you desire.
The roofing industry is no exception. Think about how many roofs are out there! It may sound like a gold mine for new business, but competition in any construction-related field is highly competitive. If you google "roofing company" in a city the size of Los Angeles, over 200 results populate! Even in rural areas of the midwest, over 50 roofing companies are available in the area. You will have to come up with creative roofing marketing ideas to catch a potential customer's attention.
How to Market a Roofing Company
Consider what makes your business unique or why yours is a better choice than the next contractor down the street.
Do you specialize in specific types of repair?

Do you both residential and commercial roofing jobs?

Are you willing to travel farther than most?

Have you been in the industry for the longest?
Whatever makes your business stand out from the rest is your strongest selling point. With this in mind, roofing marketing is the best way to get in front of potential customers to showcase your company's value.
Roofing contractor marketing allows the opportunity for a potential client to learn what they should expect from your business, how your company is unique, and why it could benefit them. It brings them one step closer to making a decision.
Here is an overview of how to market a roofing company.
Offline Advertising
Despite the popularity of the online market today, old school ways of advertising are still quite relevant, especially for small businesses and for roofing company marketing. They can be just as effective for acquiring new business.
Offline advertising uses various media channels outside of the internet to bring awareness to a product or service. Although you are not able to use target demographics as you do in online marketing, you do leave open a wide field to gain the customer base that you may not have otherwise targeted. Not to mention, everyone needs a roof, right? You should want to keep your demographic options open as to not miss any opportunity!
Examples of Offline Advertising:
Newspaper advertisements

Billboards and other signage

Radio advertisements

Sponsorships

Flyers and postcards

Word of mouth

Industry-related events
Online Marketing for Roofers
Offline advertising still plays an essential role in marketing a business. However, if you do not have an online presence, you are likely to be looked over and will miss out on opportunities to expand your clientele and grow your business.
Deciding to start an online marketing campaign will give you the perfect excuse to finally update your website, register your company on social media, and start exploring new ways to reach out to customers.
Social media marketing is probably the most obvious and utilized form of online advertising. Use your business pages to build a community that focuses on your company and industry. Showcase your portfolio by posting photos of completed roofing projects, or share stories in real-time while on active job sites. You can even create blog posts that offer tips and other ideas related to your business. Building a reputation on social media is crucial in today's roofing contractor marketing. A solid online presence allows you to become a trusted authority on all matters related to your field.
Email marketing is still one of the best ways to engage customers, send updates about your company and services, reconnect with old clients, and introduce yourself to new leads who sign-up for your mailing list. Using email can sometimes be more directly effective to reach your audience than social media because it goes straight to a personal inbox.
Paid advertising is another great way to get your name out there either through your website, Google analytics, or social media. Similar to the newspaper and other types of offline ad campaigns, you pay to run an ad for a certain amount of time. You can also pay more to reach a wider audience.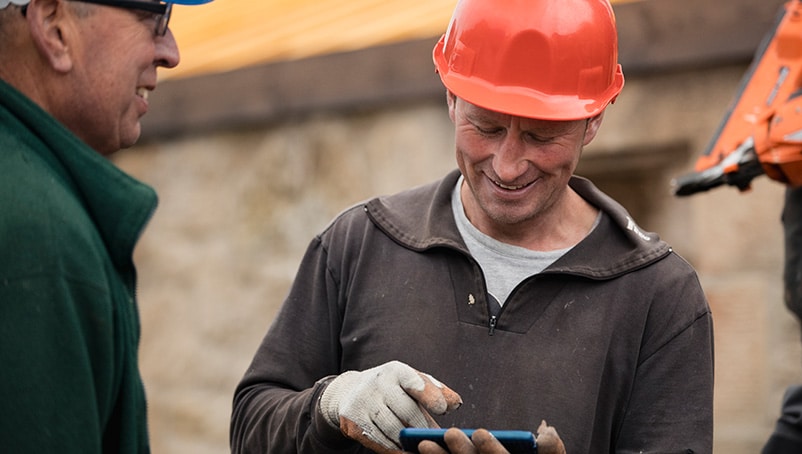 Partnership Referrals
There is ample opportunity to get referrals and to give them as well. For example, a building inspector meets with a property manager to inspect an apartment building for code violations. It turns out the roof needs replacing or repair to pass the inspection. If you have established a referral partnership based on a monetary agreement, the inspector will recommend your services in exchange for a set commission.
A referral partnership doesn't have to be based on monetary exchange for the reference either. It could be casual. If you recommend partners for jobs you don't do or that are out of your area of expertise, you will likely get the same treatment back. Working together with other contractors and professionals related to your field is an easy way to improve sales and business for everyone.
There are numerous networking opportunities to build referral partnerships at social meetups, conferences, other industry-related events, or even at a job site!
Quality is a Core Value
There is hardly a better way to market a roofing business than with the quality of a completed job and a satisfied customer. The A+ work will speak for itself! If you deliver what you advertise and do it consistently, you will build a trustworthy reputation with existing customers, and you won't even have to ask for the recommendation. The happy clients will likely boast about the quality experience they had with your business and will recommend your services to friends, family, and colleagues.
You may be eager to increase sales and grow your business. However, it is most important to maintain quality in your service and execution at all times. Never try to cut corners on a job to get the work done faster, especially in the business of construction. Safety is first, be it for your customers, employees, or colleagues.
The best way to ensure the highest level of safety on a job is to find a good business insurance provider. Better yet, find one that specializes in roofing insurance and use it as a selling point on your website, social media, and offline marketing. 
Your business will grow organically in time as long as you continue to offer quality expertise and services to every customer. Use the roofing company marketing ideas in this article to let people know who you are as a company and what you can bring to the table.
Want more ideas on how to grow your company? Check out these small business tips you can use to amp up your game!