Entrepreneurs who start a business take on lots of challenges. However, the two greatest hurdles involve making a profit and gaining customers.
If you run a pressure washing business, then your struggles are no different. In order to find success, you have to make your services desirable and well-known, and that's where small business marketing can make a huge impact.
If you're looking for new ways to promote your pressure washing business to the masses, then here are a few marketing tips you should consider:
Offline Advertising:
Believe it or not, 69% of the U.S. Population still reads the newspaper. That said, if you decide to advertise your pressure washing business offline, there's a good chance it will be noticed and receive recognition from the many people who aren't glued to their phones. Unfortunately, the local paper can only get your ad so far in terms of how much it's seen.
To help corner the market even more, why not try to make some banners and put them around your town? Banners are simple but effective—they grab attention and give customers information on your business in a matter of seconds. Make them vibrant in color and place them in spots where people tend to be walking or jogging around so they know that your service exists. When the time comes for them to wash their porch or spray down their house, they'll remember who to contact.
On the other hand, maybe you want to give your soon-to-be customers something they can take home? Try making a flyer! More information about your business can be manifested within a flyer along with pictures, contacts, and an attention-grabbing headline. Find a bulletin board in your community and place your flyers there or find a light post in the park where everyone can see it. Even places in town would be great, for instance, barbershops, the entrances of restaurants, and auto shops are all flyer-friendly.
Along with physical activities, people drive quite a bit nowadays as well, so billboards would be another great place to show off your services. Whether it's on the highway or in town, you can guarantee that a lot of people are going to catch sight of your advertisement while on their drive. Plaster a cool picture and a captivating line and you'll be sure to be remembered in some way shape or form.
One more advertisement for your pressure washing business could be a car/van with a slick new design that describes your business. Your business name on each side with a number to call underneath that's easy to read and maybe a picture of one of your workers looking friendly can attract customers. Some of these people that see your advertisements may also be wondering how to get pressure washing jobs. These ads can assist your soon-to-be workers in getting pressure washing jobs, too, which enhances your workforce and makes your business more robust for paying clients.
As you can see, offline advertising is still a viable option these days to promote a pressure washing business, but also gain potential customers and employees alike.
Online Marketing for Pressure Washing
Pressure washing is a business, after all, so you're going to want a website for it.
A pressure washing website will look, essentially, like a flyer that's easily accessible and easy to navigate. Customers that need a simple job done shouldn't do more work than they have to in order to acquire your services. Tabs should be included to take customers where they need to go, along with your business's information plastered in easy-to-read places.
To coincide with the website, accounts on various social media platforms should be set up. Creating an Instagram or Facebook account for your pressure washing business can help you gain followers while keeping everyone up-to-date on what's happening. Giving people shout- outs for using your services or doing something special for your customers within the account can go a long way in gaining a following, too. Staying consistent with posting and maintaining an online presence is also key to keeping your followers interested in what your business does, so post often!
Pressure washing marketing can be done in a variety of ways from using social media, websites, videos, sending emails, etc. However, partnering with other businesses is another way to help your business gain customers.
Partnerships
Combining efforts with contractors creates additional, lucrative opportunities for your pressure washing business.
For instance, partnering with someone who already has leads on ready-to-buy clients can increase the profit of your pressure washing business tenfold, as well as give you more customers that will come back more than once. Possible partners for your pressure washing business could be a handyman business, window washing, or anyone who sells homes. Basically, anyone who does work by hand will be beneficial to your business and help you gain customers. It works the other way around as well, your business will help them gain customers all the same.
Something else you can consider when forming partnerships with other businesses is to offer discounts to customers who find you through recommendations. An example would be if a painting service recommends you to a client to first power wash their home before applying the first coat of new paint. The customer is more likely to use your services since the recommendation came from their existing contractor, and you can offer the client a discount for the job.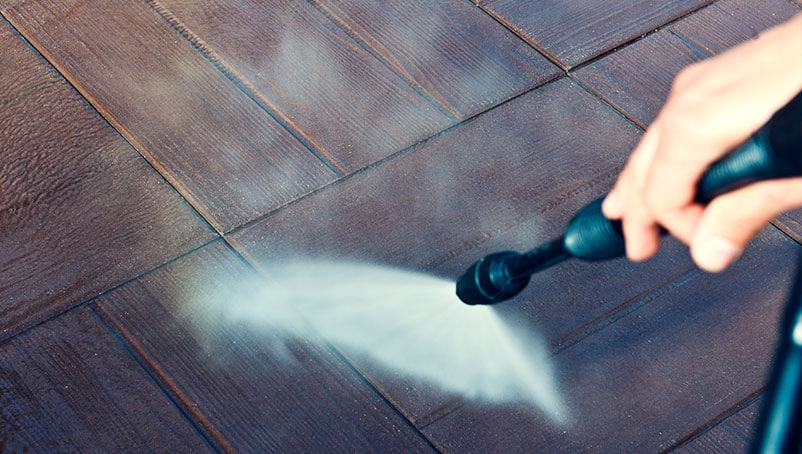 Quality
After you've considered and hopefully tried offline advertising, online marketing, and partnerships with other contractors, there is one thing that you and your business can control completely—the quality of your work.
The sure-fire way to gain customers is to make sure the service you provide is outstanding and you do your absolute best to make your customers happy throughout their experience. Not to mention, you want them to leave a good word for your business and hopefully come back when they need your services again. One good rating of your business on Yelp goes a long way to attract more customers, so you want to keep your service rating high in order to attract more business.
What comes with making a customer happy? As the owner of a pressure washing business, you need to make sure your workers are kind and helpful, but also able to take criticism. To avoid errors, you and your workers need to be able to communicate properly with the customer. Overall, you can make a customer happy by just being a great person while on the job, which is really what customers want out of your services.
Make Your Pressure Washing Business a Success
These pressure washing advertising ideas will surely aid your business in attracting more customers. However, as you keep increasing in the number of clients, you need to make sure your quality of work doesn't take a nosedive.
Make sure that you stay consistent on the main task at hand: your services. To help reduce the risk of your business getting out of order, business insurance will help keep you protected. Pressure washing insurance can also help you be prepared against any unforeseen challenges and ensure that your business will be a success when problems surmount.
To start, get your business insured online with Next Insurance! Signing up is a cakewalk and after that, Next Insurance is there every step of the way with their outstanding customer support to help grow, support, and manage your business.