Pressure washers are in high demand today to keep homes, cars and boats clean. Year-round, people want dirt, mud and dust washed off all types of properties. What you need to start your career is the right pressure washer, a truck or van to drive it around and technical experience and training to use the machinery the right way. And one more thing – pressure washing insurance. Read on to learn how pressure washing insurance can help your business succeed.
Why You Need Pressure Washer Insurance
A pressure washer is a powerful tool. It's easy for non-professionals to make a mistake and end up doing damage. That's why many people prefer to pay a professional to do the job instead of doing it themselves. When you have insurance, it protects you in case:
The chemicals you're using leak onto a lower floor and damage the wood flooring
You accidentally chip the paint on decorative window shutters
You overspray and knock over an expensive plant
A chunk of dried mud flies off the wheel of a car and cracks a window
Someone slips on the water in the driveway and breaks an ankle
You make a small mistake in the water pressure and damage the decorative plaster facing on the front of a house
Pressure washing insurance enables you to stop worrying about what could go wrong, so that you can concentrate on doing the best job possible.
Pressure Washing Insurance Helps Build Your Business
When you have pressure washing insurance, it gives you the confidence to bid for more difficult jobs. This is especially true when you are just starting out. You probably feel more willing to try for a bigger job, knowing that you're protected in case anything goes wrong.
Having insurance helps you to present a responsible, reliable image that will win you more jobs. Your customers know that pressure washing is difficult and high risk. They want to see that you have an up to date proof of insurance so that they know that you take your duties seriously.
Pressure washing insurance opens up new options to earn more money. If you want to bid for bigger, high-paying commercial jobs, you'll be required to hold insurance. Many commercial clients only award jobs to pressure washers that are fully insured.
Your employees want to know that you have pressure washing insurance, too. Responsible employees want to work for responsible employers. Having pressure washing insurance rewards your workers for their trust by protecting them in case they cause damage or injuries.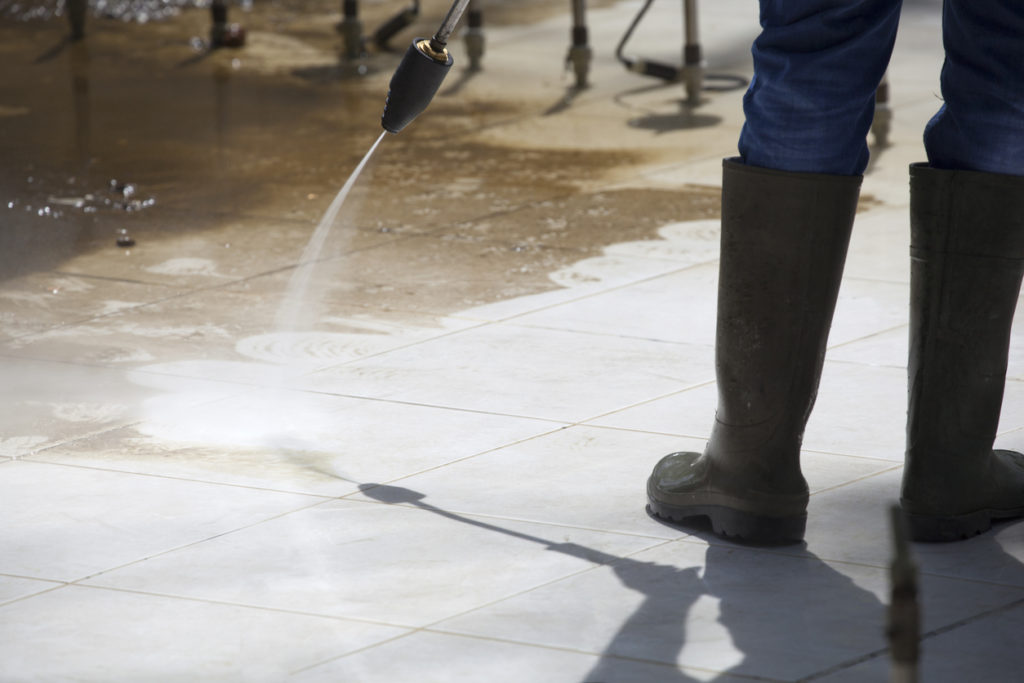 How Pressure Washing Insurance Protects You
When you have insurance, you can relax knowing that your business is covered from every angle. Pressure washing insurance can help your business to succeed.
Unhappy customers. Some customers are a pleasure to work for, but others always look for the worst. These are the customers who spot the tiny chip of paint knocked off a beautifully clean wall or who claim that you killed the plant that was already dead when you got there. Pressure washing professional liability insurance protects you from having to pay large amounts in damages to customers who can't be pleased.
Expensive equipment. Your pressure washing equipment is a vital part of your business. It costs a lot to fix it or replace it if it's damaged or stolen. Pressure washing insurance that covers your equipment means that you can keep on working no matter what happens.
Personal injury. There's a risk of injury when you work with any type of machinery, and that includes pressure washers. Insurance stops you from worrying about what you would do if you or your employee is hurt on the job. There's also a chance that a customer or a passerby could get hurt by the water or chemicals you work with. That is covered by .
Accidental damage. High pressure water is powerful enough to clean off dirt and mud, but it's also strong enough to crack a window or dislodge small stones. General liability insurance for pressure washers covers you for any property damage that is done by your machinery, whether you break a garden ornament or damage the paintwork on a car.
There's No Downside
Insurance for pressure washers is easy to get, and if you look for a company which offers monthly payments at no additional cost, it will probably pay for itself after just one or two jobs, so there are plenty of reasons to get it and no reason to wait.