Of all the various small business challenges, growing your company can be one of the most perplexing.
Plumbers face particularly stiff competition, and many people don't bother to look for one until they have an emergency arise. Therefore, a plumbing marketing plan needs to be bold and forward-thinking, filled with creative ideas to get people's attention before they need your services. Here are a few plumbing marketing and advertising ideas.
Plumber Marketing vs. Advertising
Marketing and advertising are easily confused, but it's important to understand the differences.
Marketing is a comprehensive strategy for getting your message out to your prospective customers. It includes advertising, but also market research, public and community relations, media planning, customer support, and more.
Advertising is a specific way to highlight your value to potential customers. There are many forms of plumbing advertisements, from paid online ads to print flyers. However, none of them are likely to be of much value unless they are backed by a solid marketing plan. Here are some small business tips.
Plumbing Marketing Plan
To create your marketing plan and develop plumbing marketing ideas that actually work, begin by thinking about your ideal customer.
Do you want to target homeowners in your immediate area? Are you interested in contracting with apartment complexes or hotels? Do you prefer commercial properties such as office buildings and stadiums? Are you primarily interested in installing new fixtures or repairing existing ones?
Once you have a better idea of what you want to do and who your target customers are, you can start to understand where they spend their time. After all, even the best plumbing advertisement is useless if it's only seen by homeowners, but you want to work on commercial properties. You'll also want to learn what sorts of messages your target customers respond to.
Your plumber marketing plan should include a variety of strategies based on what you learn about your target customers.
Marketing Ideas for Plumbing Company
Plumbing marketing strategies run the gamut, based on the results of your market research. These strategies typically fall into a few basic categories:
Internet Marketing for Plumbers
In the modern world, online marketing is critical for all small businesses.
A key part of internet marketing for plumbers is a strong website. Establishing yourself as an authoritative, credible resource will help you build a loyal following. Create web pages that explain basic plumbing in layman's terms. Post at least once a week to your blog, providing helpful DIY tips or other information to help people better understand their plumbing and when to call a professional. Make it easy for readers to get hold of you to ask questions or make an appointment.
A strong website is vital, but it's not enough on its own. You will also need to establish a social media presence. An easy way to keep your social media fresh and updated is to pull snippets from your blog posts to share on social media. Pictures are also extremely important, so ask permission to take photos on job sites.
Paid online advertising can be a good investment, but only once you've really drilled down into your target audience. There's no point in spending money showing your ad to people who will likely never use your services. Unlike print, TV, and radio, though, you can set parameters for online ads so that they only show to the demographics you designate.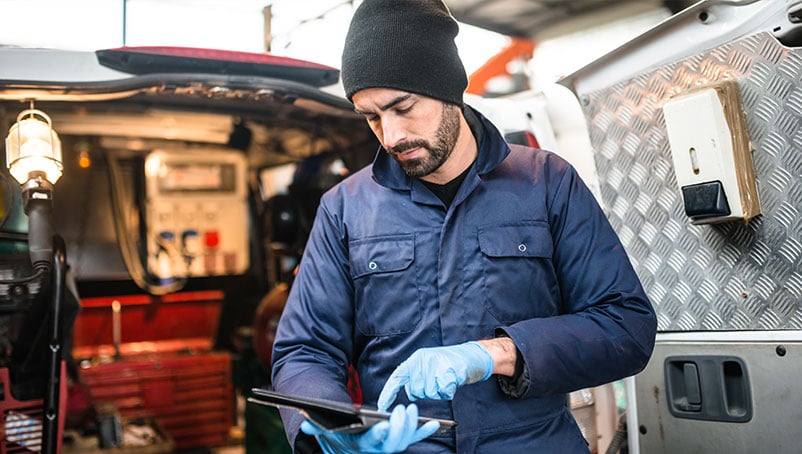 Offline Marketing for Plumbers
Offline marketing still plays an important role in the digital age, especially for those in service industries.
As a plumber, you aren't selling random products. You're selling your skills and knowledge and, to some extent, your personality. Your plumbing marketing strategies should reflect this. Offline marketing, such as handing out flyers or sponsoring community events, can help you build personal connections with potential customers.
Word of Mouth
Referrals are an extremely important part of any plumbing marketing strategy.
Plumbing advertising ideas based on word of mouth are easy to execute. Encourage your satisfied customers to write online reviews. Offer referral bonuses to those who suggest your company to their friends. Also consider building partnerships with those who offer related services, such as electricians or general contractors. These partnerships are a win-win, as other professionals can send you clients who need a plumber, and you can return the favor when clients need their services.
Quality as a Core Value
Ultimately, the best way to grow your business is to make quality a core value.
Advertising will get your message in front of potential clients, but it won't build your reputation. Likewise, the more you are able to build a reputation as a skilled, customer service-oriented professional, the less advertising you will have to do. High quality, trustworthy, and licensed plumbers are always in demand.
Marketing Professionals
Most plumbers work alone or with a small team.
You have a lot to do, and there are only so many hours in the day. If you're having trouble finding the time to work on your marketing and advertising plan, consider working with a marketing professional. In a relatively short time, a marketing expert can analyze your company and your target customer and implement a plumbing marketing plan to provide you with a reliable, ongoing source of new prospects.
Growing Your Plumbing Business
The entire purpose of marketing and advertising is to grow your business.
However, it's also important to make sure you're in control of that growth. Continuing to sustain high-quality services during periods of expansion can be a challenge, and the more your company grows, the more risks it faces.
Business insurance is a key instrument to reduce those risks. At Next Insurance, we're committed to simplifying the insurance process while offering customized policies that can grow with your company. Plumbing insurance is specifically designed to meet the unique needs of plumbing companies.
Steering the growth of your company, also known as business development, is a vital skill, but it doesn't come easily to many business owners. If you're concerned about how best to grow your business in a controlled, healthy way, it is well worth investing in the services of a business development consultant. He or she can help you create a plan to grow your company in a steady and sustainable way.