Small businesses are the lifeblood that keeps commerce alive in the U.S. They're also a crucial part of the local community. As a small business owner, you help keep citizens fed, clothed, entertained and generally prepared for life.
Unfortunately, the rise of massive "do-it-all" conglomerates has made competing difficult for small businesses — a struggle exacerbated by the coronavirus pandemic.
Luckily, a few marketing initiatives are in place to help level the playing field for small businesses. One of these initiatives is Small Business Saturday. According to the Small Business Association (SBA), 77% of consumers said Small Business Saturday inspires them to "shop small" for the holidays and throughout the rest of the year.
If you own a small business, your participation in the celebration could generate a major chunk of your bottom line for the holiday season. Let's look at 12 marketing ideas that you can use to give yourself a boost on Small Business Saturday.
What is Small Business Saturday?
Small Business Saturday is a shopping holiday that got its start from an American Express campaign in 2010. The goal then is the same as it is now: to help small businesses compete with giant chains. The holiday is appropriately nestled between Black Friday and Cyber Monday.
This year, Small Business Saturday is on Saturday, November 27.
The right marketing ideas for Small Business Saturday promos can help you bring in more customers.
Even though it doesn't have the same reputation as Black Friday, Small Business Saturday is worth spending time preparing for. In 2019, the SBA found that about 110 million shoppers participated in the event, generating an almost $2 billion increase in sales compared to the year before.
Online marketing for Small Business Saturday
Digital marketing can leverage your business whether you have a brick-and-mortar store or operate entirely online.
1. Send email blasts
You can set yourself apart with email marketing, and it's an excellent choice for small businesses that want to make a big impact.
Email newsletters should start at least a week or two before Small Business Saturday. That way, customers are aware of the upcoming holiday and promotions that may come along with it.
2. Be loud on social media
Social media business promotion can be effective for brand awareness. You can incorporate humor, promotions, sneak peeks, "behind the scenes" looks and product information into your status updates to engage customers.
3. Use Instagram or Facebook ads
If you own a small business, you probably already have a presence on social media. Facebook and Instagram ads can be powerful marketing tools. You have control over how much you spend, so your costs could be as little or as much as your budget allows.
Non-digital small business marketing
If you primarily do business in a physical location, you could benefit from these marketing techniques.
4. Leverage your community
Connect with your community by participating in local events. You might sponsor a little-league team or a 5k charity walk or run event. You could also donate goods, services or volunteer at charitable events. Community events allow you to promote your business naturally in conversation. You can promote your support while helping patrons feel good about supporting your business.
5. Make it a party
Shoppers love to feel engaged and inspired. What better way to do that than with a party? You can pre-plan an event, like a product sample demonstration or an interactive, hands-on activity.
You can also keep it simple by playing music outside your store or putting up balloons for a Small Business Saturday promo. The point is to make your store a fun atmosphere, so customers naturally want to stop by.
6. Feed your customers
Have you ever spent all day helping a friend or family member move because they offered to buy you lunch? Or driven five miles out of your way to use a coupon for free coffee at a specific coffee shop?
Shoppers love free food. If you're offering bagels from a local bakery or other snacks during this pandemic, stick to single-serve containers with lids. You can also check with local restaurants about safe food protocols to get some ideas.
7. Rent a billboard
Even though digital advertising dominates these days, don't discredit the influence that a billboard can have.
If you don't have the budget for a full-blown billboard, that's okay — you can get a similar effect by posting flyers around the neighborhood in community spaces, parks, coffee shops, libraries and supermarkets.
8. Place a newspaper ad
Newspapers are an excellent way to reach your local community. Spread the word with Small Business Saturday marketing and promote your business in your local paper.
The weekend entertainment section is good for restaurants, bars, and cafes. Meanwhile, service providers usually have better luck focusing on classified ads.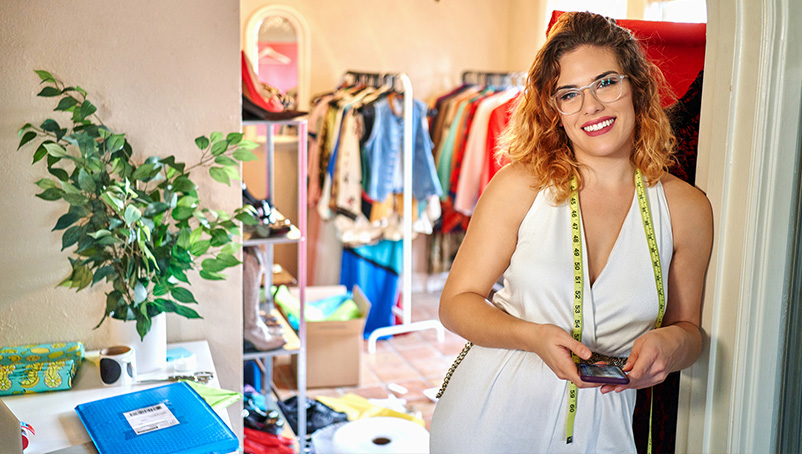 Small Business Saturday marketing and advertising
When it comes to promotions, all types of businesses can rely on advertising to drum up business.
9. Utilize your best marketing tool: your current customer
The strongest form of marketing is positive word of mouth. Your satisfied customers are the biggest and best marketing tool in your toolbox.
For affordable and easy small business marketing, reach out to former and current customers. Encourage them to pay your store another visit and refer their friends. If they're already fans of your business, a small incentive — a 10% off coupon, perhaps? — can help them sell your business for you.
10. Reach out to the press
Getting mentioned in the press might seem like a hefty task when, in reality, local reporters are constantly looking for new stories. Make their job easier by reaching out to them first.
You can ask them to list you as a participating business, do an interview or invite them to broadcast from your store. You can also register at sites like Help a Reporter Out (HARO) as a source or expert in your field.
11. Offer a special discount
Rather than offering a generic 20% off storewide discount, try to be strategic. For example, you might provide a deal for anyone who follows you on social media or signs up for your company newsletter.
12. Team up with other businesses
Teaming up with other companies is especially effective if you're a brick-and-mortar operation near other small businesses.
See if you can collaborate with other small business owners to get the word out and create hype around Small Business Saturday. After all, it's in everyone's best interest to get as many people as possible out shopping.
13. Bonus Idea: Give your customers the chance to win something
Who doesn't like winning free stuff? Doing a contest or giveaway can help spread the word about Small Business Saturday. It gives you content to post on social media and generates excitement around the prize (as well as your business). It's a win-win.
Want more marketing tips?
Get more occupation-specific marketing and promotion tips here. Find tips for:
NEXT Insurance protects your small business
Using digital marketing tactics like social media ads and email campaigns as well as traditional ones such as print advertising can help you get the most out of Small Business Saturday.
It isn't a magic wand for success, but the right strategies and resources can help boost your sales during the event and into the future.
Get a quote today to learn more about how NEXT Insurance can help your small business succeed with business insurance coverage. It's online. It's fast. And it's tailored to your business.