Sometimes it seems like you've already spent the money coming into your business before it hits your account, right? Most business owners cringe a little when it comes to their business expenses. That's because workers, facilities, supplies, taxes, insurance, marketing and other costs seem to pile up faster.
However, savvy entrepreneurs know how to reduce businesses expenses without compromising on other aspects of their business. With some help from technology and vigilantly tracking your cash flow, you can also cut costs.
We've compiled a list of 11 cost-cutting strategies that may help reduce business expenses and inspire you to think differently about your finances.
Different kinds of business expenses to reduce
Before we get into the reductions, let's talk about expenses. There are three different types of business expenses. Once you figure out which bucket certain expenses fall into, you can determine which costs have flexibility vs. the immovable costs.
Fixed costs. These are costs you don't have much control over and are generally predictable month-to-month. Fixed expenses could include rent, a mortgage, a loan, business insurance (if paid monthly) or a car payment.
Variable costs. It's tough to budget for these expenses as they are rarely the same and don't always occur at the same time of the month. However, expenses such as supplies, shipping, wages for contractors or marketing are expenses you can directly control.
Periodic costs. These are expenses similar to fixed costs but happen more infrequently, such as quarterly or annually. Oil changes, equipment repairs or annual payments are periodic costs.
How can a business reduce expenses?
While you may not have as much leeway to change certain fixed and periodic expenses, there are still actions you can take to improve your bottom line. However, depending on your business needs, there should be many ways to reduce variable costs.
1. Build a budget
You may have done this when you first opened your business, but it can never hurt to check in.
When you build a budget, make sure to include every single expense you can think of. Then it's equally important to keep track of your spending — including how much you're spending, but what areas of your business you're spending.
Luckily, creating a budget has never been easier. Whether you decide to use accounting software or grab a spreadsheet template, plenty of tools and resources can help you get started.
Review your budget frequently (weekly or monthly) to ensure that spending is what you expected. You can catch problems early and resolve them before they grow.
2. Think twice about business credit cards
Credit cards can be helpful but use them cautiously. It's very tempting to make purchases with them and intend to pay them off in full when the bill comes. However, according to the American Bankers Association, only 34% of Americans actually do this.
Purchasing without paying off in full can cause you to rack up bills without realizing it. And with the average business credit card's interest rate above 14%, interest charges can quickly increase your expenses. In the long run, that leads to higher spending and debt.
Remember to shop around. Credit card companies compete on annual percentage rates (APR), so compare cards and take advantage of lower rates and offers.
Also, if you have consistently paid on time and have a good credit score, you might consider asking for a lower interest rate, especially if you have offers for lower costs elsewhere.
3. Go paperless
You may be surprised how much you spend on stationery, printer ink, and office supplies. It really adds up: U.S. companies spend over $120 billion on printed forms annually, most of which become outdated within three months.
You're probably already using computers and software to handle certain aspects of your business, such as bookkeeping and customer information. However, going fully paperless can cut business costs while also saving you storage space and time spent on searching through paperwork.
Switching to email invoicing, online record keeping, and digital payment systems can be a cost-effective way to streamline your operations. Many apps and software are low-cost or even free. Keep an eye out for new technologies that can lead to serious small business expense reductions.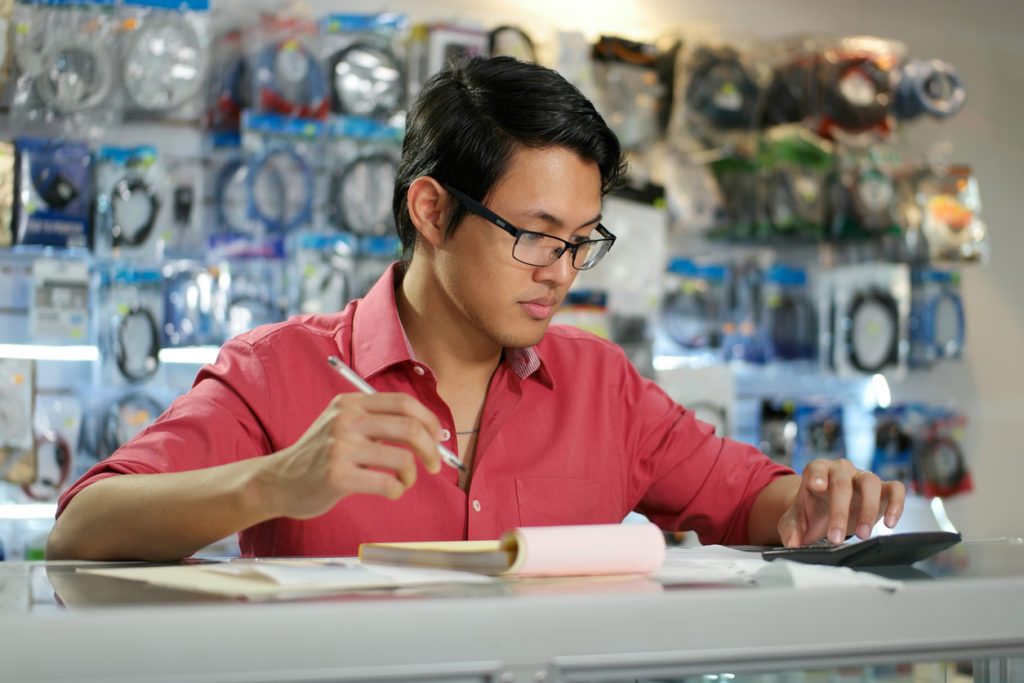 4. Research the best prices for services
There is a huge range of prices for services like banking, phone service and internet. These variable costs are the major portion of their expenses for some businesses.
That's why it's very important to compare costs and ask many questions about what you're getting for your money. Also, resist the temptation to get bowled over by salespeople – you don't want to pay for features you're not going to use.
For example, you might want the fastest internet service package you can get, but does your business really require it? If you have an internet-based business, it might be worth the higher cost, but if you're only going to use it for sending some emails and invoices, you probably don't need the extra speed and bandwidth.
Conversely, you also don't necessarily need to go for the lowest cost option either — the key is to find value for your needs. Suppose you find an inexpensive bank, but maybe they don't have all the services you want or any other bank account extras. Paying a little more but receiving some perks and banking initiatives may be more worthwhile.
This is an ongoing process. To keep your business cost reduction strategy going, check in with these service providers once or twice a year and ensure you are still getting the lowest rates available.
5. Don't overpay for insurance
Many small business owners spend too much on insurance premiums because they're paying for coverage they don't need.
The best commercial insurance for small businesses is not a one-size-fits-all policy. Instead, try to find a less expensive option where you can tailor your insurance coverage to your specific industry and needs.
Most insurance companies also offer bundling discounts. So if you need different kinds of coverages like general liability or commercial property, you can buy them together for a discount. (FYI, this particular coverage combo is called a "BOP" or business owners' policy.)
Evaluate your coverage needs and get quotes to get an idea of where you can cut costs without losing protection.
6. Change up your marketing strategy
Word-of-mouth has always been the best and most affordable marketing method for many small business owners. Now social media lets you kick it up a notch with minimal spending. 
You might be paying for local advertising in newspapers or direct mail, but do a serious calculation: how much does your traditional advertising actually bring in, and how much does it cost?
While you don't have to switch to online completely, it might be time to take a serious look at social media marketing resources like Facebook, Instagram and others. You also might consider non-social media advertising through Google business profiles or review sites like Yelp.
7. Consider your staffing needs
Employing people comes with a lot of necessary expenditures. Depending on your business, it may be necessary to have someone working for you in-house. Other times it may be simpler and more cost-effective to pay for help as needed.
For example, most early-stage startup small business owners don't need a full-time accountant on their payroll. Instead, they might have a part-time accountant or outsource monthly or quarterly tasks.
Freelancers can also fill other gaps in your operations and keep costs down. Many business owners hire IT professionals, HR specialists and marketers to handle tasks instead of employing them full-time.
8. Invest in your employees
Watch for signs of employee burnout, overwork and boredom — you'll end up paying more to recruit and train new people when your best employees leave.
Instead, consider offering them the chance to learn and implement new skills using sites like Udemy and Coursera. Many kinds of online training offer the opportunity to learn in-demand skills for lower prices.
For example, if an employee is interested in graphic design, you might have them attend training and help you with website and marketing efforts.
They'll get exciting new challenges, build their resumes, and expand their responsibilities, and you'll make the most of your resources.
9. Take advantage of discounts and ask for them
Everyone loves a good deal, so be on the lookout for programs or opportunities to save. Suppliers and local organizations of all kinds may offer business savings programs. Similarly, maybe there is a time of year when a retailer offers a large sale — you may choose to stock up during that time frame.
And it's not just local businesses; Staples and Office Depot both have discount or reward programs. You may also be able to get discounts from local businesses through your chamber of commerce.
You can also try negotiating with your vendors. For example, you can partner with another small business on a bulk discount to net some cost savings.
10. Re-evaluate your workspaces
What is essential, and what are "nice to haves"? Start with your workspaces or office. Could you get by with a smaller office or a space that's in a less expensive location? Do you even need an office? Could you get rid of some things, operate with less on-site inventory or see if employees can work remotely?
A smaller space (or no physical space) could lower monthly costs and dramatically reduce fixed overhead. You might also try negotiating with your landlord for lower rent as the pandemic opened up more commercial vacancies.
11. Review cash flow regularly
Set a schedule to look at your finances and determine which products and services bring in the most money and what's costing you the most. You can opt to monitor and manage cash flow weekly, monthly, or every quarter, whatever works for you.
Even if only temporarily, limiting yourself to your core business can be one of the most effective cost reduction strategies.
Protecting your business with NEXT Insurance
These are just a few cost reduction strategies for you to consider. Keep a close eye on your spending, and you can find even more ways to reduce business expenses.
One way is by purchasing insurance through NEXT. We are a one-stop shop for getting small business owners the right insurance at affordable prices. Since we only help entrepreneurs like you, we can create a customized insurance package tailored to your exact needs.
We're 100% online, so that helps keep costs down. You can get an instant quote, review options and buy coverage in less than 10 minutes. And you can get immediate 24/7 access to your certificate of insurance (COI) as soon as you buy your insurance.