The carpentry business is a competitive field. Whether you're just getting started or looking to grow your carpentry business, careful planning is essential to success.
That's why it's important to think strategically for the long term. Sure, you may have plenty of journeyman carpentry jobs today, but what about the future? You'll want a steady pipeline of work — to have new business coming to you and return customers.
There are many ways to market and grow your carpentry business, but we've come up with tips to help your business grow.
Is your carpentry business set up for success?
Before we dig into the tips, it's good to review what you've already built. You know that a strong foundation is necessary to build upon if you're going to expand.
To be a successful carpenter, you must first and foremost be excellent at your job. That is, you are professional, flexible and reliable, delivering quality results in a timely fashion. But do you already have these important aspects taken care of?
Business plan. You can write a simple business plan to serve as your touchstone. It doesn't need to be longer than a page but can help provide focus.
A contract template. It's important to have things in writing to be on the safe side. You can have a lawyer write up a standard contract, then remember to update the details and get clients to sign before you begin work.
Proper licenses and permits. Complying with the law is important for your business. Make sure you have the right carpentry licenses and permits needed to operate in your state.
Business insurance. Carpenters insurance is a must-have for your business. Having insurance lets you focus on your business, knowing that you're covered even if something unexpected happens.
It's best to take care of these essentials first before expanding. Now, on to the tips.
1. Create a website
A website is not an absolute must in the carpentry business, but it certainly can help. You don't need to invest too much here. Even a one or two-page website will do. Today there are DIY website builders like Squarespace or Wix that make it easy to get started.
You'll want to include the following information:
Services offered. Ideally, include pictures so customers can get a sense of your work.
Background information. Include details like how long you've been a carpenter, where you've worked in the past, any certifications you have. You'll also want to include a clear recent photo of yourself.
Customer testimonials. Having testimonials helps build your credibility and speaks to your professionalism and quality of your work.
Contact information. Whether it's a phone number or email address, make sure these stand out.
If you're looking to build your business through Google searches, you may want to work with a search engine optimization (SEO) expert. They can help you build your site with keywords in a Google-friendly way.
2. Build a social media presence
Again, you do not need to be on social media to grow your carpentry business. Some people like it; others don't see the point. It's up to you and where your target customers can find you.
However, if you are into social media, Facebook can help you grow. You can post pictures of your work, answer questions, and use the page as a de facto website.
Once you create a Facebook page for your business, you can also advertise on Facebook if you have the budget. You can target ads to local users through what's called geo-targeting.
3. Create business listings
Did you know that 97% of people learn more about local businesses via the internet? That means even if you decide not to set up a website or social media profile, you'll want to set up business listings online for searchability.
You can start by listing your business on Google Maps, Yelp, and other business directories. Be sure to provide all necessary information such as business name, phone number, and what your business does. The more places you list your business, the more opportunities you'll have to attract potential customers and differentiate yourself from other carpenters in your area.
4. Get business cards
Even in a digital world full of smartphones where clients can find your contact information online, there's still a need for business cards. You never know when there is a potential business opportunity, so having them on-hand is convenient.
You can print them up on magnets so customers can stick them on the fridge. Always make sure to leave a few behind when you finish a job so that customers can pin you up on the fridge in plain sight.
5. Consider branded vehicles and apparel
Adding your logo and contact details to work vehicles and the clothes you wear on the job does two things.
First of all, it makes you (and any team members) look more professional. Second, it serves as a form of advertising to all passersby. This is inexpensive and effective marketing at its best.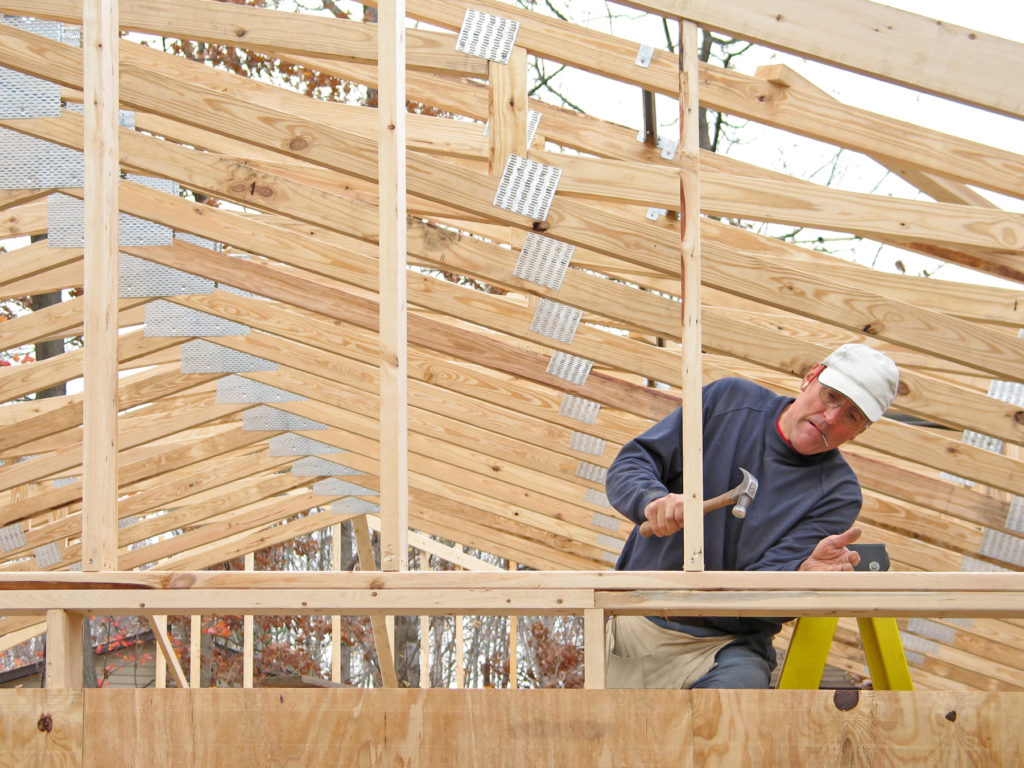 6. Update your Instagram account
Life is getting more visual these days, and Instagram is more popular than ever. So set up an account and post pictures of projects there. It's a great way to showcase your work.
You can post pictures of your handiwork and show potential customers how you get the job done, the efficiency of your work, and your attention to detail. Of course, make sure your customer is okay with you posting the work.
Aside from your work, you can also use your account for brand-building, helping people get to know you. Maybe you want to offer helpful tips and tricks through images and videos. Or maybe you want to show a human side by posting creative TikTok-style short videos and memes.
However you want to brand yourself and get the word out about your services is up to you. Just remember that the key to building social media success is consistency. If you open an account, make sure you regularly update with new content.
7. Better define your services
As a carpenter, you have a wide world of opportunities. Right now, you likely operate in a niche market you've carved out for yourself. Are you mostly doing bathrooms, kitchens, cabinets, small jobs, or major overhauls?
There are two ways to approach this when growing your carpentry business. You can either better define your niche, differentiating yourself as an expert in your field. For example, customers would know that you're the "go-to" person for all bathroom renovations.
Or, you can expand your services. You can let people know you're a jack of all trades and that you do all sorts of carpentry work.
8. Reach out to past clients
Customer acquisition is far more difficult (and costly!) than customer retention. Once a customer has used your services, they'll likely do so again if they were satisfied.
Of course, most people aren't re-doing their homes on an annual basis. But they could need work on their fence once a year, add new door frames the following year, and do some work on their stairs the year after that.
Knowing this, you can periodically reach out to customers and remind them of the types of jobs you're doing. For example, things like rafters, rooftops and fences are generally great business ideas for the spring. Or, you could offer to repair siding in autumn to prep homes for upcoming storms.
9. Ask for referrals
Many business owners may feel shy about asking for referrals, but it's well worth it. People are 90% more likely to trust and buy something when recommended by a friend, which is probably the most effective marketing tactic in this list.
You can offer an incentive for word of mouth referrals. For example, a free tablet or dinner for two if someone sends you a full house renovation. Or you could offer a discount on future services for a referral. Even a heartfelt thank you note is a nice way to acknowledge someone throwing some business your way.
Also, ask satisfied customers to leave you a positive review on review sites like Yelp or Houzz. These sites can help potential customers find you, complete with stellar reviews for your work.
10. Improve your carpentry skills
While you're a master of your trade, with excellent skills and the reputation to match, there's always room to learn. So, when growing your carpenter business, you may want to explore professional carpenter courses.
Options include technical trade schools, carpentry colleges and all sorts of certification programs. These are great for building your credentials. Or, if you want to improve your skills or venture into a new carpentry area, you can take a specialized class.
11. Add employees
Are you bogged down in paperwork or spending too much time fielding calls from potential customers? It might be time to hire an assistant or office manager. Having someone handle logistics is an excellent way to free up your time so that you can focus on the hands-on work.
And if you want to grow your carpenter business, you may want to hire another pair of hands – so when the business comes pouring in, you'll be able to handle it. Depending on your business, you may want to partner with someone who has complementary skills so you can take on bigger or more diverse jobs.
NEXT Insurance lays the foundation for carpentry businesses
There are plenty of ways to build your brand and grow your carpentry business. Let the world know who you are, what you offer and that you're ready to work.
The right carpenter insurance gives you peace of mind. It lets you focus on expanding your business and keeping customers happy. NEXT is a one-stop shop for small business owners who need business insurance. We help business owners like you create an affordable, customized insurance package tailored to your needs.
Everything is online, so you can get an instant quote, review options and buy coverage in less than 10 minutes. You'll have immediate 24/7 access to your certificate of insurance (COI) as soon as you buy your insurance.