There's a lot of confusion among business owners about which expenses they can deduct from their taxable income and which expenses aren't deductible.
For real estate agents, the subject can be especially difficult. A certified public accountant (CPA) can help you complete your tax forms and take advantage of all available deductions, but there are also some factors you can consider before you take that step.
Small business tax deductions for realtors may include items, such as mileage when driving for business purposes, insurance, office supplies, and other expenses. Continue reading to learn more.


1. Insurance and license fees
Real estate agent insurance premiums are deductible expenses, so make sure you get the coverage you need, including general liability, professional liability, and commercial auto insurance if you have a business-owned vehicle.
If you don't have another source of employer-sponsored health insurance, your healthcare premiums are also tax-deductible.
Keeping your licenses up-to-date may require you to pay fees. The money you spend to prevent your professional licenses from lapsing is also tax-deductible.


2. Home office and utilities
Your home office represents a valuable real estate tax deduction. In general, the space must be 100% dedicated to running your business. It must also be the primary place where you conduct business. For example, if you have a real estate office away from home and an office at home, the home space must serve as your main hub for business activity.
The simplified method for calculating this real estate tax deduction allows you to deduct $5 per square foot of your home office, up to 300 square feet.
If you choose to itemize your realtor tax deductions, you may be able to claim other office-related expenses. Allowable itemized deductions related to your home office include a percentage of real estate taxes, home improvement expenses, home depreciation, property taxes, homeowners insurance, utilities, and mortgage interest.
Even if you don't claim a home office deduction, you can deduct a percentage of your internet bill and phone bill if you use those utilities at home for business purposes.


3. Vehicle expenses and mileage
Whether you have a vehicle dedicated to business use or you drive your personal vehicle for work, you can deduct $.58 per mile when you use your car, truck, or van for business purposes. You can track this activity with a number of different apps, or you can keep a simple paper log in your glove compartment and update it every night when you get home from work.
This real estate tax deduction could amount to thousands of dollars if you routinely drive your house-hunting clients to show homes or if you rack up miles just putting up and taking down signs. The key to taking the full mileage deduction is keeping careful track of the actual miles you drive for business purposes.


4. Self-employment tax
As a self-employed person, you'll pay the full 15.30% self-employment tax on your income. Everyone who pays taxes and has an employer pays 7.65% of their income to cover Social Security tax and Medicare tax.
The employer covers the other 7.65%. If you are self-employed, you are responsible for the entire tax bill. Fortunately, you can deduct half of that tax from your yearly net income.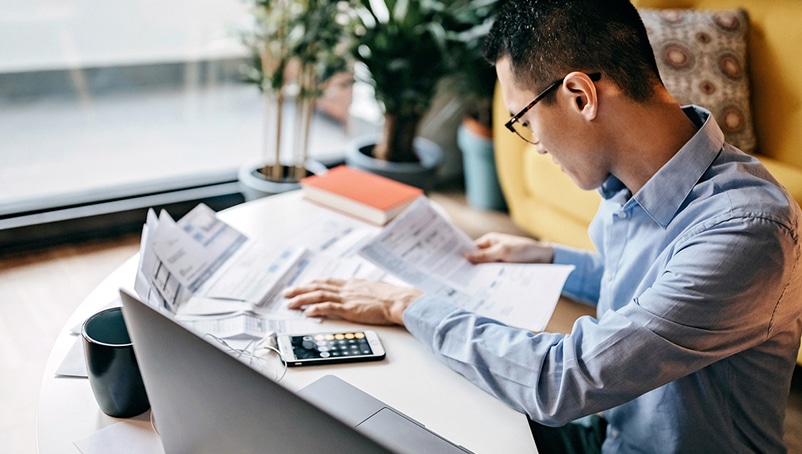 5. Marketing
Real estate marketing is another business expense that is completely deductible. Business cards, home fliers, website creation and maintenance, social marketing campaign creation and management, holiday cards, brochures, and signage are all important tax write-offs for realtors.
Advertising is also completely tax-deductible. Any money you spend on radio, print, internet, social media, or television ads represents a real estate tax deduction. When developing your advertising budget, include this potential deduction so you can maximize the effect of your campaigns.


Some business expenses are not tax-deductible
According to the Internal Revenue Service (IRS), real estate tax deductions must not include any expenses related to entertainment. You must also keep your family, personal, and living expenses out of your realtor tax deductions. Political contributions, penalties and fines, lobbying expenses, and dues to any type of club or organization are also not tax-deductible.
Any money you spend to improve your personal property and charitable contributions are taxable. Remember, deducting expenses that aren't qualified under IRS rules could result in an audit, fines, and penalties.
If you are confused about what expenses qualify as tax write-offs for realtors, contact a CPA with experience handling small business taxes. They can help you understand the rules as they apply to your specific situation.

Take advantage of general business credits
There are many general business credits that could help significantly reduce real estate agent taxes. The IRS publishes a complete list of these general business credits with links to each of the required forms. For realtors who want to hire employees, the Work Opportunity Credit may provide some tax relief.


Your education costs may be deductible
Real estate agents that took classes from an accredited university or college during the tax year should also investigate student education tax credits that help offset the costs of some types of education. The American Opportunity Credit offers up to $2,500 per student per year if anyone in the household pays tuition, fees, and certain expenses during the first four years of their college education.


Remember to deduct your business insurance premiums
Real estate agents should take advantage of all major tax deductions to maximize their income. Business insurance is a deductible expense. In many communities, general liability insurance is required by law.
Next Insurance helps real estate agents get the coverage they need with 24/7 access to online quotes. You can handle all of your business insurance needs through the Next Insurance website and access your live insurance certificate anytime, from any device.
Start an instant quote today to find the right coverage for your real estate business.