Interested in becoming a handyman in Oregon? You'll be joining the ranks of over 16,000 maintenance and repair workers in the state. And if you happen to do business in the Portland metropolitan area, you'll find that the average annual salary for handypeople — $45,180 — is slightly higher than the national average.1
If you're wondering what type of work can a handyman do legally, the answer is that most handymen in Oregon don't need a professional license. However, you will need a contractor license if you want to take on larger jobs.
To help you navigate the licensing process, we've put together a helpful guide that touches on all the important topics you need to know, including:
Do you need a license to be a handyman?
If you plan to perform mostly minor repairs and basic maintenance as a handyman, it's unlikely that you need a license.
A common question we get asked is: does a handyman need a license in Oregon? You only need a license in Oregon if you plan to perform certain types of jobs that go beyond the scope of minor repairs. If your work will become a finished part of the structure (such as replacing flooring in an entire room) and the total for the project exceeds $1,000, you must have a general contractor license.
What's the difference between a handyman and a general contractor?
Before we get into the details of obtaining a license in Oregon, it's important to clarify what it means to be a handyman — because this will affect whether or not you need a license and what type of insurance you're going to need.
A handyman or handywoman is someone who does small repair, carpentry or minor maintenance jobs. Typically, these jobs only involve one person.
If you work on larger projects, such as building a deck or wiring a new kitchen, you could be considered a contractor and need to get the appropriate license and insurance coverage. A handyperson is usually someone who can complete a job on their own.
So what can a handyman do without a license? Here are some examples to help figure out if the jobs you perform mean you're a handyman or a general contractor.
Handyman vs. Contractor

How to get a handyman license in Oregon
Since no Oregon handyman license application exists — as there isn't a license for this type of work — you must apply for an Oregon contractor license and have it issued by the Oregon Construction Contractors Board (CCB).2
You must select from two endorsement options when applying for a contractor license: residential or commercial. You may need one or both endorsements depending on which types of structures you plan to work on.
An exception to this requirement exists for handypeople who only work on projects valued under a certain monetary limit. More specifically, this exception applies to "a person working on one structure or project, under one or more contracts, when the aggregate price of all of that person's contracts for labor, materials and all other items is less than $1,000, and such work is of a casual, minor or inconsequential nature."3
Before you can submit your Oregon handyman license application, you must complete the following steps:
Complete at least 16 hours of pre-license training and pass the Oregon exam
The training and exam cover laws, rules and business practices. You must pass the exam with a score of 70 percent or higher.
Register your business with the Oregon Secretary of State, Corporate Division
You may file as a corporation, LCC, trust or sole proprietor.
Obtain a surety bond for your business
This bond protects consumers in the event of a breach of contract or improper work. More details are provided below.
Get insurance for your business
All handypeople must have general liability insurance. If you plan to hire employees, you also need workers' compensation coverage. More details are provided below.
After fulfilling these Oregon contractor license requirements, you may complete and submit your application, which must include the following:
Exam score report
Original surety bond
Certificate of insurance coverage
Two-year license fee: $325
How long does it take to get your contractor license?
After submitting your application, it takes the CCB approximately three to four weeks to process it. Make sure to fill out each section accurately and include all the required documentation, as incomplete applications and missing or incorrect documents will delay licensing.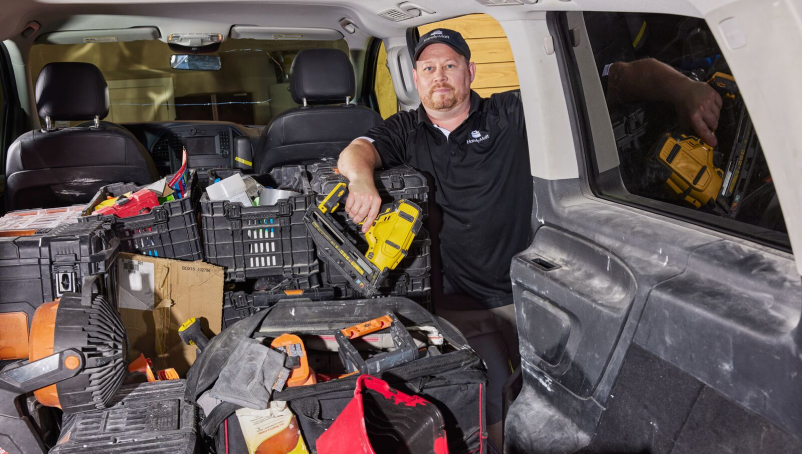 Requirements for contractor license renewals
You must renew your Oregon contractor license every two years. You may complete the renewal and pay the required renewal fee of $325 online through the CCB website.
Oregon contractor license reciprocity
Oregon does not maintain reciprocity agreements with any other states for contractor licenses.
However, applicants who have previously achieved a passing score on the National Association of State Contractors Licensing Agencies (NASCLA) Accredited Examination for Commercial General Building Contractors can request an exemption for the 16-hour pre-license training.
If you're interested in this option, you must submit your NASCLA transcripts to the CCB.
However, those approved for this exemption must still pass the Oregon exam covering laws, rules and business practices with a score of 70% or higher.
Bond requirements for Oregon contractor licenses
All licensed contractors in Oregon must have a surety bond for their business. The amount of the required bond varies from $10,000 to $75,000, depending on the license type.
You must submit the original bond with your application. Your bond must have the original signature of the bond company's attorney-in-fact and be printed on an official CCB bond form.
What kind of insurance does a handyman need in Oregon?
Handyman insurance can help protect your business. The following types of Oregon business insurance are available for professionals in this industry:
General Liability insurance
You must have proof of general liability insurance to apply for an Oregon contractor license. If accidents or property damage to third parties occur, this insurance can help cover the costs.
Workers' Compensation insurance
In Oregon, all businesses with employees need workers' compensation insurance. This insurance can help provide wage protection and other benefits if an employee gets injured on the job.
Tools and Equipment insurance
Tools and equipment insurance can help cover the cost of replacements and repairs for damaged or stolen work gear.
Commercial Auto insurance
Commercial auto insurance can help cover costs related to accidents, such as property damage and medical expenses if you drive for work.
Commercial Property insurance
Commercial property insurance can help protect your business in the event of damage to your property, including buildings, inventory and equipment.
What is the certificate of insurance requirement for handymen?
You must submit proof of liability insurance with your Oregon contractor license application. Include a certificate of insurance that lists the Construction Contractors Board as the certificate holder.
The required amount of liability coverage varies from $100,000 per occurrence to $2,000,000 aggregate depending on the type of license you are applying for.
If you have any employees, you also need workers' compensation insurance and must include the insurance carrier's name and policy number on your application.
How NEXT supports Oregon handypeople
Whether you need self-employed handyman insurance or handyman insurance for a small business, NEXT can help. We'll ensure you get the right coverage to satisfy Oregon licensing requirements and protect your business.
Our online services make it easy to apply for coverage in just minutes. You'll also get a certificate of insurance right away, along with the option to download and share unlimited COIs from any computer or mobile device.
As small business insurance experts, we specialize in coverage for construction professionals like you. We've helped thousands of contractors get affordable insurance packages customized to meet their unique needs.
Get an instant quote online today.
Do you want to work as a handyman in another U.S. state? Find out what states require handyman licenses in our summary of handyman license requirements.

Sources
1 U.S. Bureau of Labor Statistics 
2 Oregon Construction Contractors Board
3 Oregon Revised Statutes: Construction Contractors and Contracts