After years of strong small business growth, the COVID-19 pandemic upended everything we thought we knew, slowing the economy and forcing social distancing. With people staying home, many small businesses are struggling or have closed their doors for good.
But the news is not all bad. Many businesses that were already virtual or have found a way to operate online are seeing an increase in demand.
Here's a look at some of the fastest-growing small businesses in recent months.
1. Residential remodeling
The construction industry took a hit from the pandemic, with many large scale projects canceled or delayed. But the combination of a resilient real estate market (thanks to historically low interest rates) and an uptick in home improvement projects is driving a boom in residential remodeling jobs.
If you're wondering what businesses are in high demand, ask your local general contractor, carpenter, electrician and landscaper how their schedules look. In some regions, they are booked months in advance.
The average homeowner spends $7,560 per year on residential home improvements, and since it's impractical for most major corporations to perform home improvements on a national scale, skilled construction workers are in demand.
2. Home health care
Home health care was already one of the fastest-growing industries before the pandemic, and this trend is likely to continue. Traveling nurses and other in-home caregivers who are willing to assist elderly and disabled patients with basic living needs can earn a comfortable wage, even with little education.
As the U.S. population continues to age and medical costs for long-term care facilities continue to rise, families will be looking for less expensive alternatives to caring for their elder family members at home.
The COVID-19 pandemic might also have a lasting impact on the healthcare industry and how people view in-home support. With many home health aides and personal care assistant jobs requiring only a high school diploma and projected job growth at 34%, this field will be highly in-demand for many years to come.
3. Digital fitness
Gyms across the country shut down in response to the pandemic, sending millions of Americans to exercise in their living rooms. Though gyms in some states have started to reopen, many people are unwilling to give up the safety and convenience of at-home workouts. If you're a fitness enthusiast who's good with technology, digital fitness can be an opportunity.
The U.S. Bureau of Labor Statistics (BLS) projects job growth for fitness trainers and instructors to grow by 15% through 2029 — much faster than average across all job categories. With no advanced degrees required and a median wage of nearly $20 per hour, becoming an online fitness trainer has a low barrier of entry for health-conscious entrepreneurs.
4. Tutoring
Schools across the country shut their doors seemingly overnight when the coronavirus hit, and it's having a lasting effect on students. The 2020-2021 school year is off to a rocky start. Some schools remain entirely virtual, while others have limited in-person access.
In this environment, many families are forming "learning pods." The idea is to reinvent education by hiring tutors to conduct small classes of five or six students in backyards or other outdoor locations, following strict COVID protocols. Private one-on-one tutoring sessions are also in demand.
While some parents want to hire certified teachers, others are content with a well-educated tutor. With flexible hours, a high degree of personal control over who and where you tutor and an average tutoring wage of $22 per hour, tutoring may be an excellent opportunity to start a business.
5. Food delivery
COVID-19 has driven incredible growth in the food delivery market, which was already skyrocketing before the pandemic. By 2025, the online food delivery industry is projected to grow by nearly 20% to reach a whopping $200 billion in annual sales.
While there are already established players in the market, such as Uber Eats, GrubHub, DoorDash and Postmates, you can capture a piece of this financial pie by subcontracting with one of these major delivery players.
Alternatively, you could leverage your local relationships and compete on a local level by offering cheaper, faster delivery and undercutting the service fees of the national conglomerates. It's a competitive market, but there is potential in this fast-growing industry.
Learn more with our post on how to start a food delivery business.
6. Online plant nurseries
Houseplants were already a millennial trend before COVID-19. Now that people are staying home more than ever, they're taking their interest in plants and gardening to a whole new level.
Amazon certainly believes in the trend towards online gardening, as evidenced by the 2018 launch of its Amazon Plants Store. With over $2 billion dollars in online lawn and garden sales each year, the online eCommerce giant has proven that an online nursery business model has merit.
While there is certainly a place for brick and mortar nurseries where people can see and touch the plants, going virtual lets you minimize your startup costs while tapping into a significant portion of the population that is at home.
7. In-home beauty services
Although some hair and nail salons are reopening after a pandemic-related hiatus, many customers would still prefer to get personal services provided at home. From hair and makeup to nails and massages, in-home personal care services are widely in demand.
The industry is projected to grow 19% through 2029, and you can charge a premium for offering mobile services if you are willing to travel to your clients.
Learn more about becoming a mobile hairdresser.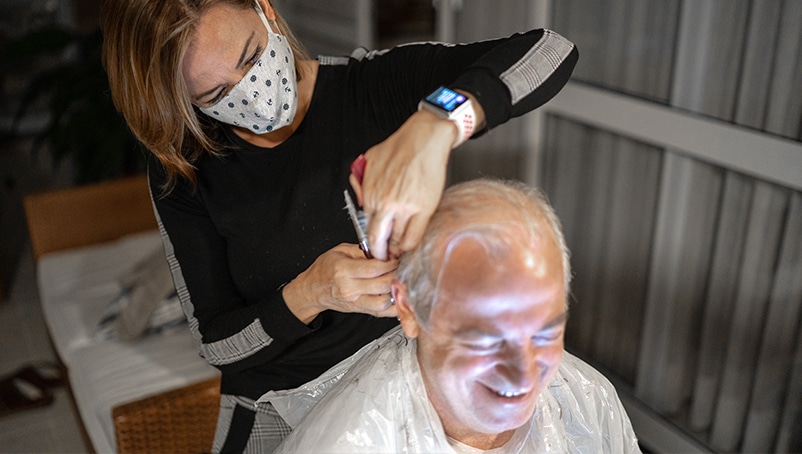 8. Online event management
Many organizations were forced to cancel or reimagine in-person training sessions, conferences, conventions and other in-person events due to the coronavirus. Not only are online events safer with social distancing practices, but they are also cheaper to operate and can be more easily accessed by participants anywhere with an internet connection.
Although businesses recognize this trend and are eager to move in a virtual direction with learning activities and events, many do not have the experience to pull off large-scale events online.
If you're savvy with bringing people together virtually, you have an opportunity to be at the forefront of a growing trend that should continue to some extent even after the pandemic.
9. Community health consultants
Health consultants, sometimes called health educators, teach health and safety procedures and promote wellness within a community. Many businesses and organizations had to make major protocol adjustments as a result of COVID-19, and many are still looking for guidance on best practices for keeping their employees and customers safe and healthy.
As a health consultant, you could work in a variety of settings, from corporate training programs to educational classes in public schools. Some states require health educators to complete the Certified Health Education Specialist (CHES) credentials or another state-run certification program. Even in states where credentials are not required, these training programs can help you get on your feet as a community health advocate. This industry is expected to grow 13% through 2029, and health educators can expect to earn over $22 per hour.
How to grow your business in an already saturated market
Before you start a small business, you need to analyze the market to determine your chances of success. One of the most important factors to look at is demand and how your business will capture a market share.
If you already own a business and you're looking for ways to grow, look at ways to boost your profitability and income. Make sure to set yourself up with small business insurance so you can focus on what you do best and grow your business.
Because the fastest growing startups often operate within the fastest growing small business industries, it can be a challenge to grow despite the competition. On the other hand, many small businesses find the competition they face actually helps their business in many ways and contributes to their success.
The fastest growing business ideas may sprout from the competition. Let's look at how competition can help promote business growth.
Partnerships — Small businesses often fear large businesses and chains. However, large businesses can become important partners in buying and distributing products and services.
Generate new ideas — There's nothing like competition to encourage and motivate you to think out of the box and come up with new ideas. It's sometimes competition that leads to the development of a niche market that can really grow your business.
Saturation means demand — If there is high demand for your product or service, you have the potential to grow your business. All it means is that you need to find a way to market your product better than the next business. Create something valuable, whether it's a unique product, a niche market or above-par customer support.
By understanding the current market conditions in the fastest growing small business industries, you can set your small business up for success from the beginning.
How Next Insurance helps small businesses
Next insurance helps more than 1,000 different types of businesses find the right business insurance coverage at an affordable price. Our painless and seamless process for purchase coverage online allows you to get a quote, purchase insurance and have a certificate of insurance in less than 10 minutes.
Start an instant quote today to explore options for your business.