Regular restaurant health inspections can be stressful for restaurant owners looking to put their best foot forward. Don't let public health inspector visits leave you and your staff anxious — the key to acing your next review is being prepared.
Follow this guide to ensure the health and safety of your guests while passing your next restaurant health inspection with flying colors.
What is a restaurant health inspection?
Health inspection reports for restaurants aim to reduce and prevent conditions that could contribute to foodborne illnesses. The restaurant rules and regulations apply during storage, production, processing, preparing or packaging food products.
The U.S. Food and Drug Administration (FDA) has a food code that helps states regulate restaurants, grocery stores and institutions such as nursing homes. However, no single national code exists.
If you own a restaurant, food stand, food truck or any place that publicly sells prepared food, you must consult the local health department for food code regulations in your state. The FDA has a guide to help you find your state's health food code.
How often do restaurant health inspections happen?
Typically, fast food and full-service restaurants can expect a state restaurant health inspection every six months. Although, you might experience just one review per year if you operate a seasonal restaurant.
What will restaurant health inspectors look for?
Keep in mind that restaurant health inspection guidelines vary by state. However, an inspector will generally check for:
Proper handwashing
"Use-by" date labels
Appropriate chilling of cooked foods
Cross-contamination between raw and cooked or ready to serve products
Temperature regulation of coolers and freezers
Cleanliness of floors, walls and ceilings
Signs of pests
Inspectors are there to enforce food codes and educate staff on proper techniques. They tend to focus on potentially hazardous foods that require specific time and temperature maintenance. However, they'll also look for non-critical items — such as chipped floor tiles or not wearing hair restraints — that can still cause serious problems.
Be sure to include a section on food safety in your employee handbook — it will help all your staff remain up-to-date on proper food handling techniques.
What happens when a restaurant fails a health inspection?
What happens to a restaurant that fails a health inspection depends on the severity of the violation:
Minor violations such as improper labeling or unkempt furniture generally allow you to correct the issue.
Major violations include cross-contamination or sick restaurant staff. You might face a fine or have to close your business to fix the violation.
Minor violations don't typically come with a financial penalty, but you will have a follow-up inspection. It's a good wake-up call to educate your staff and stress the importance of food safety.
Unfortunately, serious violations may result in closing the restaurant temporarily or permanently. Keep in mind that health inspection grades are publicly posted on the health department website for anyone to find. Additionally, some cities are requiring them to be posted in the restaurant and Yelp is adding health inspection score alerts to its restaurant listings.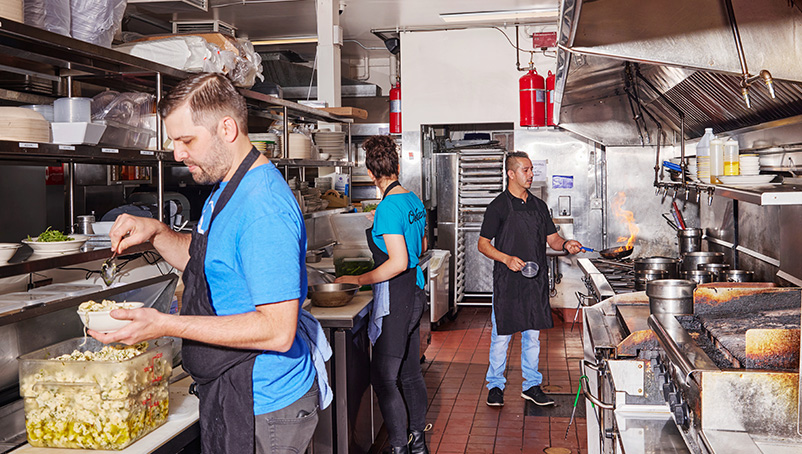 12 ways to ace a restaurant health inspection
One way to stay ahead of your restaurant health inspection report is to make a restaurant health inspection checklist. Then, treat every day like health inspection day.
For example, you might appoint an employee to act as a city health inspector. They can look for and resolve problems ahead of time to stay prepared for a stellar health inspection report for your restaurant.
Your checklist might include a review of best practices for food storage, food preparation and cooking, serving food to customers, personal hygiene and pest control.
Here are a few other ways to prepare for a successful restaurant health inspection:
1. Set expectations
Make sure all employees understand your expectations for the restaurant. Spell out your priorities and cleanliness standards in your employee handbook and review them frequently.
2. Delegate a daily maintenance schedule
Similar to the checklist, assign employees ownership over cleaning walk-ins, counters, floors and other restaurant spaces.
3. Make sure each employee completes their food handlers permit
Some states require every employee who handles, prepares or serves food to have a food handler license. It ensures each employee receives adequate training in food safety, preparation, sanitation and storage.
4. Know the requirements for a food manager's certification
Not to be confused with a food handler license, many states also require one or more employees at a restaurant to have a food manager's certification. It includes more food safety training and knowledge and is typically reserved for staff in supervisory roles.
5. Place food safety posters in apparent areas
They help remind employees of food safety priorities like handwashing and safe cooking temperatures.
6. Establish regular training
Keep your staff updated with regular safety training sessions to remind them of FDA and state-specific standards.
7. Quiz the staff
Periodically ask employees safety and sanitation regulation questions from the inspector, and prepare a refresher session if necessary.
8. Look at your restaurant from the outside in
Pretend you are a customer and evaluate your restaurant the way an outsider would see it. Does the restaurant's exterior suggest attention to detail? How do the floors and walls look when you come in? Would you want to eat using the silverware presented? Alternatively, ask a friend to evaluate it honestly and provide feedback.
9. Internal surprise inspections
Use your checklist to conduct an unannounced inspection to catch and remedy violations before an inspector does.
10. Review past inspections
Past health inspection reports offer a guide to making improvements. Distribute them to your employees, so they are aware of areas that may need improvement.
11. Correct employee mistakes
If you observe an employee incorrectly handling food, guide them when the error occurs. Try to keep it positive so they feel empowered to perform properly in the future.
12. Refresh yourself with the food code
Review the FDA food code and your local health food code requirements regularly to ensure you're following updated procedures.
13. Send sick employees home
As inconvenient as covering a shift is, sending a sick employee home is preferable to a possible food contamination incident.
Last-minute tips to pass your health inspection
If the inspector just walked in, here are a few last-minute tips to help your restaurant health inspection go smoothly:
Verify the inspector's credentials. The public health inspector should offer their credentials voluntarily, but ask if you're not sure. You can also contact your local department of health inspection for verification to avoid a potential scam situation.
Clean up workstations and public spaces. If the inspector sees your employees actively cleaning, they are more likely to believe you are doing this routinely.
Check cooking and cold storage temperatures. Check to make sure all of your food storage is set to the proper temperature levels.
Be professional and polite. Your inspection is more likely to go well if the inspector feels that you take them seriously and treat them respectfully.
Follow the inspector. If the inspector has concerns, you'll want to see any potential violations first-hand. It's also an opportunity to ask for clarification or specific examples so you can remedy issues.
Be responsive. If possible, act immediately to correct a problem the inspector points out.
Sign the inspection report. Your signature doesn't indicate that you agree with the inspector's findings. However, it serves as evidence that you received a copy of the health code violation list and report.
PRO TIP: Don't offer the inspector any food or beverage. It could be interpreted as bribery to influence the inspection outcome. Instead, be cordial, pleasant and professional.
How NEXT helps food service businesses thrive
Getting the right insurance for your food business is fast and easy with NEXT. Our general liability, commercial property, workers' compensation and commercial auto insurance can help protect your food-service business from a variety of risks, including:
Foodborne illness
Equipment malfunction
Property damage
Injuries
Workplace accidents
Temporary business closures
Auto accidents
With NEXT's custom pricing for restaurant insurance, you'll only pay for the coverage you want. Simply complete our online application to see your policy options in less than 10 minutes. Your certificate of insurance will be available as soon as you make your payment. Our U.S.-based, licensed insurance professionals are available to help if you have any questions.