While the COVID-19 pandemic has touched nearly every small business, restaurants were one of the hardest-hit industries.
The restrictions, guidelines and recommendations for restaurants changed frequently over the past year. It's forced owners to be incredibly creative and resourceful to meet customers' needs and keep their businesses afloat.
You're likely one of the many restaurant owners who made adjustments to your restaurant business plan in the last year. Some changes — such as setting up outdoor dining or expanding takeout services — may require updates to your insurance coverage.
As more diners return to eating out, it's a good idea to take a moment to review your restaurant insurance. You'll want to make sure you're properly protecting your staff, customers and dining establishment.
Types of restaurant insurance
Before diving into the specific insurance coverage updates you may need, check out this brief refresher on the four main types of food and beverage insurance: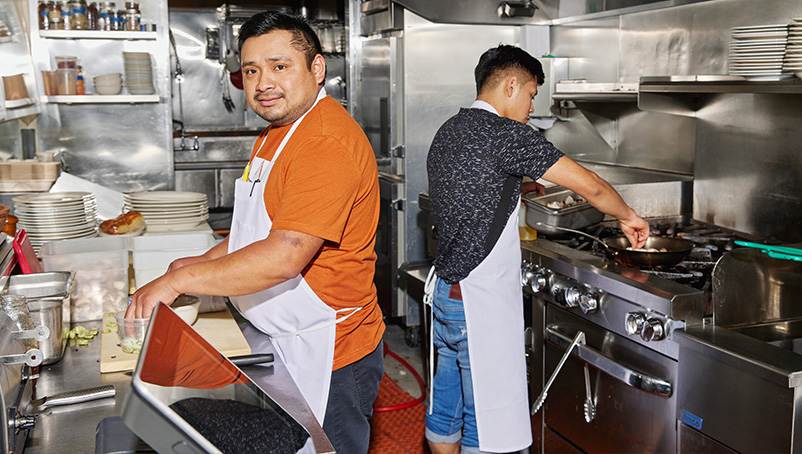 Food services insurance updates
Not sure if you need any adjustments to your food industry insurance coverage? Let's look at some of the most common changes restaurants have made in response to COVID-19 and how that could affect their business insurance.
Expanded outdoor seating
If you've added alfresco seating to your restaurant, make sure your commercial property insurance provides adequate coverage for this expanded outdoor area.
More take-out meals
Did you start serving more take-out orders due to indoor dining restrictions?
If so, you may have purchased new equipment to keep up with the demand or to offer new menu items.
Protect your investment with business personal property coverage, which can be added to your commercial property food services insurance.
Hitting the road for deliveries
Many restaurants have really ramped up their food deliveries in the last year. If you own a vehicle being used to make deliveries, you'll need to be covered by commercial auto insurance.
Your personal auto policy most likely won't cover business-related accidents or claims. Additionally, commercial auto insurance covers the transport of cooking equipment and food for catering jobs.
Business interruptions
One of the toughest parts of the pandemic has been the unpredictability of closings and reopenings.
Some eateries needed to shut down temporarily when local regulations didn't allow indoor dining. Others dealt with unexpected closings due to COVID-19 infections among staff members.
Interruptions can significantly impact several types of restaurant and bar insurance. These include general liability, commercial property and workers' comp, so be sure to double-check your coverage.
Staffing changes
Because of indoor dining restrictions, many restaurants had fewer employees on their payroll. Some are still working with a smaller crew. Others are hiring new employees in anticipation of more customers.
Either way, now is a good time to review your workers' compensation insurance to ensure you have the coverage required by state law.
Advertising promotions
Many restaurants have debuted new advertising campaigns to get the word out about their business.
If you're promoting your business with more ads these days, make sure your general liability food and beverage insurance covers the risks associated with advertising.
Where to get restaurant insurance
Getting business insurance for your restaurant is easy with Next — and you can do it all online in less than 10 minutes.
We'll ask you some basic questions about your food service business. Simple stuff such as your restaurant's location, the services you provide and your expected annual revenue. Then we'll give you a quote.
If you like what you see, you can select your coverage and buy a policy.
As soon as you've made a payment, your certificate of insurance will be available online. If you have questions, our licensed, U.S.-based insurance professionals are available to help.
Get your restaurant insurance quote today.