Tips for growing your landscaping business from a budding idea to a small business
You've inherited a green thumb and a love for the lush and leafy, so (of course) you want to start your own landscaping business.
Just like starting any business, there are a few basic steps you need to take before you (ahem) dig in, including creating a business plan, figuring out start-up costs, and naming and marketing your services.
In this article, we'll cover:
Creating a

landscaping business plan

What it

costs to start a landscaping business

Landscaping business licensing

How to grow your landscaping business

Landscaping certification programs

Insuring your landscaping business

How Next Insurance helps landscapers
1. Create a landscaping business plan
Starting a landscaping business from scratch begins like any other business: with a business plan. When starting your landscaping business plan, there are a few things you will need to consider, including:
Your target customer base
Your start-up and ongoing costs
How long it will take to be profitable
This is also a great time to research and choose a landscaping business name and develop an initial plan to market your business.


Choose a business structure
You will need to decide the structure for your business. Here are some common options to choose from:
Sole Proprietorship: If you are the only owner, you might choose to organize as a sole proprietorship. There is no special paperwork to file (beyond getting a business license and/or contractor's license if required by your state).
You will deduct your business expenses on your personal tax return and pay self-employment tax on anything your company earns. The disadvantage is that if your company is sued, you can be held personally liable.
LLC: All business profits and losses "pass-through" to the owners' personal tax returns, and you are protected from personal liability for business lawsuits. You will need to file some basic paperwork to create an LLC. This is a good option if you own the business by yourself or with a partner.
S Corporation: You can also elect to become an S corporation for tax purposes. There are some tax advantages to becoming an S Corporation, but your paperwork requirements will be more substantial.
Regardless of your business structure, consider opening a separate bank account and credit lines for your business to protect your personal assets. It makes filing your taxes easier. Learn more about lawn care and landscaping tax deductions.
Also, be sure to set up an accounting system to understand your finances and be ready to file taxes annually or quarterly.


Determine your landscaping services and operational costs
After you decide the structure of your business, you'll want to consider the following relevant factors for your business plan:
Services and client base
Decide what services and specialties you will offer to your clients. Will you focus on lawn care and landscaping upkeep for homeowners, or will your clients be larger-scale businesses and universities? It's important to nail down your goals and know your target audience.
Landscaping vehicles and tools
You will obviously need the tools and equipment to get the job done, such as a truck, lawn mower, hedge trimmer, and leaf blower. This is where commercial auto insurance and tools and equipment insurance coverage comes into play – your personal auto policy most likely won't cover business-related accidents or other claims.
Technology costs
Most small businesses need a computer, phone systems, internet access, and possibly a printer or scanner. You can use your personal devices at first, but plan to invest in technology after your initial start-up costs.
You might also consider developing a website (or hiring a contractor to build one for you) and securing your own URL.
Your start-up costs for a landscaping business can range from a small budget (for example, just a truck and a lawnmower) to about $15,000 to $20,000 (if you're building it from the ground up and growing your business).


2. Get a license to start a landscaping business
Do you need a license to start a landscaping business? It depends. Landscaping licensing requirements vary widely on a state-by-state basis, and sometimes based on the work that you plan to do.
If you plan on working with fertilizers, pesticides, irrigation, waste removal, or as a general contractor, it's especially important to check your local regulations.
Most communities require at least a general business license, so check whether your state requires a landscaping license first.


3. Take steps to market your services
Now that you've developed a business plan, gathered your necessary equipment, and obtained a license for your business, you're going to need customers. Growing your customer base requires a plan.
Take the time to develop a marketing plan that includes online promotion with social media and a website, and explore other tactics, such as flyers and advertising. Review platforms, such as Yelp and Facebook, can help to instill trust in your business.
You will also need to promote your business to form partnerships and connections with other local professionals. Reaching out to adjacent professions, such as realtors, interior designers, and maintenance and repair workers, can help in introducing you to new customers.
Consider getting landscaping business cards and other branded materials, such as flyers and truck decals, to help get the word out.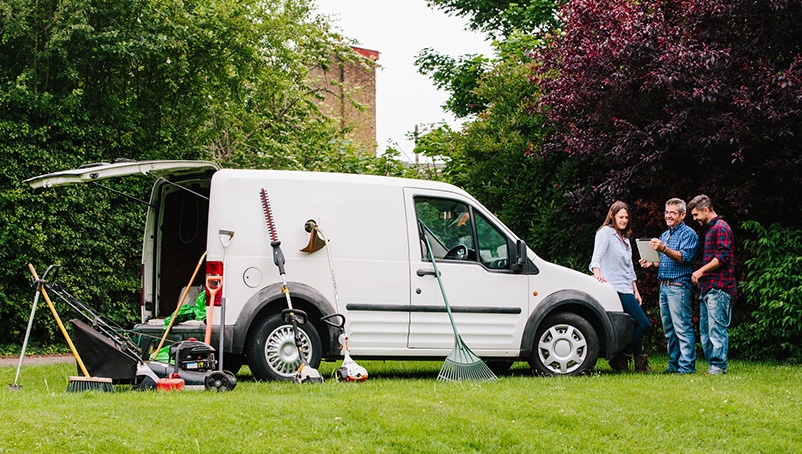 4. Consider landscaping certification programs
Getting a landscaping certification can help you attract new clients. Having a certification shows that you are familiar with professional landscaping best practices and standards to ensure the safety of yourself and your clients.
There are several organizations that provide landscaping certification, including but not limited to:
National Association of Landscape Professionals: The NALP offers a variety of landscaping certificate programs, from horticulture technician to business manager.
Professional Grounds Management Society: If your interest is specifically in grounds management, consider a certified grounds manager or certified grounds technician certificate.
International Society of Arborists: If you are specifically interested in caring for trees and shrubs, the ISA offers certifications ranging from certified arborist to board-certified master arborist.
Council of Landscape Architectural Registration Boards: Landscape architecture focuses on designing, planning and implementing large-scale landscapes.
Association of Professional Landscape Designers: Landscape design is similar to landscape architecture, but typically the size and scope of projects is smaller and geared more toward residential rather than commercial customers.


Landscaping certificate requirements
Landscaping certificate requirements vary widely depending on the specific certification you want. Generally, you will need to pass an exam administered by the relevant organization. Some certifications also require experience in the field.
Some certifications require a bachelor's degree, associate's degree, or a similar amount of education or experience in a landscaping-related field.


Online vs. offline certification programs
There are numerous landscape certification online programs that offer structured and self-study options. Check with the certificate organization or your local universities and community colleges to see your options.


5. Protect yourself with landscaping business insurance
Landscaping business insurance is essential for protecting your investment in your brand and company. At Next Insurance, you can get landscaping insurance specifically customized to meet your needs wherever you do business. Coverage typically includes:


General liability insurance
By covering your business with general liability insurance, you'll be financially protected for common accidents, such as customer injury or damage to their property.
For example, one of the most common claims that we see from our customers is damage from rocks or pebbles that are launched from a mower or weed wacker. If that happens while you are working on a client's property, your general liability insurance will cover the damages up to your policy limit.


Professional liability insurance
Having professional liability insurance takes your coverage one step further than general liability insurance since you'll be covered beyond accidents.
Here's an example of how a professional liability policy works: You've mowed a client's lawn for months and they attempt to use their sprinkler system only to discover it has been damaged. They could claim it's due to your negligence. You'd be financially covered up to your policy limit to defend your business or pay for the damage.


Commercial auto insurance
Depending on your state, you might be legally required to cover your business-owned vehicles with commercial auto insurance, especially if you have employees who also operate the vehicle.
With commercial auto insurance, you're covered for injuries, property damage, and collision coverage.


Workers' compensation insurance
Like commercial auto insurance, you might be legally required to hold workers' compensation if you have employees. Workers' comp covers you and your employees if they are injured or become ill at work.
For landscaping businesses, this could be a big help if one of your employees is injured while, for example, operating a mower because any medical expenses will be covered. This saves your business and your employee the hassle of being financially responsible for an accident.
Landscaping business insurance can start as low as $29 per month. Get your instant quote online and purchase insurance in less than 10 minutes with Next Insurance. You'll have immediate access to your certificate of insurance after you purchase coverage.
Start your free landscaping business insurance application today.