Starting a lawn care business just means you need to get out in the community, make connections, and start caring for lawns.
Not so fast: there's a lot more to having a successful lawn care business than day-to-day work. You need a well-written business plan for lawn care startup success.
First Steps for the Ultimate Lawn And Garden Services Business Plan
You can create the ultimate lawn service business plan if you take it one step at a time. So, where should you begin?
First, you need to decide what type of lawn care business you want. Will you specialize in commercial lawn care, or residential homes? These choices will influence everything in your business plan. The type of services you'll provide and how big you think your business can grow will determine how much potential your business has to earn money. According to Lawn & Landscaping Magazine's 2019 survey, 19% of lawn care businesses earned less than $50,000, and 23% earned between $50,000 and $199,999. The top 24% of lawn care and landscaping businesses earned more than $1 million.
Chances are, you won't begin your lawn care business at the $1 million level. But you don't need to go in at the bottom, either.
Second Steps: Market Study and Opportunity
You know what you're good at in lawn care, but is it the perfect fit for your area? Do you have enough potential customers to support the amount you want to earn?
Finding out how many potential customers you could have is the first step in lawn care marketing. You can find out how many homes are in your area by using online data tools provided by the U.S. Census Bureau. The Urban Institute also offers community maps that can show population trends and how many single-family homes are in your area.
Once you know how many homes or businesses you could potentially serve, it's time to narrow that number down to the actual number you think you could get as customers. Be realistic. If you think you can start out with 40 homes a month, then this is your starting market segment. If you think you could potentially grow to 400 homes a month, this is your total market opportunity.
Your market study should also include competitor analysis. Who are your competitors? How many homes do they typically serve? What are their services and how much do they charge? Studying your competitors could be the most important task you undertake while you're creating your business plan. You can get an idea of what prices customers are used to paying. Competing in lawn care isn't always about having the lowest price: sometimes reliability, responsiveness, and quality can be competitive factors.
Until you learn your competitors' pricing, services, and quality, it's hard to know where your business will fit in your local market.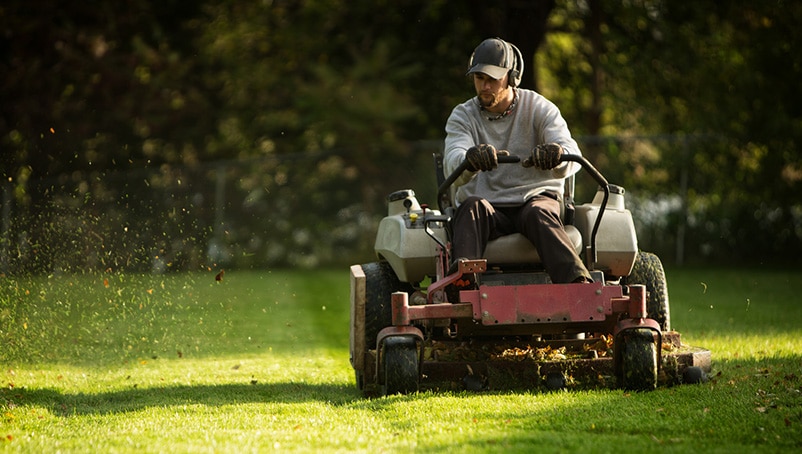 Third Steps: How Much Work Can You Do and How Much Will You Charge?
The next step in your business plan is deciding how much work you can do. Do you want to go it on your own as a sole proprietor? Or do you have help from family members, friends, or future hires?
If you plan to hire additional workers, you will automatically need an organization plan and chart. Even if you're a sole proprietor, your organization chart shouldn't just say "Me." You will have others helping you, including legal or accounting services. Even if it's just one or two others you hire on a contract basis, they belong on an organizational chart.
Decide which services you will offer, establish a schedule, and put a pricing structure together. The products and services part of your business plan will feature these elements. According to Lawn and Landscape's 2019 survey, the following services were the top categories offered by lawn care businesses:
Lawn care/chemical application
Landscape maintenance
Landscape design/construction
Tree and ornamental plant care
Irrigation
Snow and ice management
Vegetation management
Other services included holiday lighting, pest control, nursery and grower services, sports turf maintenance, interiorscaping, and mosquito control.
Fourth Steps: Financial Projections and Financing
As you can probably tell, a lawn mowing business plan is more in-depth than putting a lawnmower in the back of your truck, driving the next street over, and mowing and blowing. Even basic lawn care businesses include sprinkler system repair and maintenance. You'll need supplies and equipment beyond transportation and lawnmowers.
Set your income and expenses. The Small Business Administration offers guidance and tools to prepare financial projections. Most business plans have three years of projections, and you can use spreadsheets to create best-case, worst-case, and average scenarios for how many customers you'll have and income you expect per month and per year. You can also project what your expenses will be. A start-up budget should include the equipment and supplies you'll need to begin your lawn care business. Any equipment you buy is an essential expense that can be used for your lawn care tax deductions.
Don't neglect essentials like business insurance, accounting costs, tax deposits, and storage. Will you be renting a shop or storefront? Or are you planning to run your lawn care business from home? Salaries and benefits need to go into your budget as well. Once you've finished your projections, you can get a good idea of your profit margin.
Now that you've finished the first four steps, you have the information and tools you need to start your lawn care business. Some people view a business plan as a bunch of forms that need to be filled out as fast as possible. But a business plan really represents the work you need to do to have a successful lawn care business.
Follow Your Lawn Care Business Plan for Success
The final step in your business plan is writing the plan and following the steps you've set out.
If you wrote in your plan that you intend to have 20 customers by the end of your first month of operation, you'll be a lot more likely to get them than if you hadn't written anything down. If you included lawn care insurance in your financial projections and budget, then you know you need to obtain the insurance. You'll find that business insurance is essential to protect your business and you'll also be asked for certificates of insurance if you're working with architects, builders, or offering commercial lawn care services. 
Writing a lawn service business plan takes time, but it will be time well spent in establishing business success.